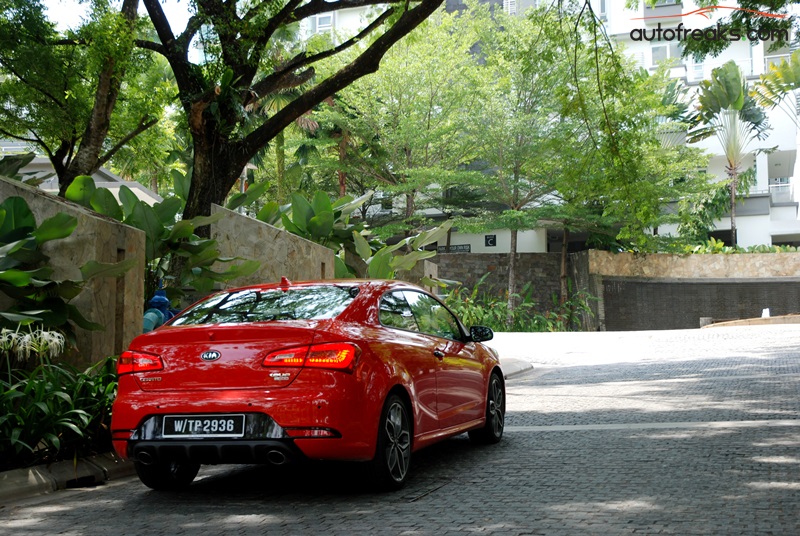 ADVERTISEMENT
You fancy the Kia Cerato but prefer something that screams youthful exuberance, dynamic performance and the word turbo mentioned in the same sentence? Well, perhaps you have come to the right place because the Kia Cerato Koup Turbo might just be what you are looking for.
The Kia Cerato Koup Turbo is Naza Kia's latest performance orientated model in the company's local lineup that provides a much better package as compared to the 2.0L Forte Koup it replaces.  Currently, there's no words on the official debut date, but the company has announced a tentative price of RM150k when booking opens.
We managed to get our hands behind the wheels of this stunning coupe for a brief test drive session and boy, this car is surprisingly exciting!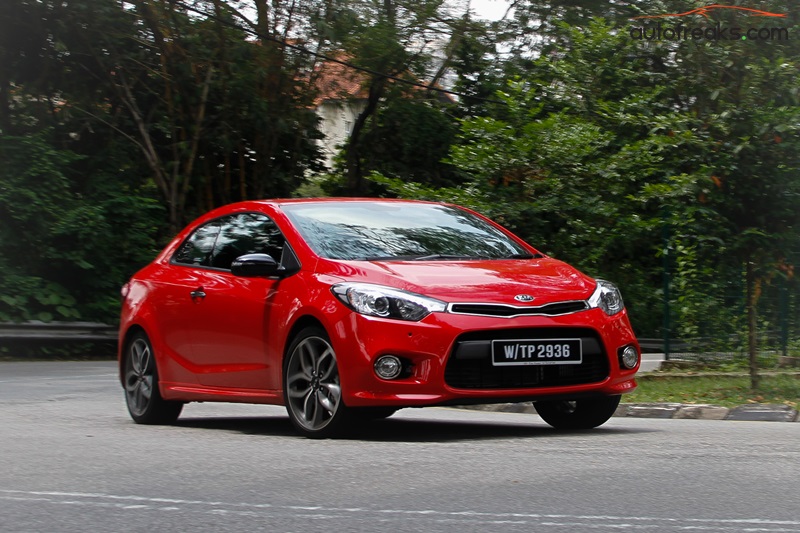 Let's just cut to the chase and let me be frank here. The thrill you're seeking for lies under the hood of this coupe, sporting a new 1.6-litre turbo engine that  punches out a healthy 200hp and 265Nm of torque. This is enough to get the Koup from standstill to 100 km/h in 7.4 seconds when fitted with the 6-speed automatic transmission, while it will go on to a top speed of 222 km/h. The Koup certainly looks good on paper, but what does it feel like when driven on the road?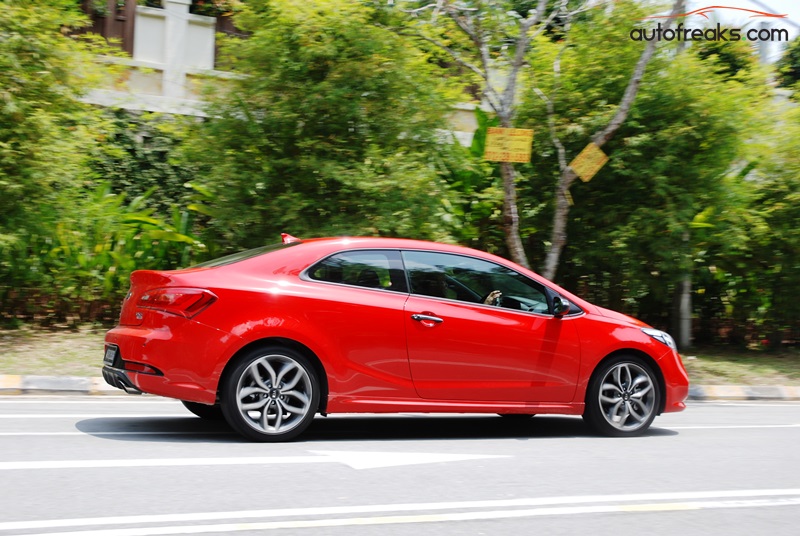 The short answer to that it's impressive! While I haven't had the chance to test drive the previous model it replaces, the Cerato Koup Turbo as tested here, provides smooth and linear acceleration complemented by a nice growl coming from the twin exhaust system. The gearbox handles its job pretty well, changing gears when need be, so you don't feel that typical jerkiness of driving a stick shift car. Even if you prefer to change your own gears, there are paddle shifts located on the side of the steering wheel for that familiar sporty driving feel.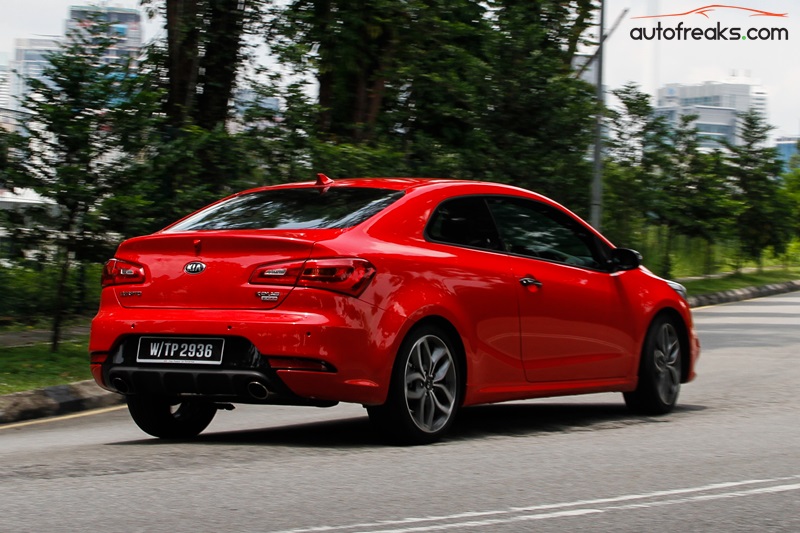 Just like the Cerato sedan, the Koup also features Kia's user-selectable FlexSteer electronic power steering system, allowing drivers to choose the level of steering assistance between Comfort, Sport or Normal. Sport mode is suitable when driven hard while the Comfort mode gives a very light and vague steering feel. I find that the Normal mode feels just right for city driving.
The ride quality is very controlled and calm. The MacPherson struts up front and a torsion beam set-up at the rear, is not too stiff nor too firm, which makes it a great commuter either for city driving or when hitting the freeway.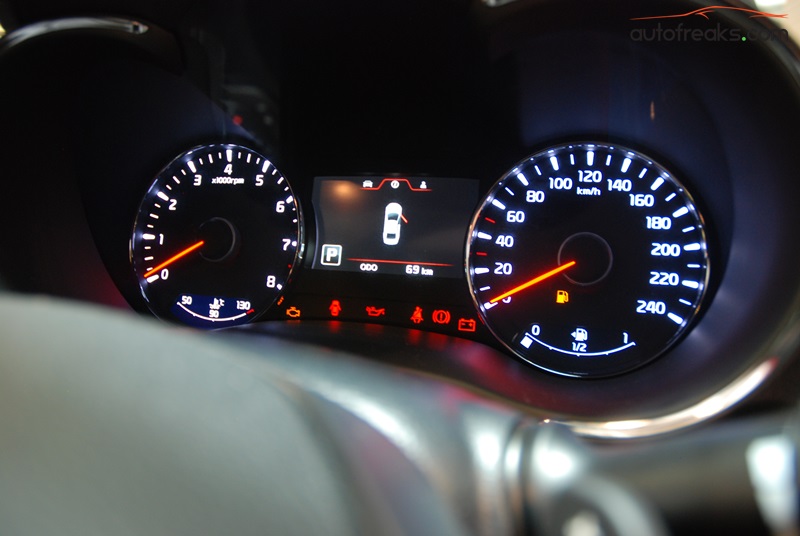 In terms of styling, the Cerato Koup Turbo certainly has a more sporty and aggressive stance as compared to the Cerato sedan. This car simply suits mature buyers who appreciate the bachelor lifestyle before kids. I'm not a big fan of its front fascia with larger bumper and grille openings, but the frameless doors, twin tailpipes, stunning 18-inch alloys, the HID headlamps and LED package, and even the striking red paint as seen on this test unit here, portrays a sporty and sinister look, it almost looks like it came out of a comic book illustration.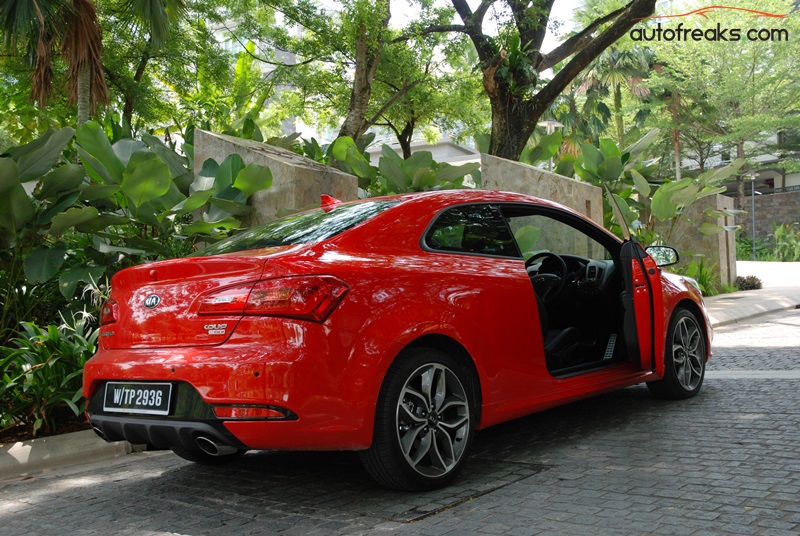 Inside, the Koup looks almost similar to the Cerato sedan. There's a teeny tiny 4.2-inch TFT LCD supervision cluster located on the center console while the rest of the cabin features Bluetooth, AUX and USB connectivity, audio system, hands-free functionality, reverse camera, push-button start, dual-zone automatic climate control, and cruise control, as a standard equipment. While I was enjoying the ventilated driver's seat up front, I was very surprised to find that the back seats provide a decent amount legroom for two adult passengers as compared to other two-door cars I've tested in the past.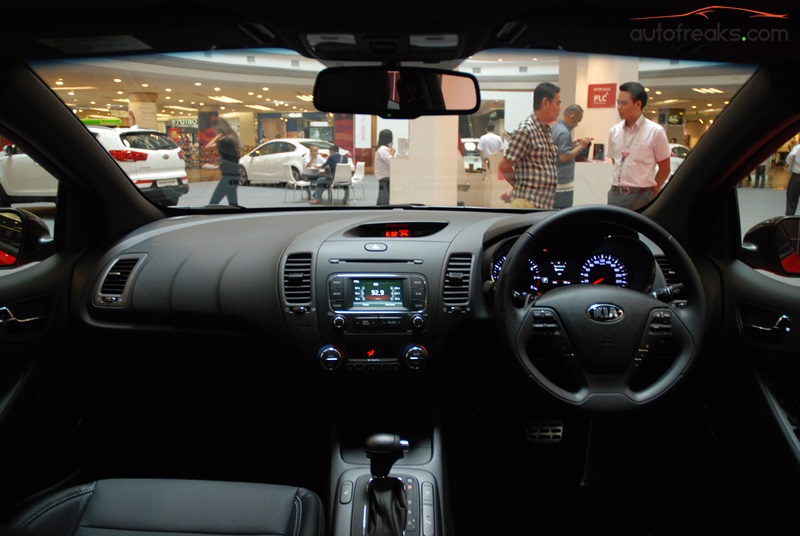 You probably have heard of a classic fairy tale called "Goldilocks and the Three Bears".  No? Well, allow me to refresh your memory. It's a story about a little girl called Goldilocks who trespasses the three bears home and discovers that two-thirds of her bear' chairs, beds and bowls of porridge are either too big, hard, hot or cold. But the third was, well, just right and ideally suited the petite home invader.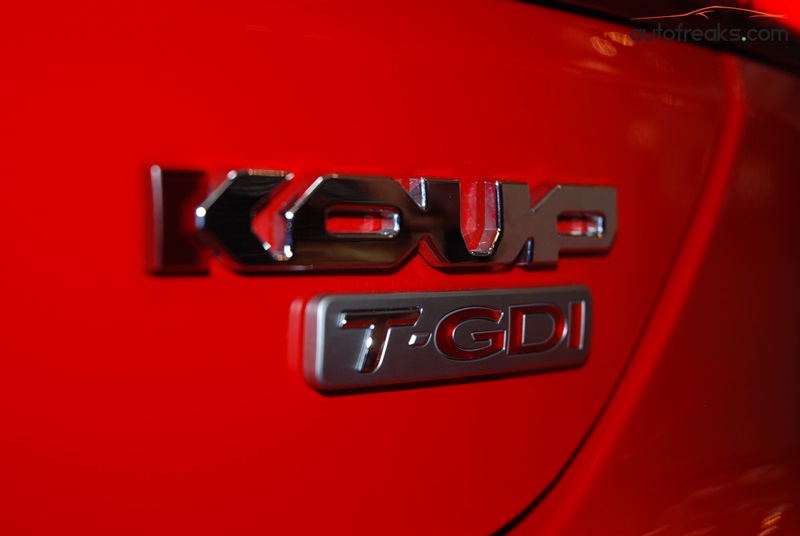 I would like to apply the Goldilocks analogy in this test drive review; most of the cars I've tested recently are either too big, too stiff or too uncomfortable, but the Kia Koup Turbo seems just right for this writer; the overall dimensions are not too big nor too small, it didn't overwhelm me with too much power, the ride and handling is not too harsh nor too soft either, and it only took me less than a minute to get really comfortable and familiar with the rest of the cabin. The Cerato Koup Turbo is just perfect for me..
Don't get me wrong, I'm not saying that this car is only suitable for the fairer sex, because while the Koup is ultimately easy to drive, it also has the right balance of masculinity injected to it. The Koup is certainly the perfect unisex car that you and your partner would both agree on and best of all, it has a fantastic price to match!
CW says…
It's no secret that I like the new range of Peter Schreyer-designed Kia cars, and about a year ago I'd even pegged the Cerato as one of the most underrated cars in the country. It appears the Automotive Gods are mocking me because they know I have a soft-spot for coupes and since I've always liked the Cerato, they've come up with this. It's hard to not like the Cerato Koup, especially since it now puts out about 200bhp thanks to a force-fed 1.6 engine, but as everyone knows, Malaysians buy cars by the way they look, and something tells me that this Koup is going to do very well when it's launched, if only because of that. It's a stunner! Nice one Kia, where do I sign? – Chris Wee.
Photos by Alia Zaharin & Zique Hawalique