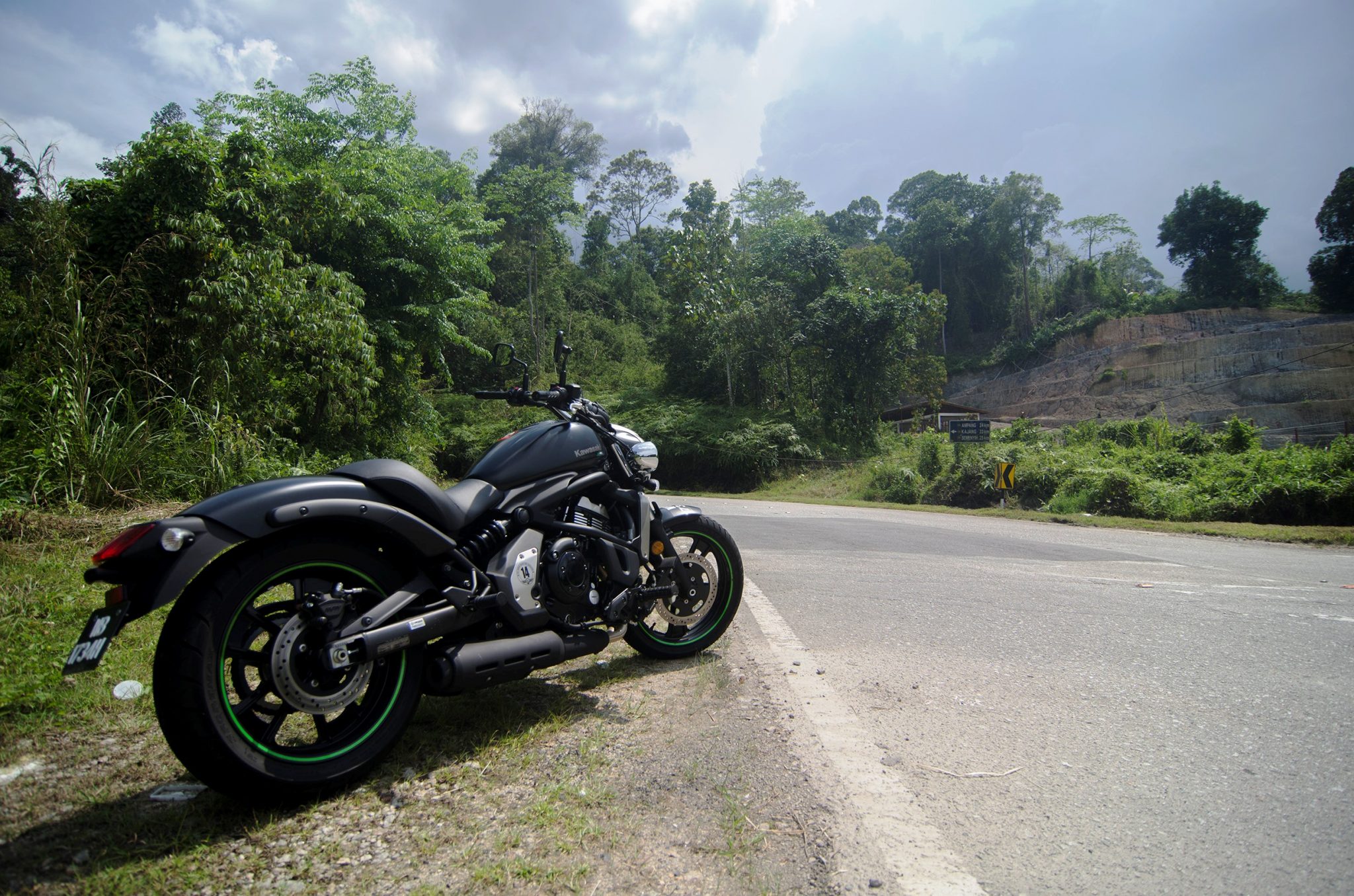 ADVERTISEMENT
First things first. Let's get this out of the way right-off the bat: In terms of value for money, bang for your buck, etc. you are NOT going to find a better deal than this anywhere in the country. Insofar as brand new big cruisers are concerned….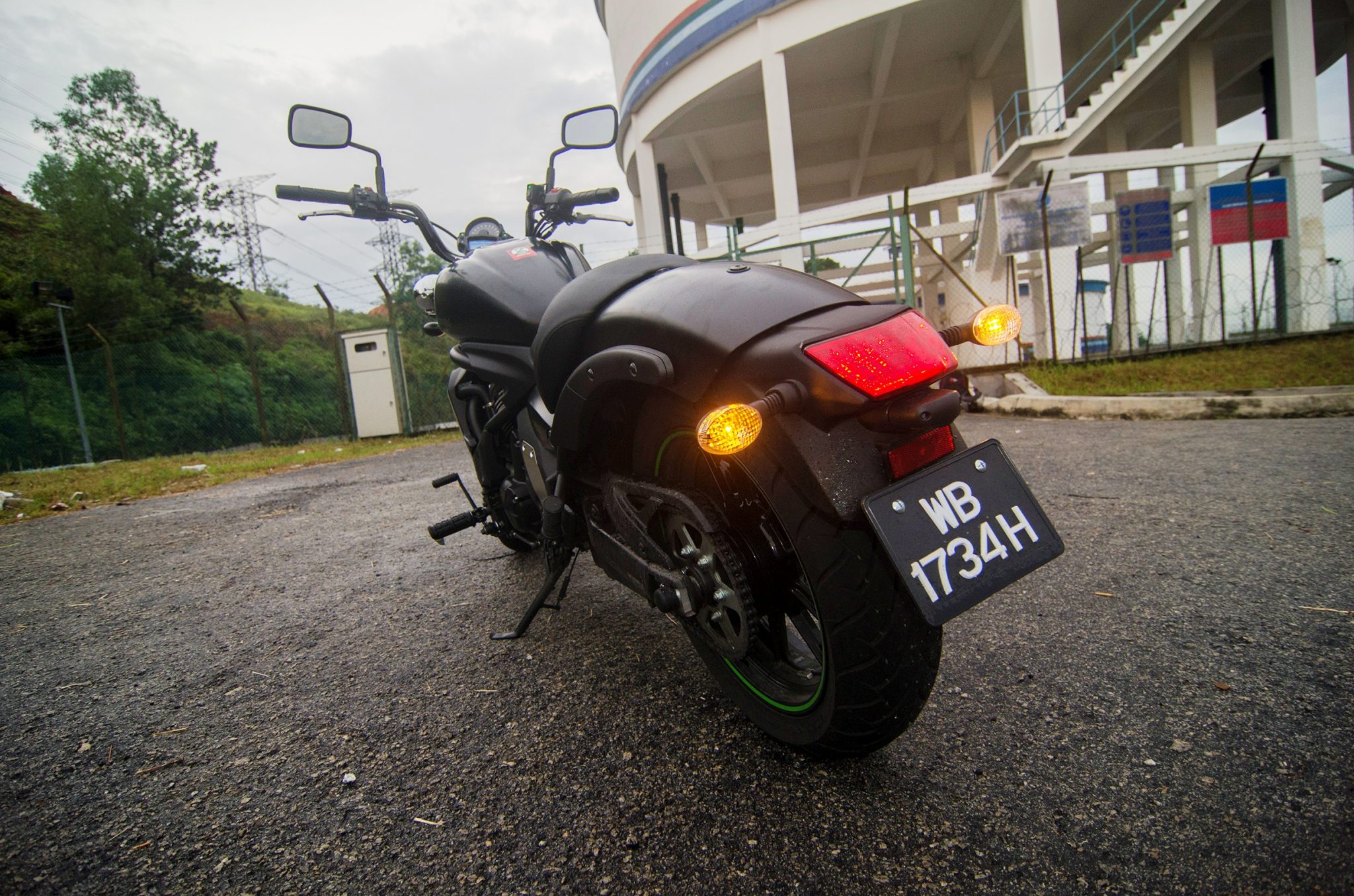 Truth be told I'm still trying to wrap my head around the fact that the new Kawasaki Vulcan S 650 costs less than RM30k. Yeah, brand spanking out-of-the-crate and ready-to-ride new! Okay, so to be honest, I figured at that price, the bike was going to be a whopping pile of dog-poo, and maybe even the wheels were optional extras, maybe the engine too…
But no folks, as hard as it is to fathom, and do remember that this bike is a big 650cc twin from Japan, not a small lawn-mower powered China bike, this is a bona-fide Kawasaki, officially-imported with all the bells and whistles, including full warranties.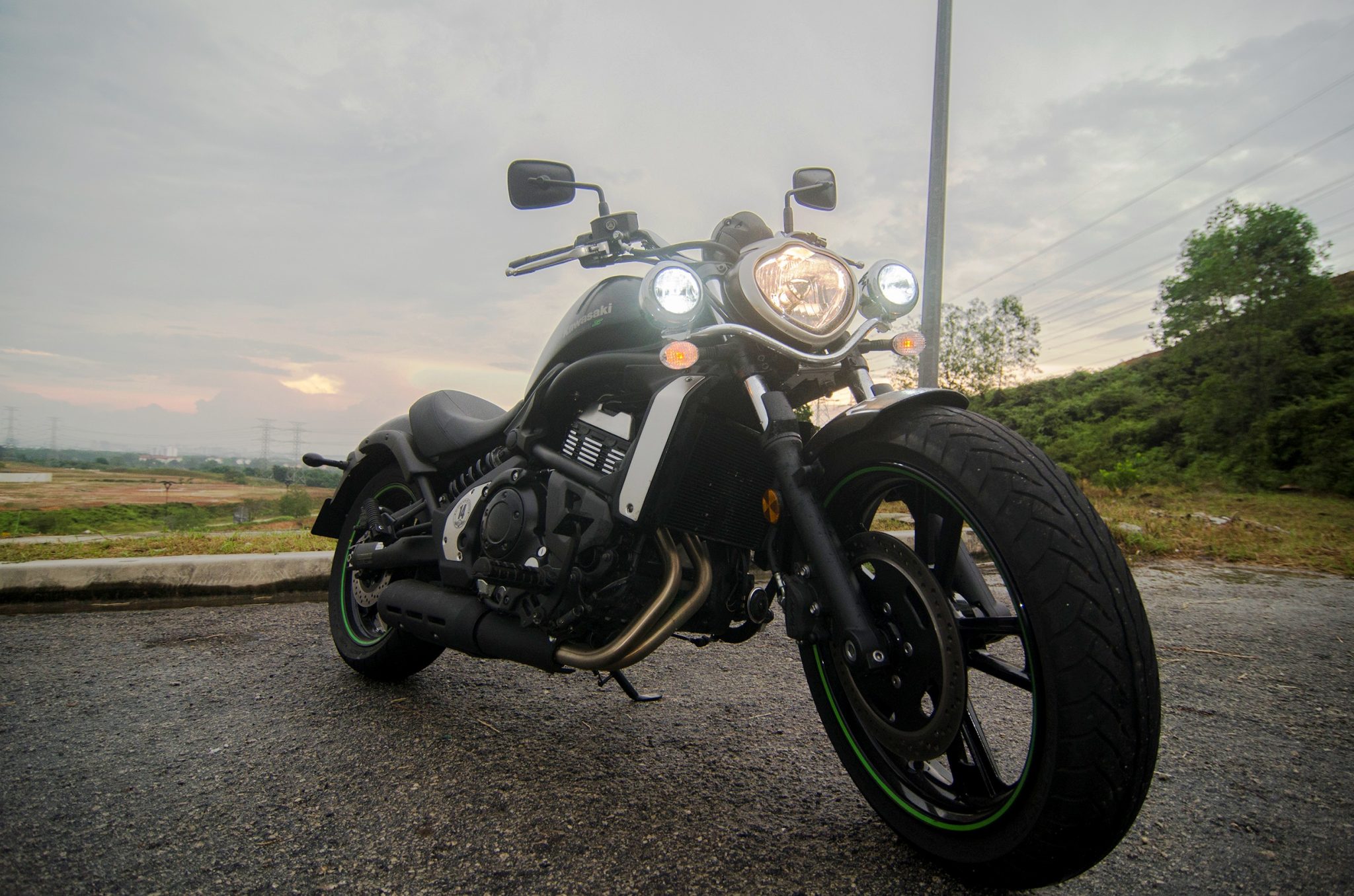 Its engine will be familiar to all bikers, seeing as how it now powers a total of FOUR bikes that we know of, the ER-6F, ER-6N, Versys DP and now this Vulcan S. There's absolutely nothing wrong with that by the way, carmakers across the globe share engines among various models all the time, so why not bikes?
And it's a good engine too, retuned of course for better low-end torque, and geared differently from its aforementioned siblings. The result of this tuning is a cruiser that accelerates off the mark like nothing else in this category. I think it's safe to say that in a drag, the Vulcan will leave the other three standing.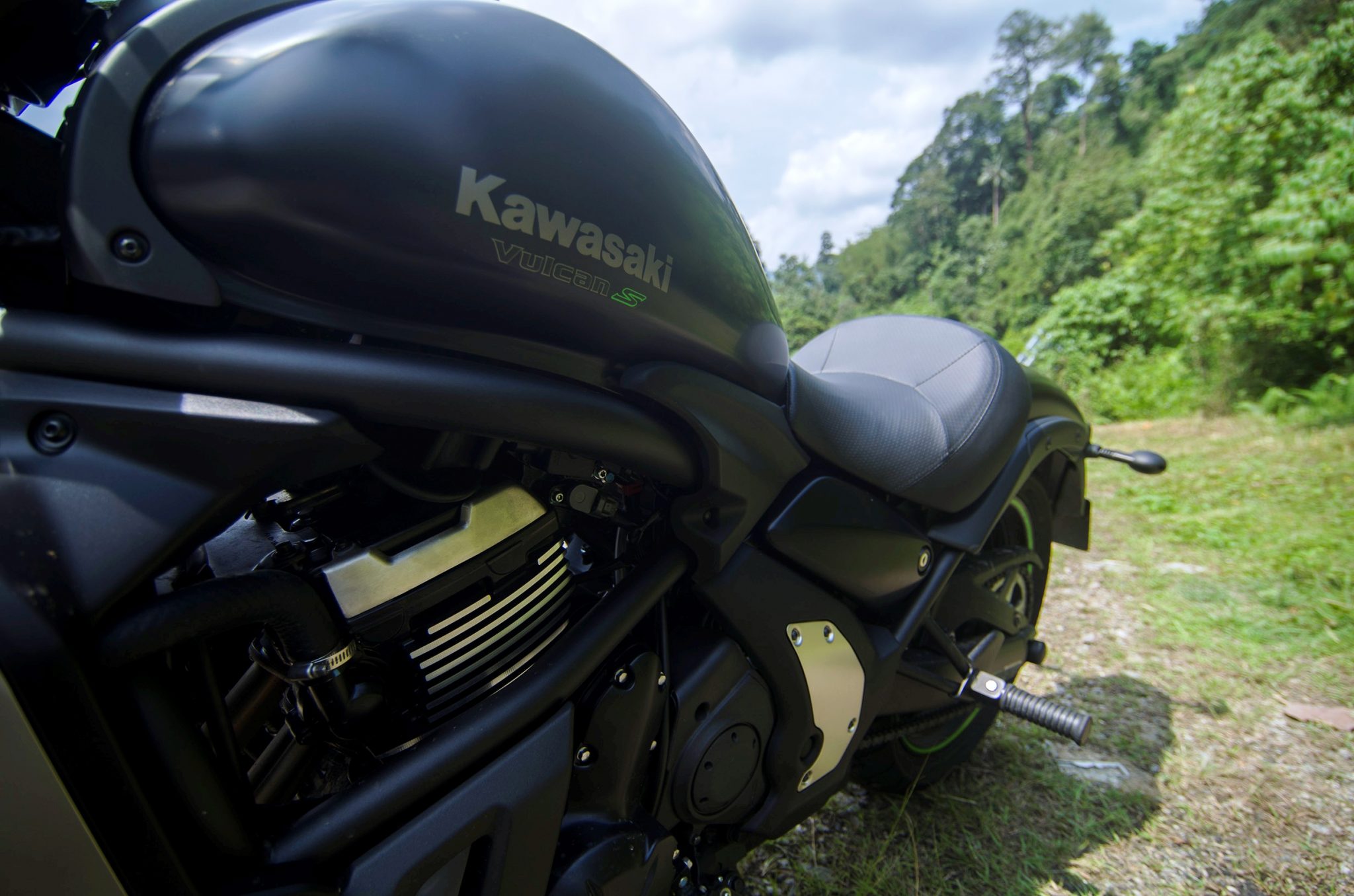 The revised gearing also means that top-speed has been affected slightly, topping out at about 180km/h, which in all honestly is plenty fast enough for a cruiser. You'll find the sweet spot is 110-130km/h.
But it's the riding position that's going to win the hearts of casual bikers everywhere though. It's a very comfortable bike to travel long-distance on; its low, well-padded seat offers ample butt-support, while the raked-back handlebars offer a very relaxed riding position. Personally, I'd slap on a set of straight bars right away, ala Jax Teller's bike in SoA.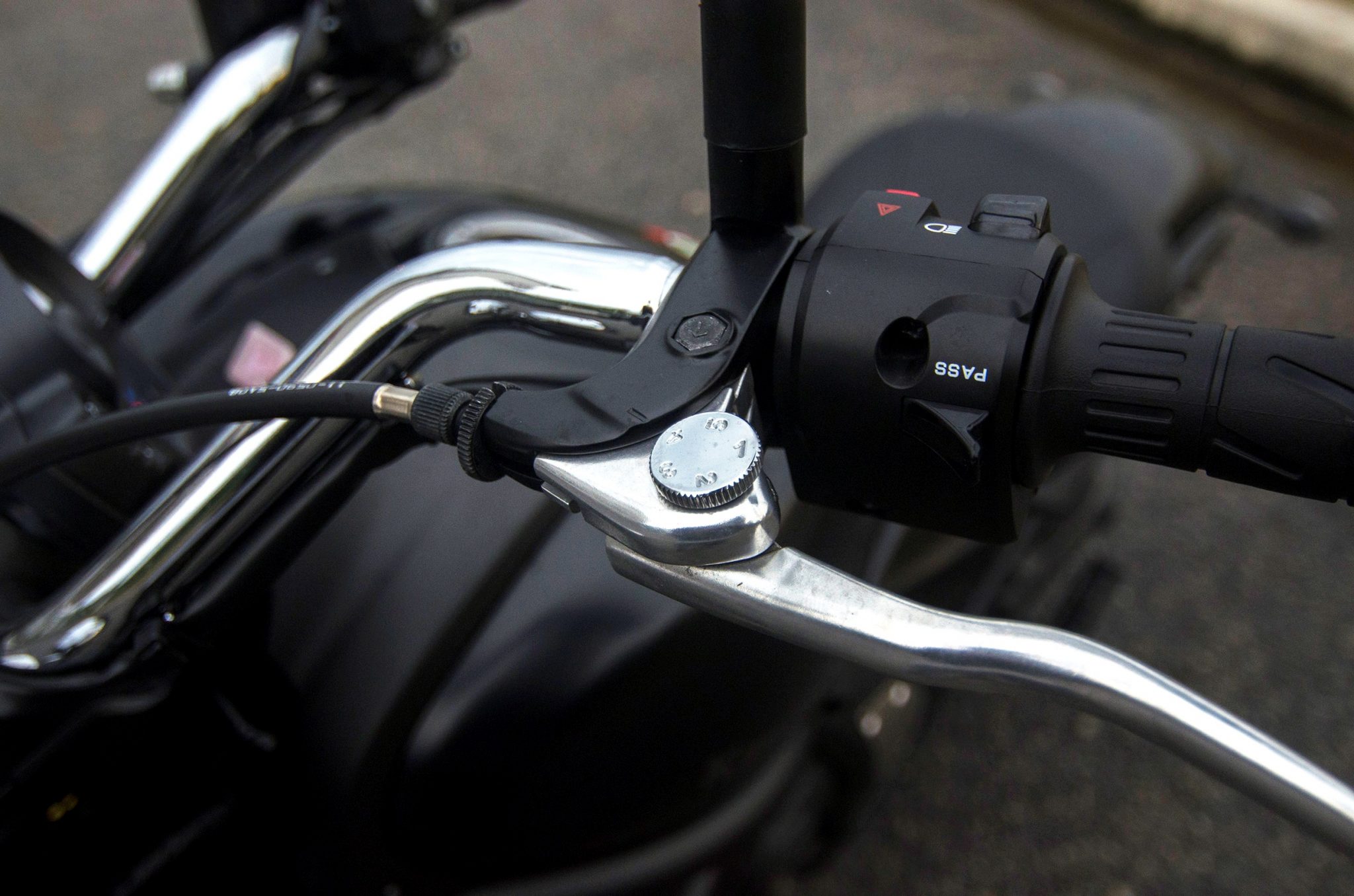 Interestingly, the forward-control footrests are adjustable, to cater to riders of differing heights, which leads me to believe that Kawasaki are definitely targeting this bike at the fairer sex too. And why not? Lady bikers are on the rise (and lookin' mighty fine I might add) and those looking for a cool cruiser that's exceptionally easy to ride and manoeuvre will find this Vulcan a gem.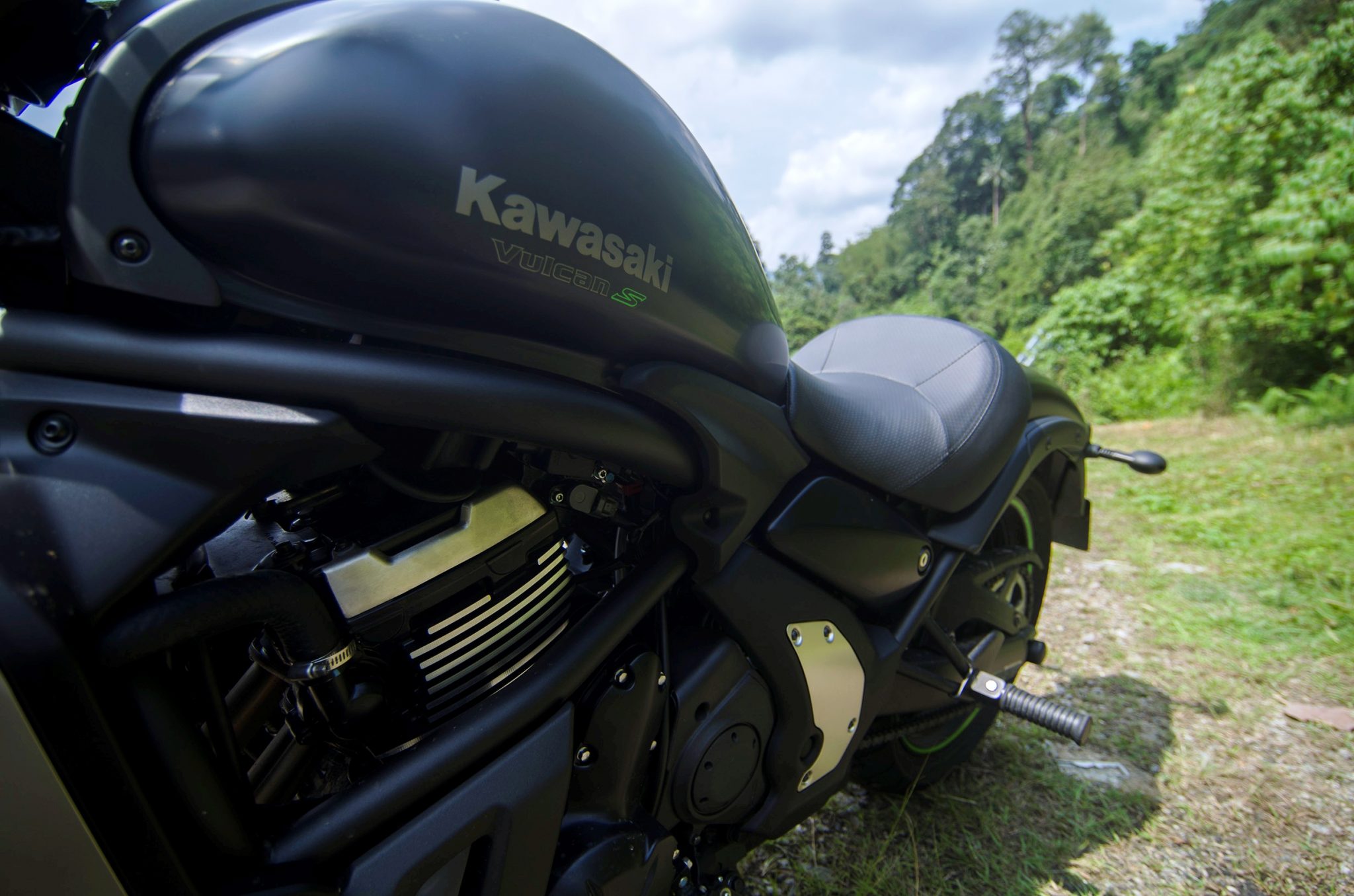 The rear seat is removable (as seen in the photo above) for that cool 'solo-rider' only look, but fair warning though, if you plan to carry a pillion, an optional backrest is a must. Maybe saddle bags too because there is ZERO cargo carrying capacity on this bike, and you won't want to slap on a tank-bag either because it'll ruin the aerodynamics, but more importantly tank-bags are friggin' ugly…
While on that topic, looks are indeed subjective, but I have to say Kawasaki got it spot-on right with the Vulcan. It comes in two distinct colours; Matte Black and Metallic Purple ala the Purple Rain bike. Those of you growing up in the 80's will know what I'm talking about, for the rest I'll wait while you check Google…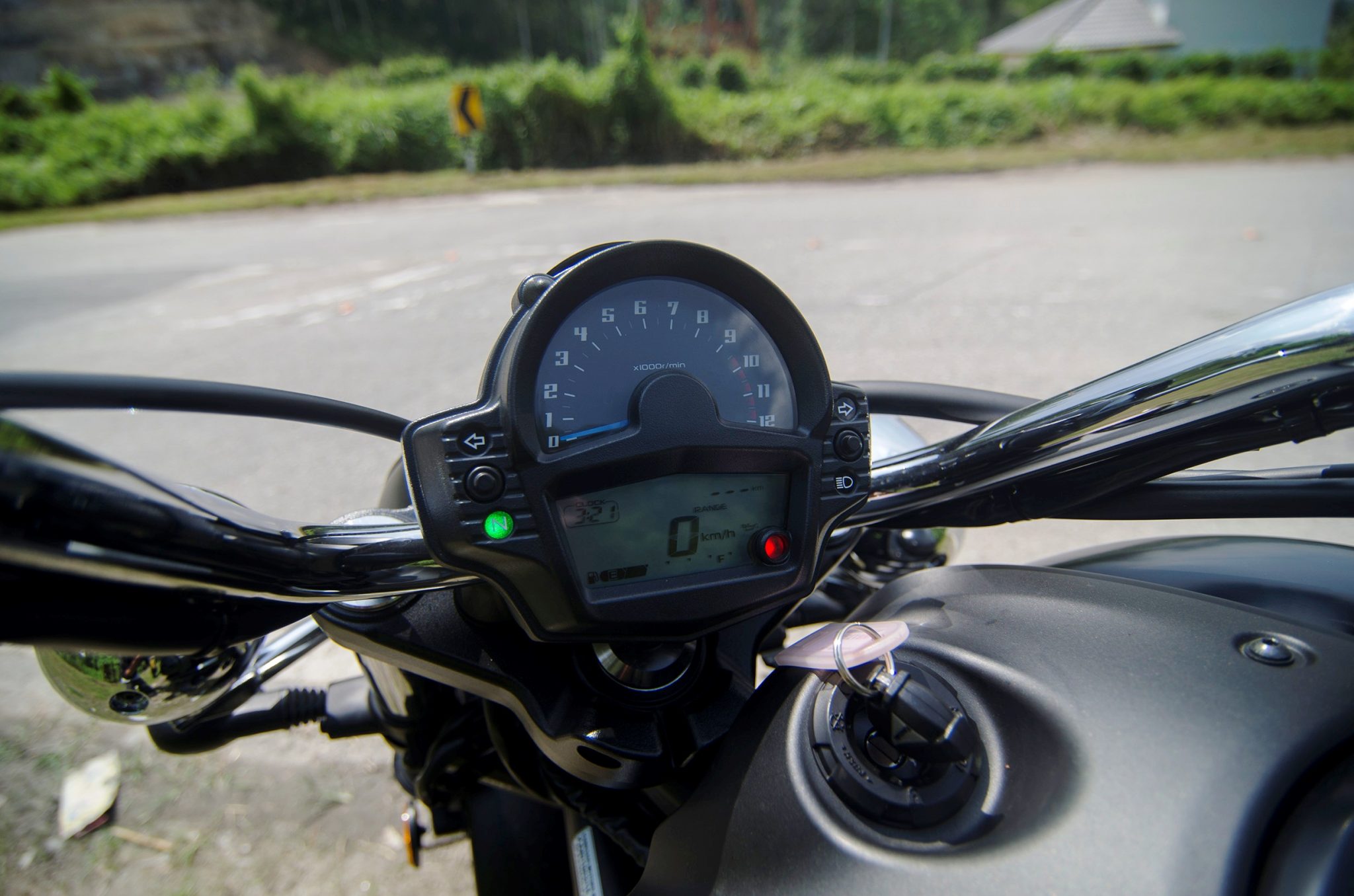 During the time I had the Vulcan, I found myself wanting to take it out for a spin quite a lot just for the hell of it, and that's what the essence of biking is all about. There should never be a need for a 'reason' to ride, you should just want to ride. The Vulcan makes you feel this way. Just looking at it without wanting to swing a leg over it is impossible.
My only gripe is that Kawa M'sia should have considered offering a model with ABS, at least a higher spec model priced slightly more would have been okay, it would have been a good option for buyers. That said though, I can't fault the bike, it really is a gem, and I even like the 'tuned' stock exhaust note! Nice one Kawa! – CW.
Jeff Ng says…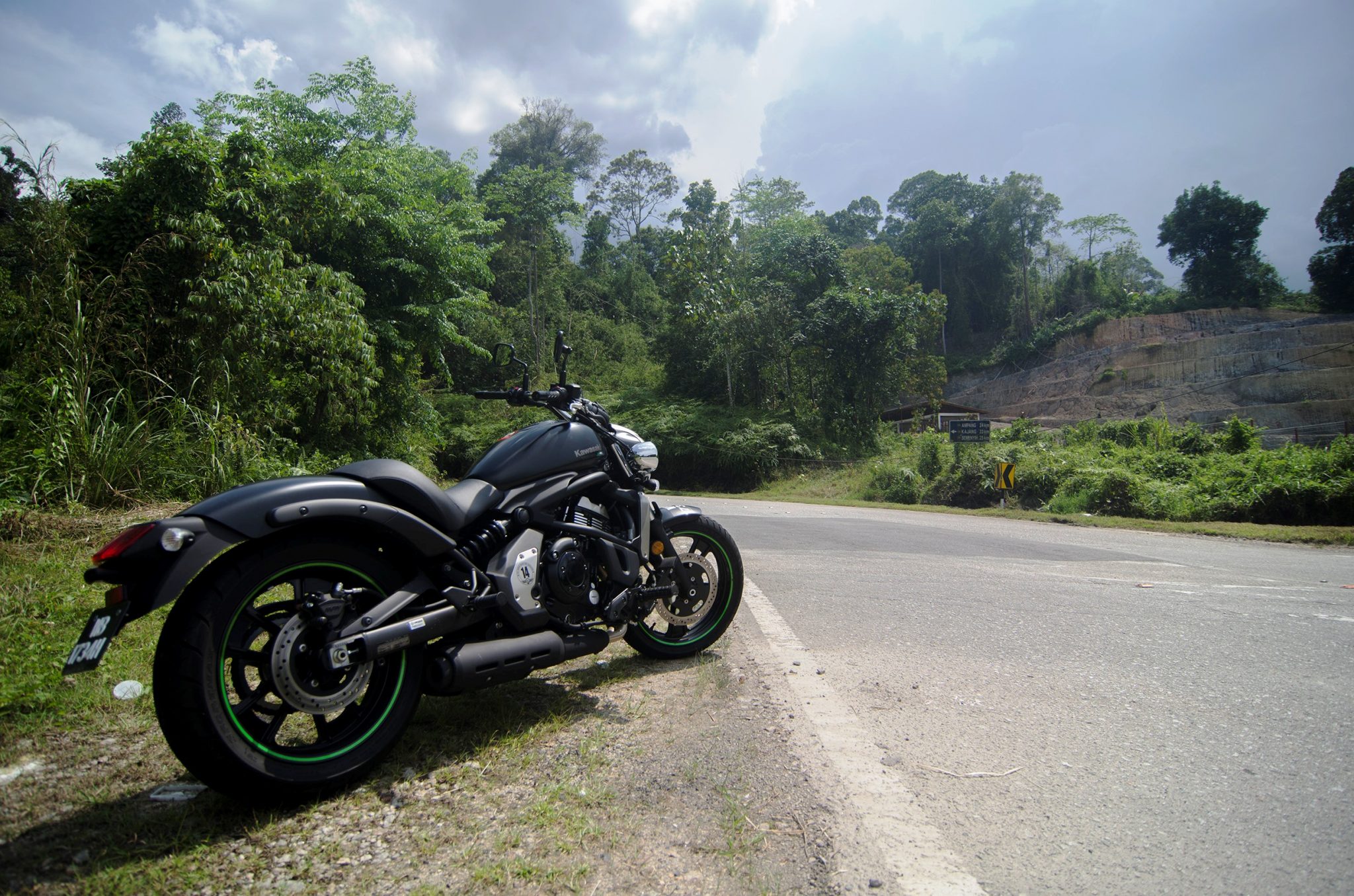 Over the last weekend, I had the opportunity to ride the newly launched Kawasaki Vulcan S. I was contacted by Chris the night on Friday that he has the ride with him and that I could pick the bike up for the weekend to test it out.
I was excited, yet at the same time nervous, as this is the first of its kind, a cruiser, I will be riding. I have ridden many kinds of motorcycles however never a cruiser. It is a common belief that cruisers are for people who are in their 40s or 50s or older. I find this untrue after I have ridden the bike over the weekend.
I took this chance to test the motorcycle out at Kuala Klawang, starting from Jelebu to Hulu Langat, a spot very well-known for its sharps turns and of course, a very long route however many riders tend to ride the other way round, from Hulu Langat and exit at Jelebu, Seremban. Riding the route backwards mean "uphill", and uphill means I can push this bike hard enough to know how it performs at turns.
The Vulcan S was designed with adjustability in mind, or so I can say. The bike comes with adjustable clutch and lever distance to suit your hand sizes, should yours be too big or small that is. Then, there is the foot rest (or footpegs) that can be adjusted as well, there's extended reach for those who are about 6ft tall, medium reach for the 5ft 8in and the closest one for those who are vertically challenged. This is known as ergo-fit.
This adjustability made riders who have different height able to suit themselves when sitting on the bike, as opposed to many motorcycles that have only one design or fitting. If you don't fit in on the bike, you will need to find another bike (unless you buy and try to make yourself comfortable anyhow.)
With ergo-fit, Vulcan S is really the bike for everyone, whether you're tall, short, big or small.
Can't say too much for 'small', as I'm very small sized myself, I find myself in trouble at times to which I'll share later.
The bike's seat was spacious enough, sideways and front-back, at least for me. Not only is it spacious, it is very very comfortable for short rides. I do not know why, I hope this differs for Chris, my butt hurts after I have finished testing the bike at Kuala Klawang.
The bike's parallel-twin 650cc DOHC engine derived from the ER6, packed for low and mid end torque really punches the bike when taking off. I was immediately 'left behind' when I twisted the throttle, the engine delivers its 63Nm of torque, I did not fall thanks to the seat holding me back, maybe that was the cause of it that made my butt becomes sore.
Its rims remind me of the late 80s Porsche 911 Carrera Targa, and I didn't quite like the green lining on the rims – looks really badly done. I rather if Kawasaki has left the rim as an all-black.
The speedometer is as simple as one-two-three. Straightforward as when I first looked at it, I immediately know what's what. An analogue rev dial, digital speed meter, fuel capacity, fuel range, two trips meter and of course, a clock, not forgetting a separate signal indicator and the neutral gear finder. However I find that the dashboard doesn't have gear indicator, I will have to rely on the rev meter. (I found that Kawasaki USA has an independent gear indicator for US$260, for an indicator? WOW.
Nevertheless, the unit I had did not come with windshield either, imagine the horror, the wind resistance. Especially when you have leather jacket with paddings in it, the amount of drag created by the wind, Chris did inform me to 'check out' what the top speed is…. Well, on the highway I did, while the resistance was killing me, I managed to hit 185kmh. Although I was also cruising at 120kmh, my fingers would be very sore due to the wind resistance.
The Vulcan S performed really smooth especially when cruising between 4-5k revs while below 4k revs in any gear the bike would be underpowered. I went up the hilly route and sure enough, this bike was packed with enough punch to go through the hills and corners but only if you keep it above 4k RPM.
Then there is the fuel consumption. On a full tank from Flora Damansara, I travelled to Jelebu through North South Highway (via Federal Highway – Old Klang Road) and at the very end of the ride, I still had about one bar left, that is about 3 litres at least. That's pretty amazing considering I did not start the hilly route with full tank. On a normal usage I could clock up to about 350km on a full tank with "eco-mode" on most of the time. Pretty fuel efficient for a two-cylinder and considering the bike has only 14L fuel capacity.
The bike sounds pretty sweet for a stock exhaust. I have always loved stock exhausts unless it's an in-line four with shorty pipes. It did not sound loud nor 'soundless', for anyone interested, you could ride at second gear and just cruise slowly, I could hear 'kettle whistle', likely coming from the silencer. Again, pretty sweet for a stock exhaust. Although many might argue that loud pipe saves lives, some might be overkill, especially many single-cylinder bikes with really sharp noise coming from the can.
Conclusively, I love this bike despite the missing windshield, the comfort, the position – the bike is properly sorted. However, I always have a pet peeve when it comes to bikes and it's the vibrations. I noticed the right foot peg and handle has more vibration especially when cruising. I hope Kawasaki looks into this and rectify if possible.
Photos by Jeff Ng