ADVERTISEMENT
The all-new Lexus NX is regarded as an important model for the Lexus brand as it features many firsts for the automotive market and for Lexus itself. Recently, I was extended the opportunity to test drive the top of-the line NX 200t F-Sport for a few days to find out what this crossover has to offer.
Lexus claims the new NX is designed for a new generation of affluent buyers in their 30s and mid 40s who appreciate a sophisticated lifestyle, driving performance and practicality at the same time. The overall design says it all; this SUV appeals more to the younger segment of the market as compared to other Lexus models that are mostly targeted to well-established individuals like, you know, the middle age uncles or aunties…
It's hard not to notice that the NX 200t F-Sport dressed in exclusive Exceed Blue Metallic here (mind you, I almost had to flip a coin with another motoring journalist for it) is more striking and features a bolder look compared to the rest of its siblings. Up front, the NX sports an exclusive mesh design for the grille with the L-motif opening spread from upper to lower levels, emphasising a high-performance image.
Other styling elements that identify the NX 200t F Sport from the rest are the bold bumper profiles with metallic finished lower moulding and exclusive black outer mirror housings. The F-Sport variant also comes with exclusive 10-spoke alloy wheels with a dark premium metallic finish and sporty design, fitted with 235/55R18 tyres as well as a huge black-tinted panoramic glass roof.
Besides the sports car-inspired exterior, the NX 200t F-Sport will also pamper you with an equally stylish interior and intuitive ergonomics. The cabin is perfectly sized for 5 adults or a young family and the boot space is practical and large enough to carry golf bags, sports gear or travelling size luggage, or whatever may be necessary for a weekend getaway.
It's also worth mentioning that the driver's seats will make you feel like you're sitting on a Barcalounger at home, except that is way better because you can adjust them accordingly and it comes added with electronic ventilation. It keeps you snuggled and comfortable when hitting the road; fatigue will be a non-issue, especially during distance journeys.
Beyond that, the NX interior is perfect for technologically savvy customers and for those who prefer to keep things simple. Speaking of tech and gizmos, the all-new Lexus NX features a huge number of technology improvements over its predecessors. For instance, the NX features a Remote Touch Interface with a touch-pad (photo below) that works just like the touch pad found on a laptop, which provides more intuitive operation than the previous joystick-type remote touch interface which I'd tested before.
I have to admit that it is much easier to operate as compared to the joystick, and hey, if you're the OCD type of person who hates looking at fingerprint smudges all over your display screen, this is a perfect vehicle for you!
Another cool gadget I found in the NX is the Qi-wireless charging tray that is located inside the console box. I was pretty excited to test it, but unfortunately it only supports compatible smartphones and it is most likely for iPhone users. Hey, not everybody has iPhone you know….
Best of all, the NX also features a Smart Card Key to replace a remote key or actual key so that the driver can just keep a card-like car-key in their wallet or pocket instead of carrying around car keys. (What what what!? – Ed.)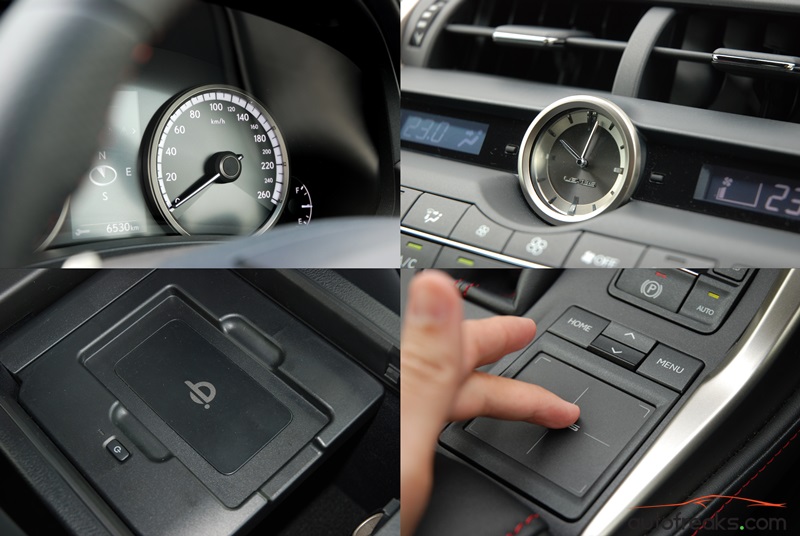 Lexus claims the NX delivers on-road performance that is closer to a sports car so I was keen to find out if the NX was able to live-up to that accolade or did it drive just like a traditional SUV.
Well, let me get this straight and tell you that despite its F-Sport badge, the NX is not the type of car you would want to take to a race track. First of all, you won't be sitting low to the ground, but rather quite high, so if you are driving the NX on the highway, you'll get a very decent vantage point of the road (also, it is perfect for vertically challenged drivers out there!).
Underneath the Lexus NX bonnet lies a 2.0-litre twin-scroll turbocharged petrol engine that churns out 235hp at 4,800-6,500 rpm with 350Nm of torque from 1,650-4,000rpm, mated to a 6-speed automatic transmission with all-wheel drive system. This result in excellent straight line performance and despite its height, the NX proved to be very stable at high-speed with minimal body lean when tackling the twisty roads.
To make your drive as enjoyable as possible, there's 4 'drive modes' to choose from. You can select ECO mode when you are running low on petrol, or NORMAL mode for relaxed driving. SPORT mode will hold the gears longer before shifting, and tightens the steering wheel for better control. SPORT+ mode on the other hand, gives you a more engaging and interactive driving experience so the driver has maximum control of the car at all times – suitable for an occasional auto-freaks driving sessions.
At the end of the day, I came to a conclusion that looks can sometimes be deceiving. Honestly, I would assume that the F-Sport variant would produce a much gruffer exhaust note as compared to the rest of the variants but to my surprise, the cabin is so well insulated, you'll hardly notice if the SUV is moving at a decent clip. The overall ride keeps you in the comfort zone most of the time, and it is tolerable over potholes or speed bumps.
Just like other Lexus models, the NX offers an array of assistance system besides the standard 8 airbags, there's also ABS, EBD Brake Assist, Traction Control and Vehicle Stability Control.
One of their latest safety technology that I would like to highlight is called the Panoramic View Monitor which displays an image like a bird's-eye view of the NX, combining a seamless image from 4 cameras on front, rear and left so the driver can see the area around the vehicle. This is one of the coolest features I've seen in a Lexus so far, which I enjoyed fiddling around with for quite some time.
It actually lets you view the vehicle from above and take notice if there's any object on your left, right, front and rear of the car. Although there's also rear-view camera fitted standard as well, driver's will probably pay more attention to the Panoramic View Monitor (below) because it allows you to park your vehicle as safe as possible.
Even if you are so used to looking at the side mirror when reversing, I was really impressed to find that it automatically titled downwards for the driver's convenience. With all this aided technology, it's safe to say that it's hard to fault  the NX because Lexus has built this SUV with microscopic details in mind. In fact, most accidents involving a vehicle nowadays were normally caused by human error and the lack of control. So despite all the available safety features in NX, as a driver, you should know how it works too.
Be it a short jaunt to the grocery store or a weekend getaway, if you are looking for an SUV that can provide driving comfort and plenty of high-tech goodies, the NX will be an excellent set of wheels for you. And it will only cost you RM378,875 on-the-road with insurance, so if that's within your budget, you really should have a look at this thing.
SPECIFICATIONS: Lexus NX 200t F-Sport
Displacement: 1,998cc In-line 4-cylinder Twin -scroll Turbocharger
Transmission Type: 6-speed automatic transmission
Power: 234hp @ 4,800rpm-5,600rpm
Torque: 350Nm @ 4,000rpm
Fuel Consumption: 12.4-litre/100km
0-100 km/h: 7.1 sec