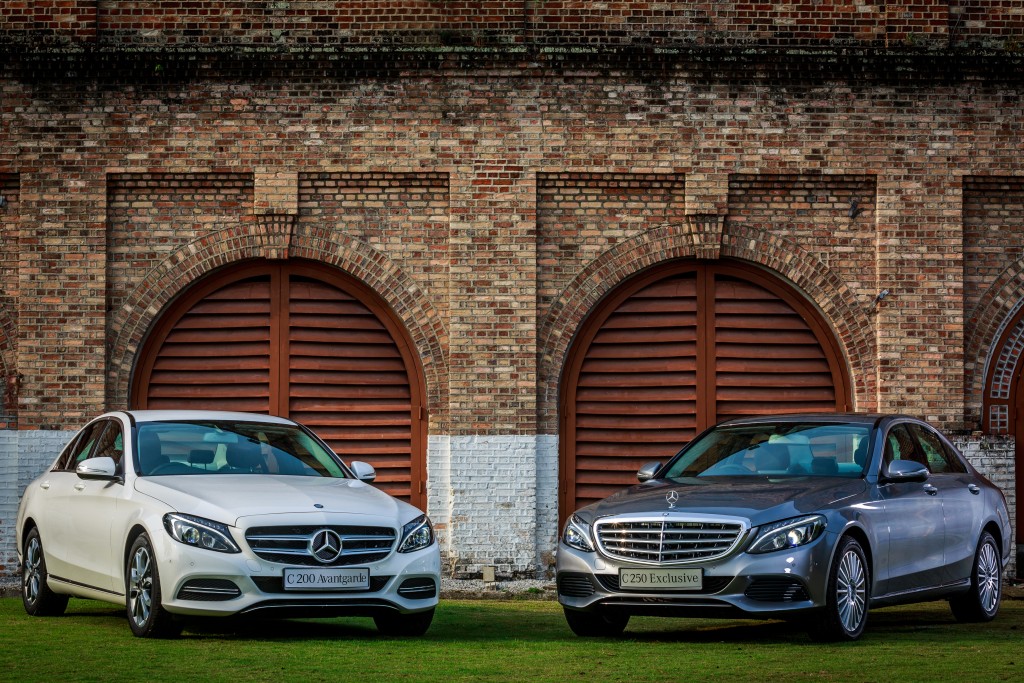 ADVERTISEMENT
Following its successful launch of the new C-Class CBU models back in September 2014, Mercedes-Benz Malaysia has finally taken the wraps off the CKD C-Class priced from RM269,888 (C 200 Avantgarde) and RM299,888 (C 250 Exclusive).
Although the sedan is now locally assembled, the level of spec and equipment line are still identical to the previous imported models at more affordable price tag (between RM15,000 and RM16,000 price difference). Recently, the C-Class was awarded with 2015 World Car of the Year awards.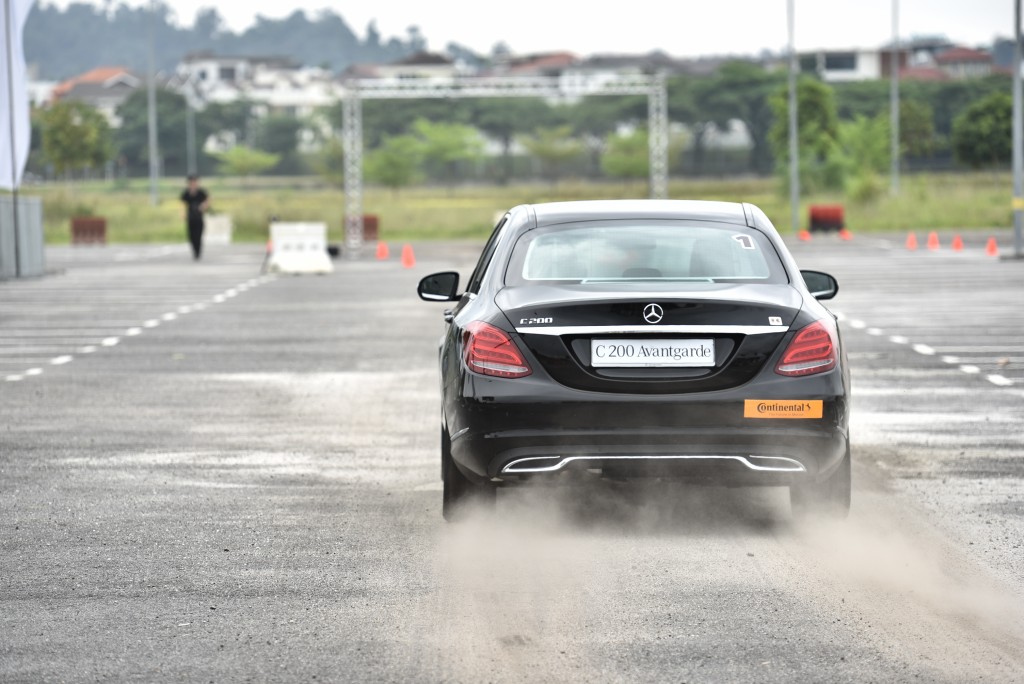 Under the hood, power is supplied by a 2.0-litre four-cylinder engine pumping out 184hp and 300Nm of torque in the C 200. The more powerful C250 on the other hand, churns out 211hp and 350Nm of torque. While the C200 sprints from 0-100km/h in 7.3 seconds whilst reaching a top speed of 235km/h, the C250 acceleration is a tad quicker at 6.6 seconds with top speed limited to 250km/h. Both models are mated to Mercedes' 7G-Tronic Plus seven-speed automatic gearbox.
Thanks to its low aerodynamic drag of 0.24 and lightweight construction ( 100kg lighter than previous generation), the company claims that both variants returns 5.3-litre/100 km with CO2 of 123g/km.
In terms of overall design, the Mercedes-Benz C 200 Avantgarde features contemporary and dynamic characteristics that define the C-class as a sporty saloon. This line includes the sports grille with twin louvres and a central star, on the long bonnet.
The C 250 with the Exclusive line on the other hand, features a classic radiator grille, and an airpanel active radiator shutter which opens and closes the radiator grille depending on the cooling demand to reduce air resistance.
Another unique feature available in the C 250 is the Air-Balance package, consisting of active fragrancing, ionisation and an even more efficient filtration. 4 fragrances are available for their customers to individualise according to their taste. The C 250 is also fitted with a panoramic sliding/tilting sunroof for those who enjoys the sun.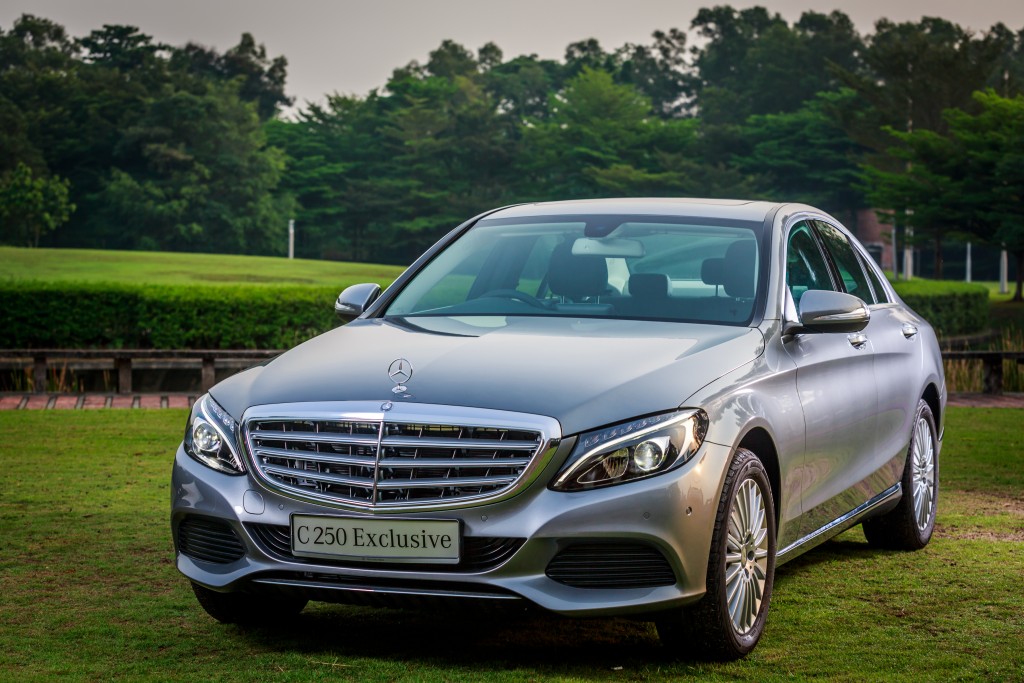 Inside the super-posh cabin, you'll be able find a multimedia system controlled by the innovative touchpad integrated into the hand rest above the controller on the centre tunnel. This provides for very simple and intuitive operation of all the head-unit functions using finger gestures like a smartphone. The touchpad also permits letters, numbers and special characters to be entered in handwriting – in any language supported by Audio 20. The user receives clear tactile feedback when operating the touchpad's control surface, which is highly conducive to genuine intuitive use.
Furthermore, the new C-Class is equipped with the unique Frontbass system. This acoustic system uses the space within the cross-member and side member in the body structure as a resonance chamber for the bass speakers to conjure up a listening experience almost on a par with a concert hall. Beyond that, you'll be able to find Bluetooth-capable mobile phone connectivity for internet access via the screen located on the centre console. Audio and video playback is possible from various sources, for example, via Bluetooth, from an Apple iPod or iPhone, from an SD card, USB stick or CD/DVD.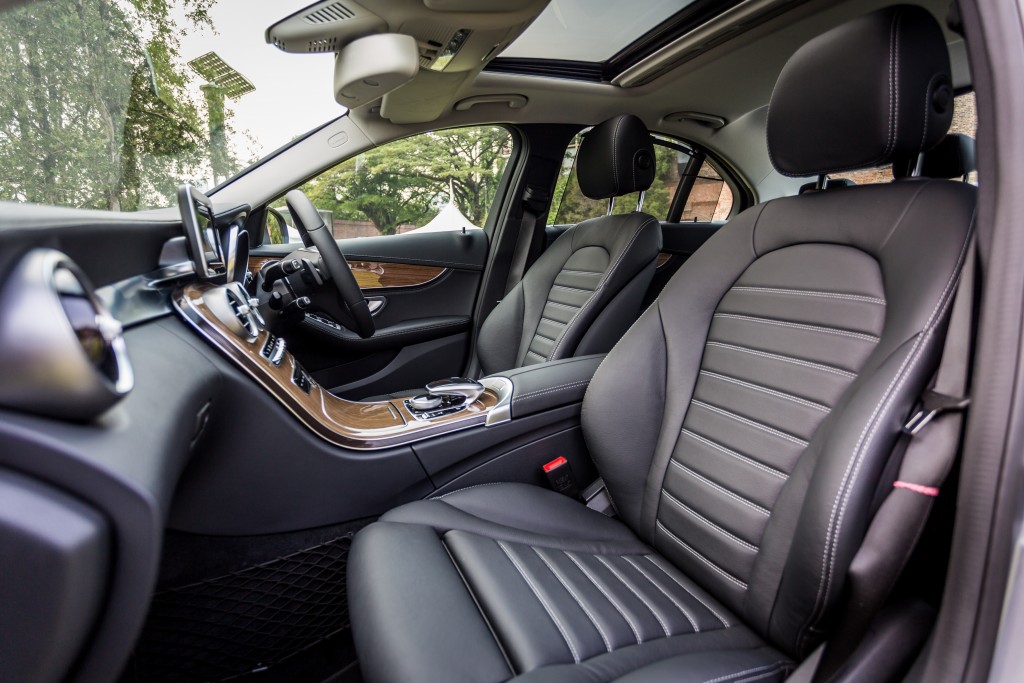 The new C-Class also offers numerous innovative assistance systems. It is fitted with Attention Assist, which can warn the driver of inattentiveness and fatigue. The Attention Assist function offers an adjustable level of sensitivity and can inform drivers in a separate view in the instrument cluster about their level of drowsiness and how long they have been driving since their last break.
The new C-Class will also feature Active Parking Assist, which enables automated parking with active steering and brake intervention in both parallel and end-on parking spaces so you can actually park your vehicle skillfully without using both hands.
The new C-Class specifications at a glance:
| | | |
| --- | --- | --- |
| Model | C 200 (CKD) | C 250 (CKD) |
| Displacement cc | 1991 | 1991 |
| kW/hp | 135/184 | 155/211 |
| Nm | 300 | 350 |
| 0-100 km/h in sec. | 7.5 | 6.6 |
| l/100km | 5.3 | 5.3 |
| CO2  g/km | 123 | 123 |
| Price (OTR w/o insurance)*Price is inclusive of GST | RM 269,888 | RM 299,888 |
Mercedes-Benz C-Class Driving Experience
In conjunction with the official launch of the CKD C-Class, Mercedes-Benz Malaysia organised a C-Class driving experience held at the Setia City Convention Centre, Shah Alam. It was hosted by certified trained and instructors from Mercedes-Benz, and besides having given the opportunity to test drive the saloon, there were also numerous Mercedes-Benz models lined up for the safety driving training exercises as well.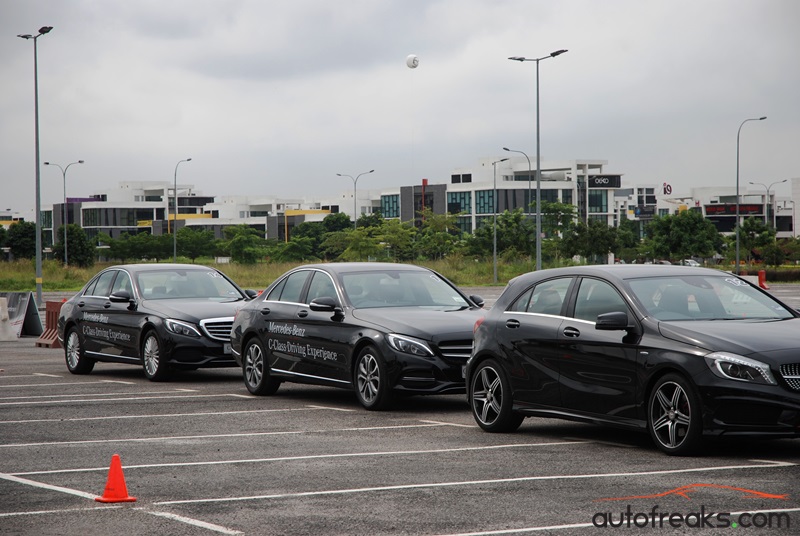 The exercises were divided into three categories, which consisted of collision avoidance, emergency avoidance and oversteer and understeer. These exercises aim to hone our driving skills, teach you on how to react when danger approach and how to make critical driving decisions when you need it the most. In fact, we were also given some valuable driving tips from behind the wheel such as how to get a proper driving position and hand placement on the steering wheel.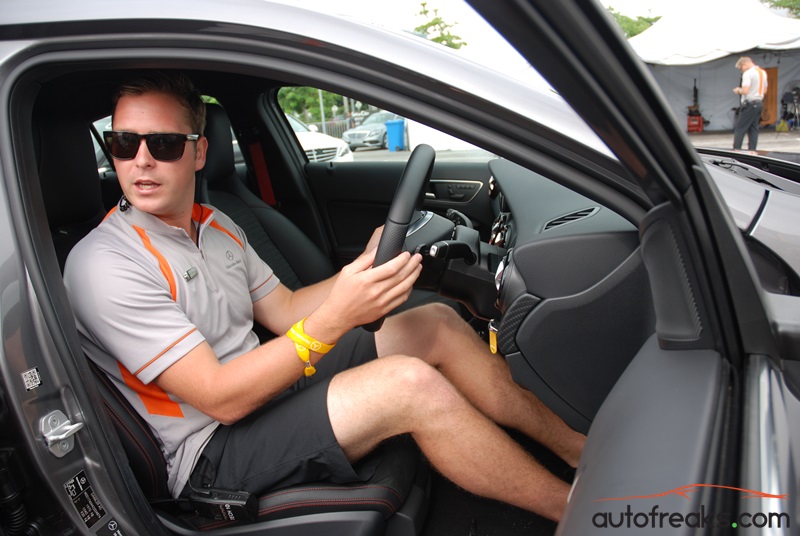 Thanks to the newly developed suspension, customers are able to find that the new C-Class provides very nimble and agile handling that gives you more driving confidence on the road especially when tackling winding roads while also offering comfort ride at the same time. On top of that, the C-Class is designed to the provide the best safety level as possible, with the help of numerous safety technology offered in the C-Class such as the ABS (anti-lock braking system) and ESP (electronic stability program), adaptive brake assist and collision prevention assist plus.
In one particular exercise,  MBM installed 'easy drift' prototype tyres on the rear wheels of the C-Class that can slide through corners as if you're driving in snowy conditions/wet asphalt. Participants had to then manoeuvre successfully in a figure S and a corner by counter steering and controlling the level throttle. Unless you're a professional driver, not everyone nailed the task successfully especially on their first try. Most participants spun the sedan uncontrollably on the tarmac. When the ESP is turned on, it will assist the driver to stabilise the vehicle by braking individual wheels and adjusting the output accordingly. As a result, the C-Class was able to complete the exercise with flying colours.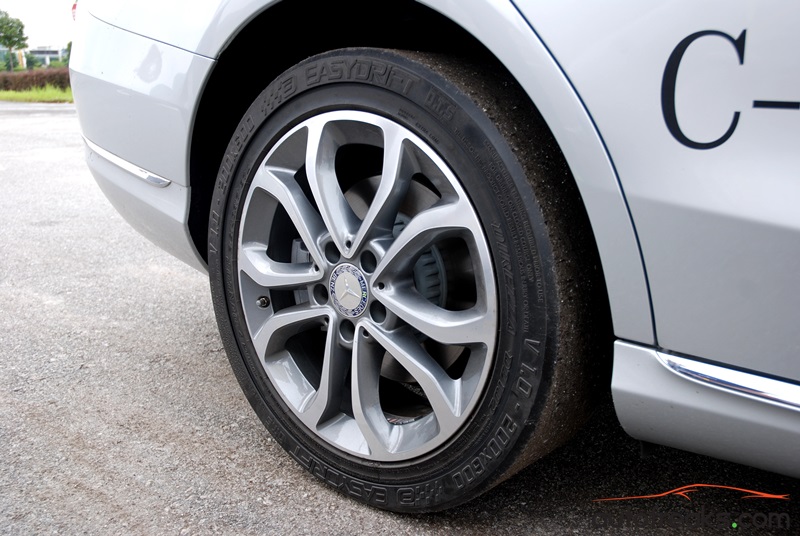 It goes without saying that the Mercedes-Benz active safety features equipped in the C-Class employ a range of measures to support safe driving in everyday operations and to help you bring critical situations under control. This will give a peace of mind especially when driving in on our local roads or during our crazy thunderstorms!