ADVERTISEMENT
Hyundai Motor Company is celebrating its presence at the 11th Seoul Motor Show, which kicks start this week, with the world premiere of an all-new design concept called the 'Enduro' lifestyle urban crossover utility vehicle (CUV).
The name 'Enduro' is derived from 'Endurance.' Also, Enduro visually combines SUV looks with a rally motorcycle which competes in the world's toughest rally events. The Enduro is designed as the perfect companion for those living in the modern city with energetic, athletic lifestyles.
The Enduro features a new interpretation of Hyundai's design signature hexagonal front grille, now with a lower center of gravity providing stability. An aluminum aero blade connects the front fender to the grille, giving the CUV a look of self-confidence.
Seen in profile, Enduro has the look of a crossover vehicle, with raised ground clearance, SUV-style fender cladding and a dark grey garnish to the lower parts of the car, which appear robust and protective, while expressing mobility and agility. The C-pillars are fitted with an aerodynamic air-blade to reduce drag and the side-skirts incorporate step bars for easier loading / unloading of the roof rack.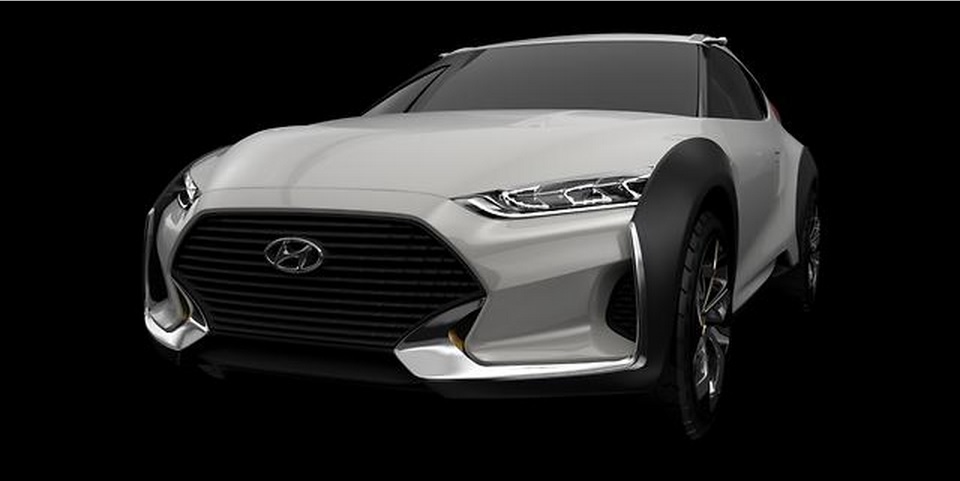 More…
Inside, the styling of the dashboard and center console feature the eye-catching combination of horizontal and vertical elements, which express sportiness, toughness and endurance. The Enduro's cabin seems to wrap around the driver's seat in a manner that creates a dynamic atmosphere, while underscoring the solidity of the vehicle's structure. Facing the driver, the instrument cluster concentrates a multitude of information in an integrated display that minimizes distraction through its driver-centric design.
Small details of the interior are exploited to reinforce the Enduro's sporty image. For instance, the steering wheel design features the spoke and handle molding of a road bike and the door handles have a lightweight cowl image of an off-road bike. The design of the trunk turns it into a durable, flexible space, with versatile drawer-style compartments that can safely accommodate a broad range of lifestyle sports equipment.