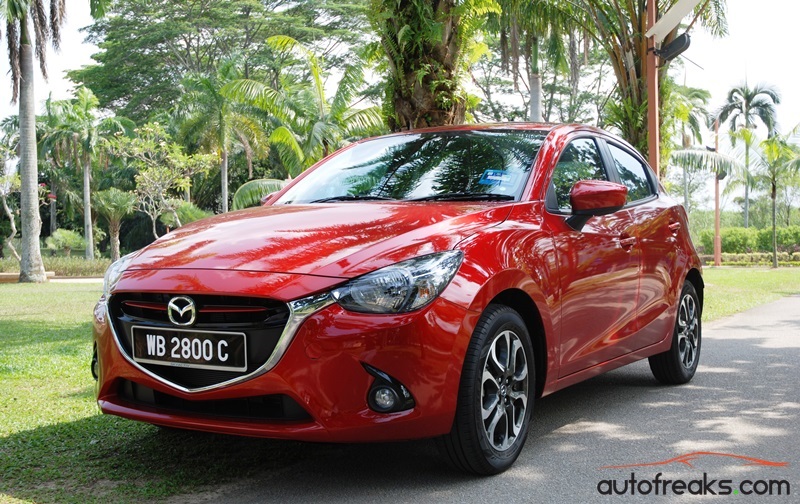 ADVERTISEMENT
For quite some time, I had the bragging rights of telling the whole world that I owned the best-selling car ever in Europe, the Ford Fiesta. Well, that was before the Mazda2 came into the picture recently, so yeah, it's a love-hate thing with this car…I hate the fact that I love it; or hang on, do I love the fact that I hate it? Hmm…
Straight-up, it has to be said that Mazda has set the bar high with the Mazda2, claiming that it will shatter everyone's preconceived notions about the B-segment class. After I was given the opportunity to test the Mazda2 for a weekend, I've certainly fallen head-over-heels over this new kid on the block! Please don't tell my car…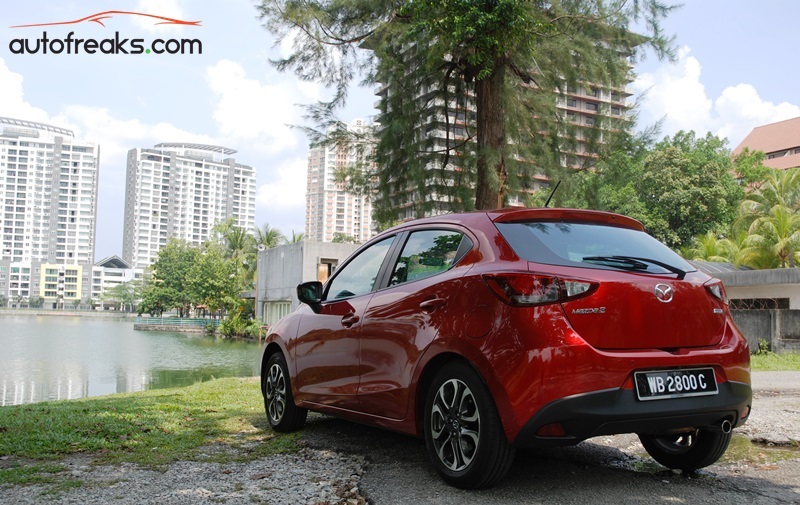 Forget what you know about the previous generation Mazda2 because this all-new Mazda2 has been completely redesigned inside and out featuring SkyActiv technology underpinnings, that's currently available in the Mazda6 and CX-5.
Mazda has certainly upped-the-ante with the Mazda2 styling by taking the KODO soul-of-motion design and condensed it into this compact body. As a result, the cute bubbly-shaped supermini that would serve college kids well, has grown into a sharp looking, sexy hot-hatch catering to mature buyers too. Yes, the Mazda2 now looks so classy, chic and stylish, I had a hard time taking my eyes off the car.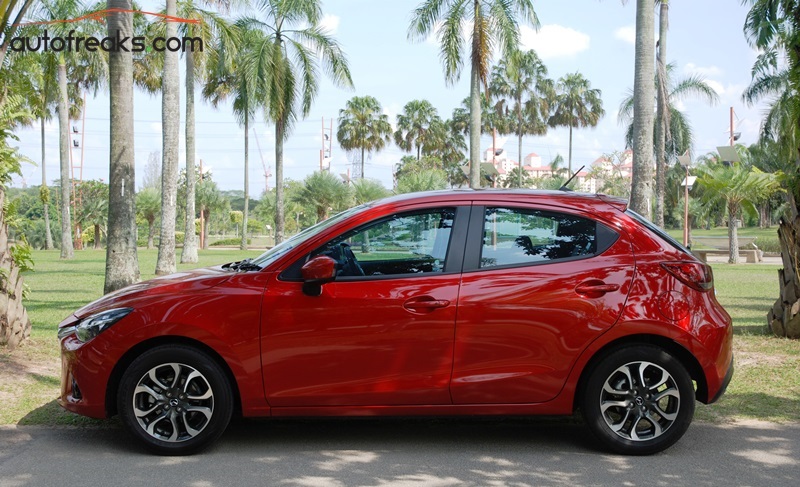 The interior design is a big step-up from the previous generation model too, with the most expensive-looking design that's more akin to a higher category of car. For instance, the asymmetrical round air vents, the seven-inch display and the rotary controller are reminiscent of the Mercedes A-Class I test drove recently, which makes it a very European flavoured car, which can easily pose a serious threat to the Ford Fiesta and VW Polo.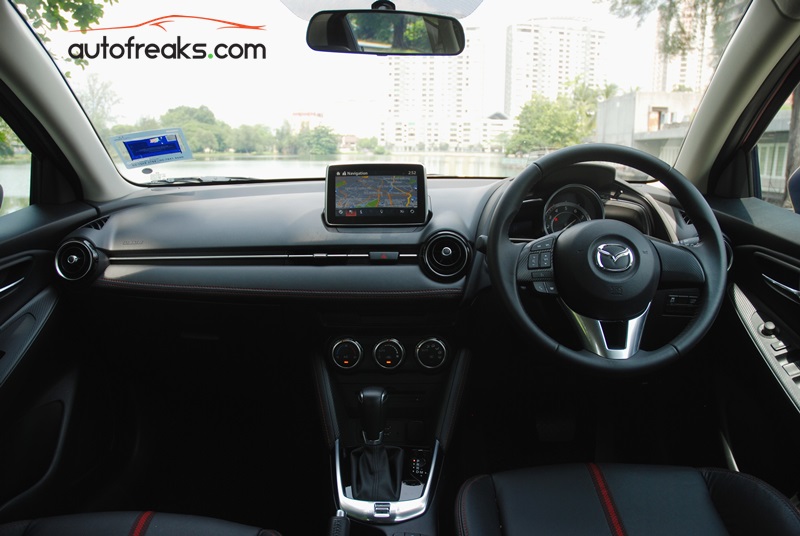 As a petrol-head who appreciates technological advancements, my most favorite tech feature in the Mazda2 is the crisp-coloured multimedia display unit which is super functional and simple to use. It allows access to the radio, navigation system, reverse camera, et al, controlled via the rotary controller located on the centre console. The best part is, you can even control the multimedia display via voice commands. For instance, you can simply voice command "find the nearest petrol station" and the navigation unit will list down the nearest petrol stations available within your current location via the 7-inch display unit. This thing works just like Siri so if you're stuck in a traffic jam and have no one to talk to, the voice operator can actually keep you company…(that's pretty sad. – Ed.)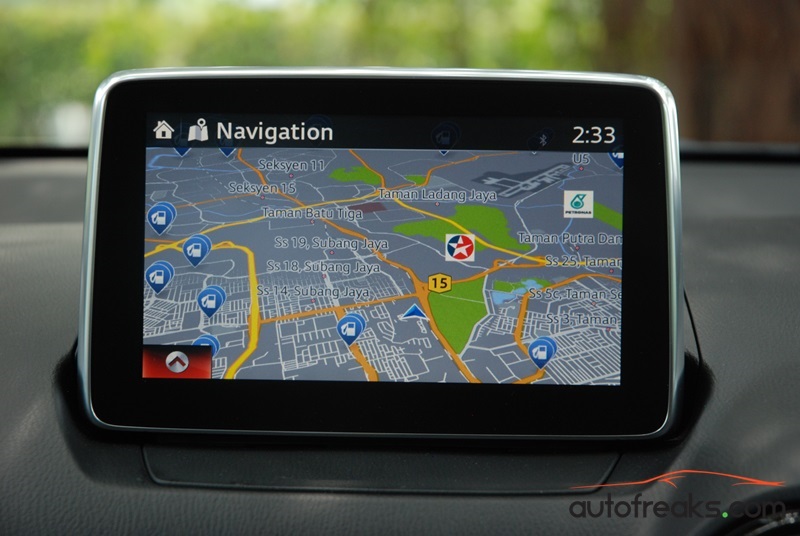 My second favourite feature is the Head-Up Display (HUD) which feeds the driver with the vehicle's speed, turn-by-turn navigation and emergency warnings projected onto a screen in the line-of-sight, so it's easier for you to focus on the road especially when driving in the dark. Though HUD has been around for decades, Mazda2 is currently the first B-segment class vehicle to equip it as a standard feature so Kudos to Mazda for adding this luxury touch into affordable rides without burning a hole in our pocket!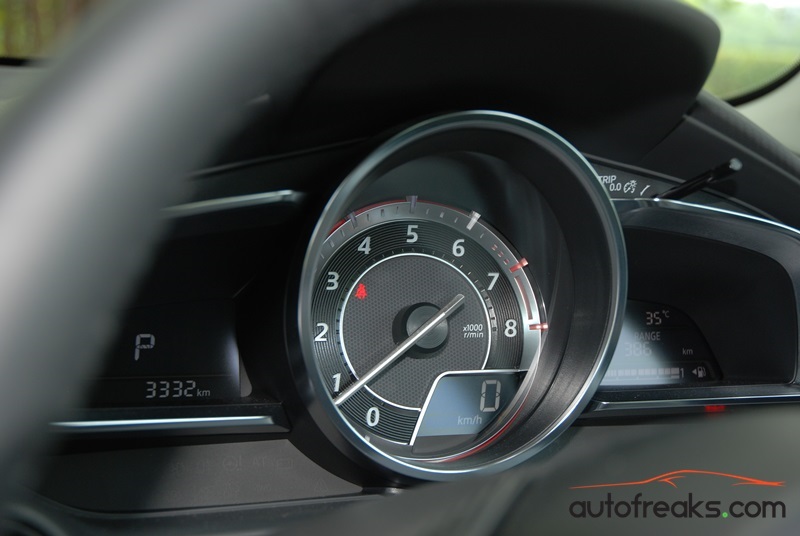 Elsewhere, you will also discover a new instrument cluster in the Mazda2 featuring a three-dimensional analogue meter dial flanked by a pair of wing-shaped digital displays. It is surrounded by a chrome ring that creates a very sporty design and complements the whole 'posh' yet sporty ambiance of this supermini.
While I personally think that the door panels and dash look a little cheap because it's made of hard plastic, the rest of the cabin area looks well put together and Mazda has done an excellent job to wrap this cabin in handsome materials like piano black, high-gloss and carbon fibre effect finishes to satin chrome accents and contrast stitching to help brighten the interior and give it a more luxe-environment.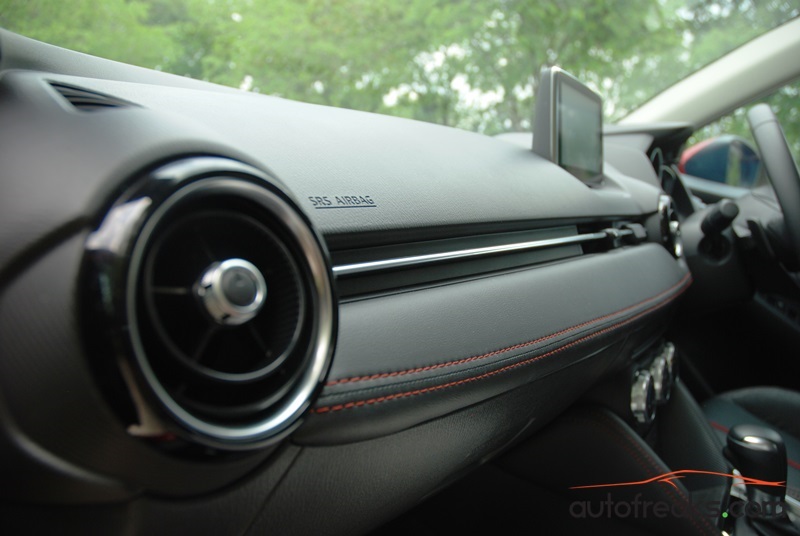 In terms of ergonomics, it's very easy to find an ideal driving position as well as steering positioning while the button and controls are close at hand logical to operate. I also like the leather wrapped seats that provide just the right amount of support, especially during spirited driving. Additionally, all-round visibility is near perfect. Suffice it to say, nearly everyone will be happy with the Mazda2 cabin; well, everyone below 6'2″ (190cm) perhaps, since my Ed said he felt a bit cramped in there.
My only complaint is that the rear space is a bit tight as compared to the Honda Jazz, Ford Fiesta or VW Polo, and I noticed that the doors don't automatically lock by themselves as you enter and drive-off. To me, having an automatic door lock is a huge safety factor, especially if you are a female driver driving alone because break-ins can occur anytime and anywhere.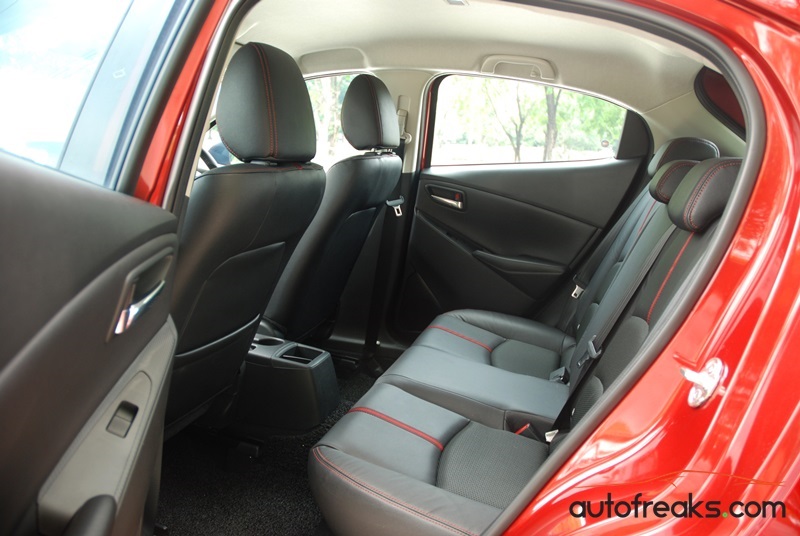 Given the fact that the Mazda2 is powered by a 1.5-litre SkyActiv-G that delivers 114hp and 148Nm of torque, the Mazda2 proves to be as zippy as any of its rivals, but ultimately, it won't overwhelm you with too much power.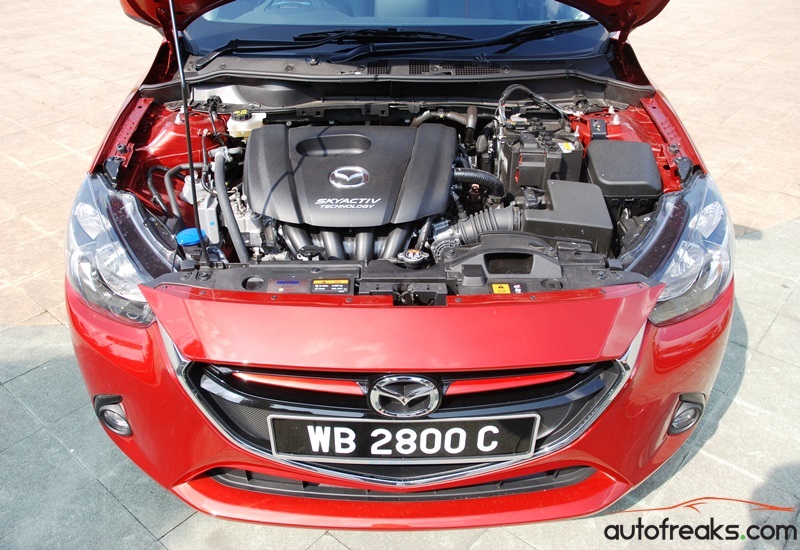 You won't have any complaints in terms of ride and handling either; in fact, you'll absolutely adore how well it handles and steers, happy to attack those curvy roads with ample grip so you can toss it through bends with pleasure. Wind noise is commendably low from inside the cabin and the Mazda2 has a firm, well-controlled, yet smooth ride-quality especially on straight-line motorways.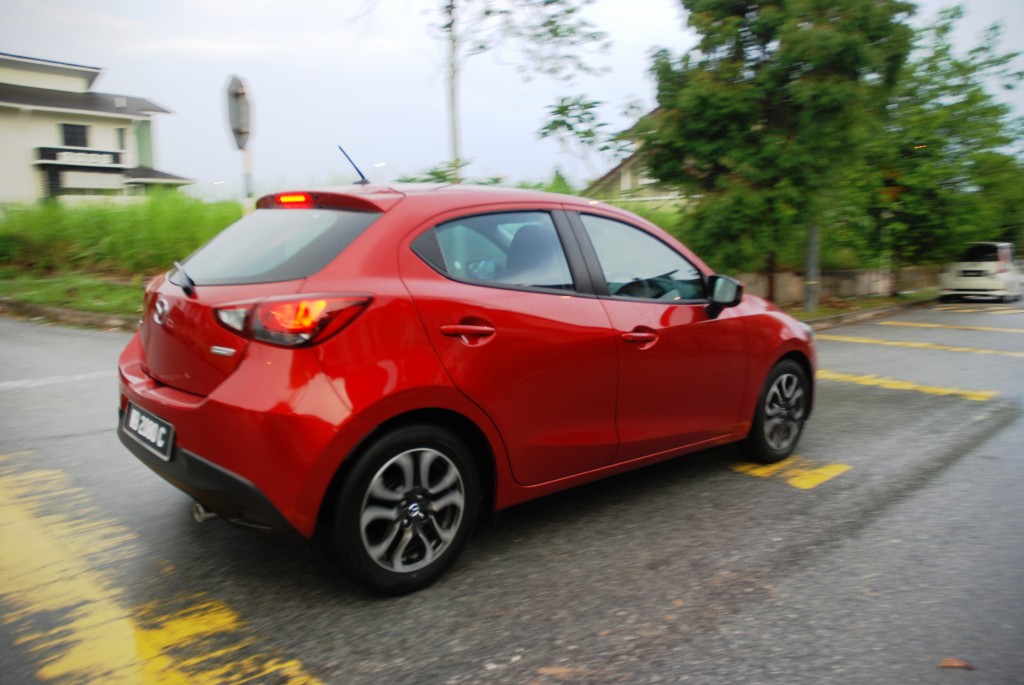 The Mazda2 can be reasonably economical as well, all thanks to its i-stop idling stop system which automatically kills the engine when at a complete stop. I'm not a big fan of this i-stop feature because it annoys me every time the engine shuts-off, but I noticed that it does improve real-world fuel-economy numbers. As a result, on average the Mazda2 consumes 8.0-litres per 100km during my short test run that involves 80% of heavy traffic driving.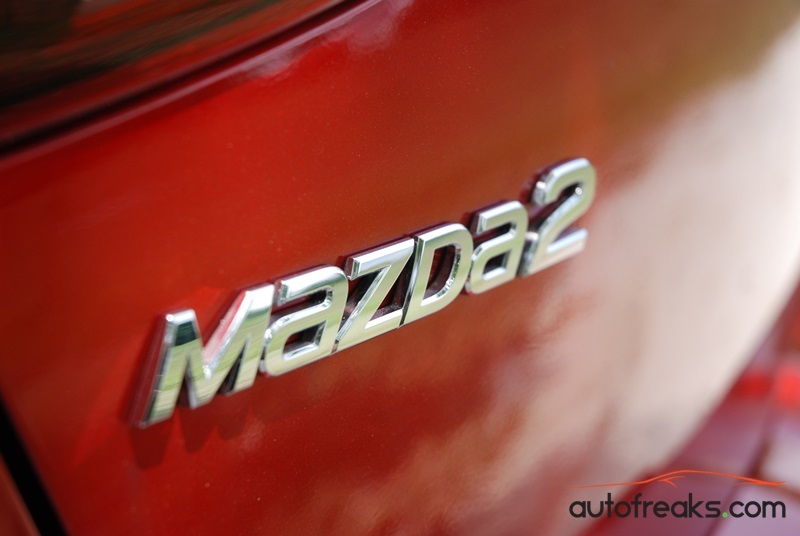 At below RM90,000, the Mazda2 offers you a lot of perks for less cash. It might not be the fastest nor the most luxurious car on the road, but it is one of the most well-equipped B-segmenters I've tested in recent memory, at an affordable price tag to boot. You don't need to own a fancy Ferrari to enjoy all the good things in life because sometimes, the best things can come in small packages!
SPECIFICATIONS: Mazda2 1.5 hatchback
Displacement: 1,496cc In-line 4 Cylinder SkyActiv-G
Transmission Type: SKYACTIV-DRIVE 6-Speed AT
Power: 114 hp @ 6,000rpm
Torque: 148Nm @ 4,000rpm
Fuel consumption (Combined) : 5.2-litre/100km ( claimed)
Price: From RM 87,969.50 OTR with insurance