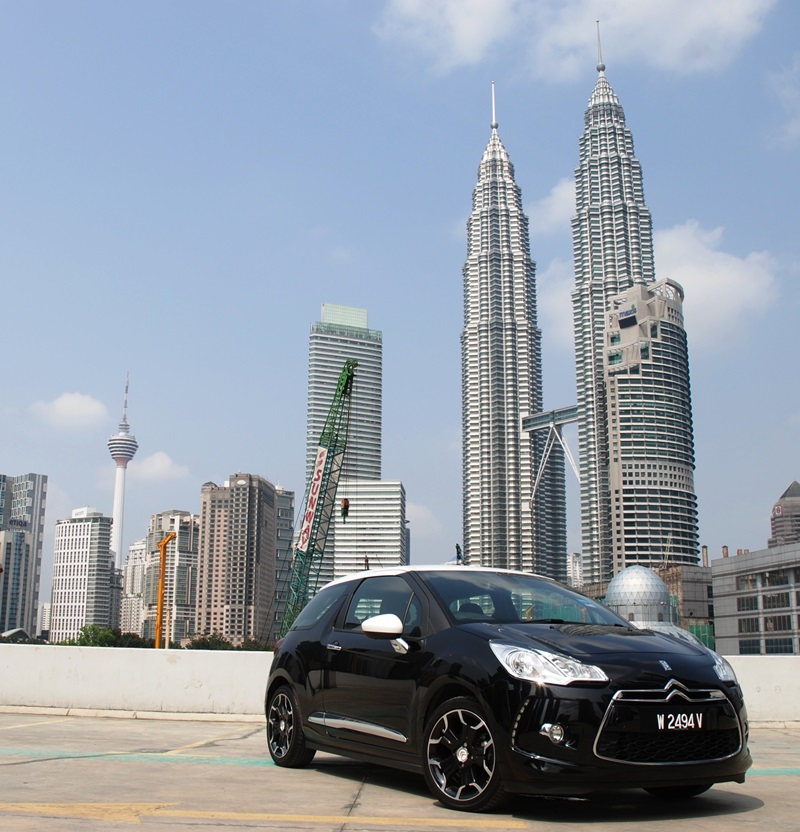 ADVERTISEMENT
The Citroen DS3 was the French brand's first offering in its upmarket 'DS' range. It was first launched back in 2010 but it only came to Malaysia in early 2014 after Naza Euro Motors Sdn Bhd decided to revive the Citroen marque in our country. I've been itching to get a hold of it because I've always been a big fan of superminis and given the fact that I'm a female driver; a stylish and glam vehicle like this is always a girl's best friend! But is there more to it than just flashy looks?
DS (Déesse) is French for Goddess, but I personally think that the Citroen DS3 profile is more bubbly-cute than sexy. Admit it, you think the Citroen DS3 is kinda cute too, don't ya? Plus, its exclusivity in the market makes it much more intriguing to many. Well, we don't blame you for staring because very few cars have such visual magnetism and flair like this supermini. It's hard not to notice it even if you park it at next to something as uninspiring as a mamak stall, because this supermini is pure eye-candy…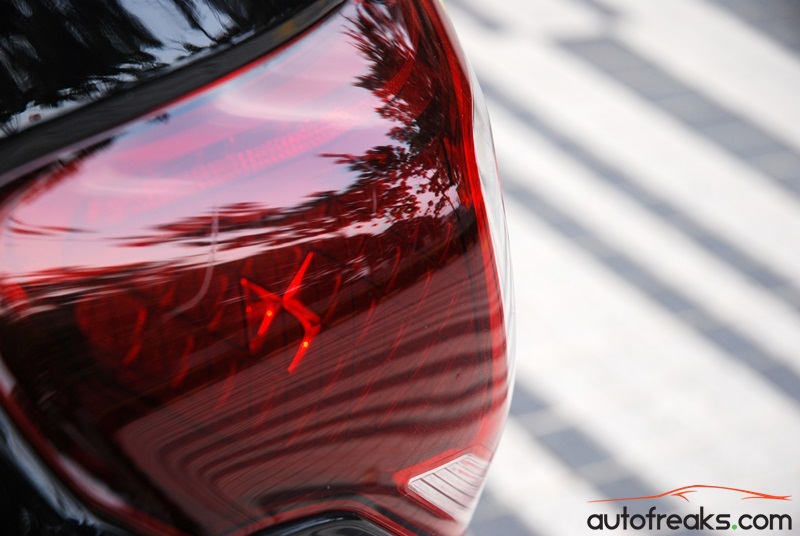 Caught you staring!
The distinctive DS3 has what it takes to turn heads. From all angles, the Citroen DS3's undeniable on-road presence and refreshing style is evident with stand-out elements such as the 'shark fin' B-pillar and the floating roof that makes the entire architecture seem stunningly light. There's so much more to look at as the supermini is loaded with other attractive styling touches like the lighting signature, accentuated by the front LED daytime running lights.
Diamonds and jewels are a girls best friend and the DS3 is also full of 'bling' delights too. It's 3D-effect tail light and the discreet DS logo set in the rear lights are designed to resemble a jewel while the 17-inch Bellone black diamond-tipped alloy wheels gives a striking presence on the road.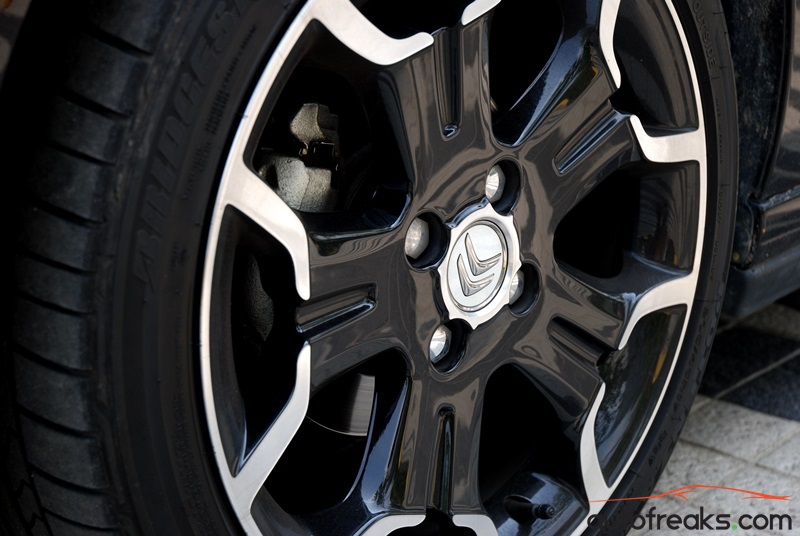 A 'cockpit' style driving position
From the moment you open the door, the DS3 continues to amaze. The cockpit is splashed with sophisticated design touches such as leather, chrome highlights and glossy dashboard. All the buttons and switches have a solid and a good-quality tactile feel to it and there's also a built-in air freshener, that is very distinctive and unique in its class. Once you settle down in the driver's seat, it's very easy to find an ideal seating position all thanks to its adjustable steering wheel and seat, while a cockpit-inspired driving position puts the driver firmly in control with a sports-styled instrument cluster featuring three conical dials, small-diameter wheel and low-slung, body-hugging seats.
Painting the town red in a black DS3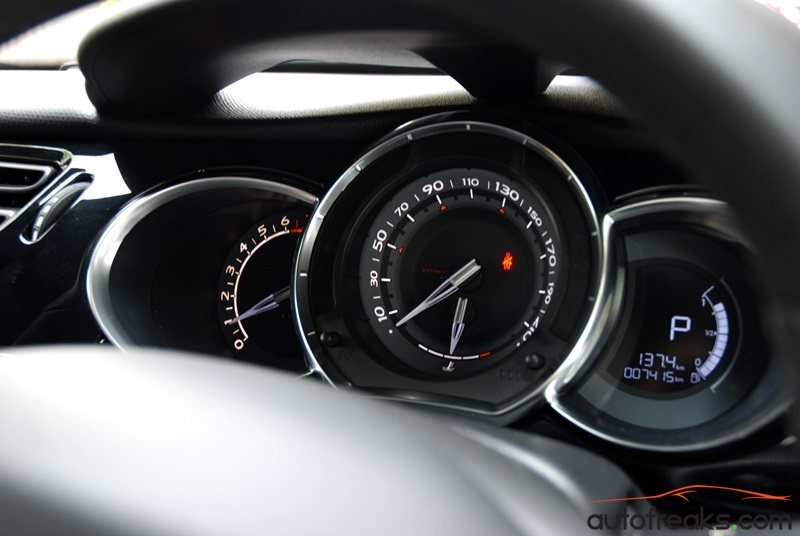 There's a lot more to love about the DS3 besides aesthetics, as I also had a blast driving this supermini around town! Motivation comes from a 1.6-litre VTi 120 engine that produces 120hp and 160Nm of torque mated to a 4-speed automatic. Although 0-100 km/h sprint is said take a rather lethargic 10.9 seconds, the DS3 felt a lot zippier than the brochure suggested. However, bear in mind that it doesn't have the standard hot hatch feel, in fact, it drives just like a regular supermini. If you are looking for a 'proper' hot hatch, perhaps the DS3 Racing would be right up your alley; we'll get to that in another review, coming soon.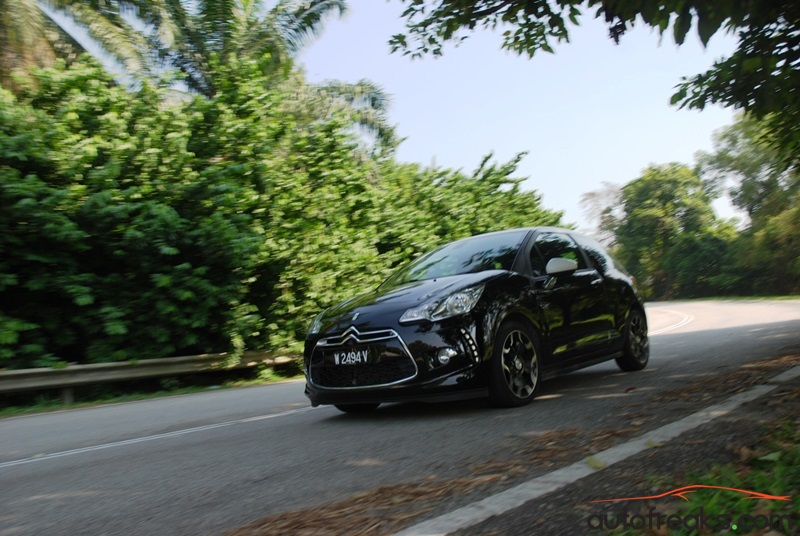 To truly exploit its capabilities, the DS3 is best driven on motorways as the engine is fantastically smooth. The steering is also very good, well-weighted and precise. Although its 10m turning radius isn't the smallest in its class, the DS3 remains a sure-footed companion for maneuvering around cramped urban environments.
The DS3 also handles pretty well when driven either on the motorway or trunk roads. The Macpherson Strut suspension fitted up-front and the Flexible Traverse Beam suspension fitted at the rear does get a little jittery and jarring over rough surfaces, but the its overall ride and handling is a fine balance between reassuringly firm and comfortably supple.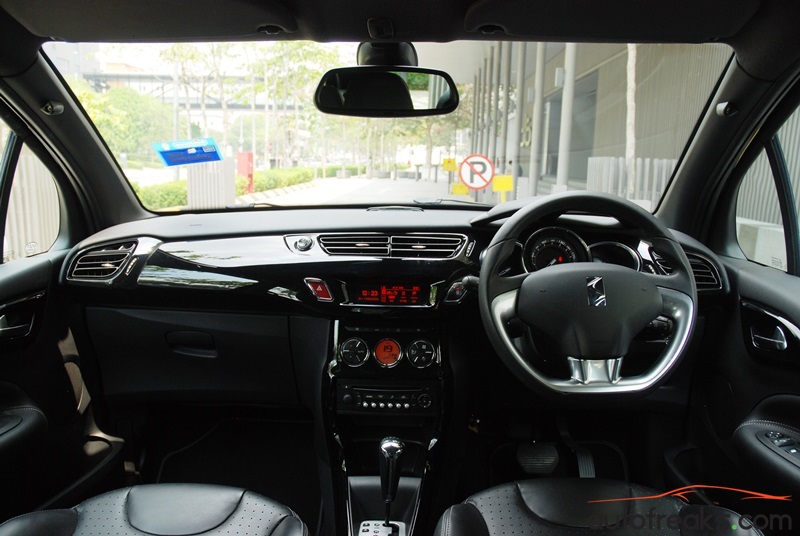 Citroen has also done a superb job soundproofing, so you'll be able to enjoy a very calm ride with very little wind, road and engine noise. Due to its clever soundproofing, you can actually hear the sweet raucous engine sound from inside the cockpit, especially when you depress on the throttle hard. Beyond that, I was also able to blast my eardrums off with the rich sound of music from its audio system complete with 8 speakers and subwoofer.
A party for two
As with most cars with 3-door body style, practicality is usually hampered, especially if have extra passengers. Still, the doors have wide openings and the front seats slide forward for easier ingress and egress of the back seats. Also, there are well-placed grab handles on the B-pillars to ensure that access to the rear seat can be done without the need for yoga practise. Space at the rear is a little cramped, but given the fact that it's a 3-door hatchback, you might have to sacrifice on comfort a little although there's quite a decent amount of head and legroom on offer. But in all fairness, it's made for couples or singles! If you have a family with a kid or two, you might want to look away because the DS3's level of cuteness and allure might deceive you!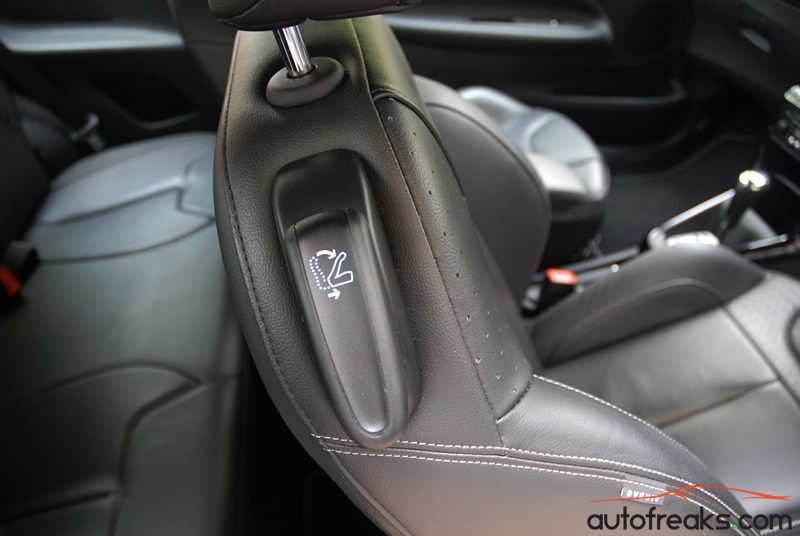 There are useful cubbies and storage bins dotted around the cabin, however, despite the amount of storage on offer elsewhere, the glove compartment is too small to store anything – except maybe gloves – and there aren't any proper cup holders available in the car…like seriously, none!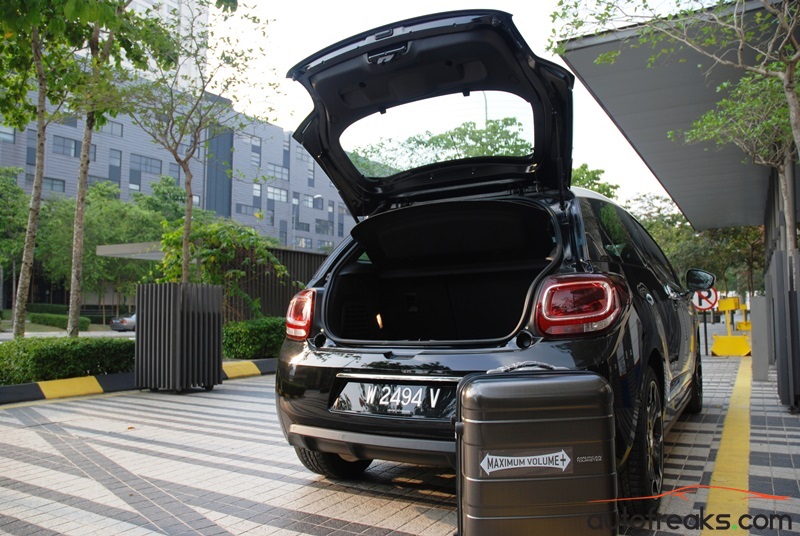 The Citroen DS3 also boasts one of the largest boots in its class. Based on my observation, the 385-litres luggage space is large enough to carry a medium size bag and a duffel bag; sufficient cargo for a weekend getaway. For an additional load capacity, the 60:40 split-fold rear bench can be tumbled forward in a single movement and this increases to a whopping 980-litres. Pretty good for a small hatch.
The Citroen DS3 scored a maximum 5-star rating from the Euro NCAP crash safety test. Anti-Lock Braking System (ABS) with Electronic Brakeforce Distribution (EBD) and Electronic Brake Assist (EBA) as well as an Electronic Stability Program (ESP) are available as a standard features, while passive safety features such as 6 airbags, 3-point seat belts and ISOFIX anchor points in the rear side seats round up the list of safety equipment in the DS3.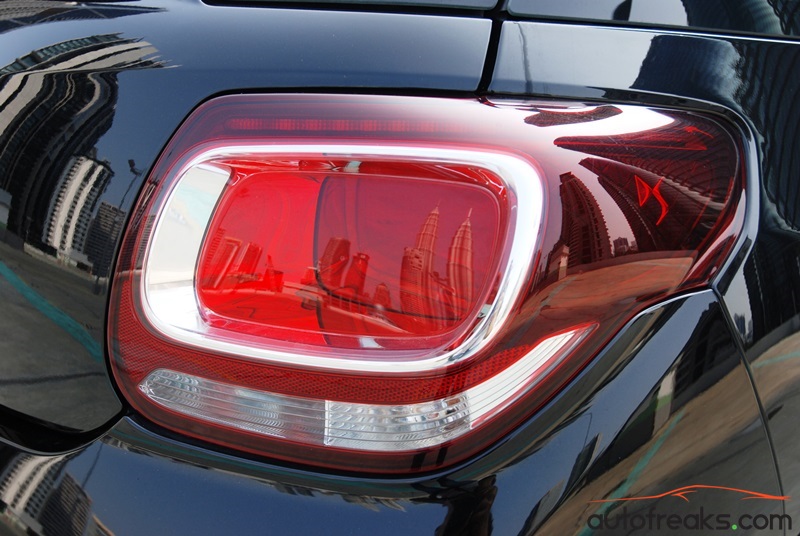 Verdict
The Citroen DS3 is what most would call the crème de la crème of Citroen's model line-up. Its eccentric design may not be to everyone's taste, but it certainly stands out in the premium supermini class due to its fun driving characteristics and it's super chic design. At RM117,888, this supermini is also a refreshing and more affordable alternative to the Mini Cooper that costs around RM178,888.
CW Says…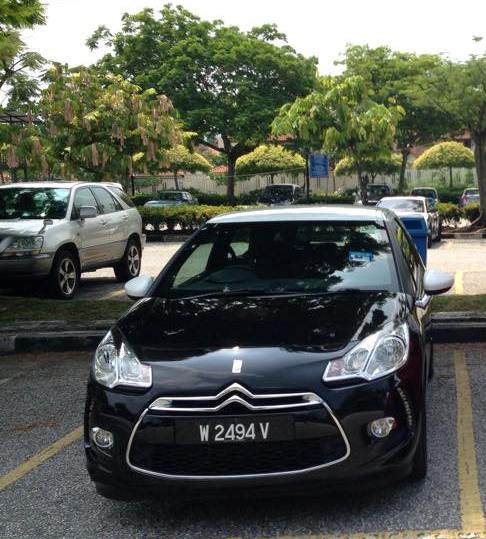 After prying the DS3's key-fob out of Alia's hands with a hammer and chisel, I was lucky enough to have a go at this French hatch-ling while we had it, and was rather pleasantly surprised. The DS3 is not for everyone though, not by a long shot and definitely not for me; in fact I reckon it caters to a very, very specific niche of buyers, down to age and gender even. So I'll not even bother with its performance characteristics, (although I did find the gearbox a bit too lethargic) but rather delve into the psychological nature of this car. In this day and age of cookie-cutter cars for the masses, buyers are looking for something different; and that folks, is where the DS3 comes in. I mean come on, a built-in air-freshener?? What's next a vase on the dashboard for flowers? Oh sorry, VW already did that with the (then) new Beetle…
Yup, the DS3 is a car that makes you 'feel' good, nothing more. It may not be the best hot-hatch I've ever driven, but it does manage to do something far more immeasurable than many more expensive cars out there; it makes you happy. Yes, as weird as it sounds, this car excels in the 'fun' factor of car ownership. As aforementioned, cars these days are getting more and more ubiquitous and mundane, but merely walking up to the DS3 induces a better mood and grins all-round. That's the appeal here, nothing more, nothing less, and that's priceless. – Chris Wee.
SPECIFICATIONS: Citroen DS3
Displacement: 1,598cc, 4-cylinder
Transmission Type: 4-speed automatic
Power: 120hp @ 6,000rpm
Torque: 160Nm @ 4,250rpm
Fuel consumption: 6.9km/l combined (claimed)
Price: RM117,888 on-the-road with insurance