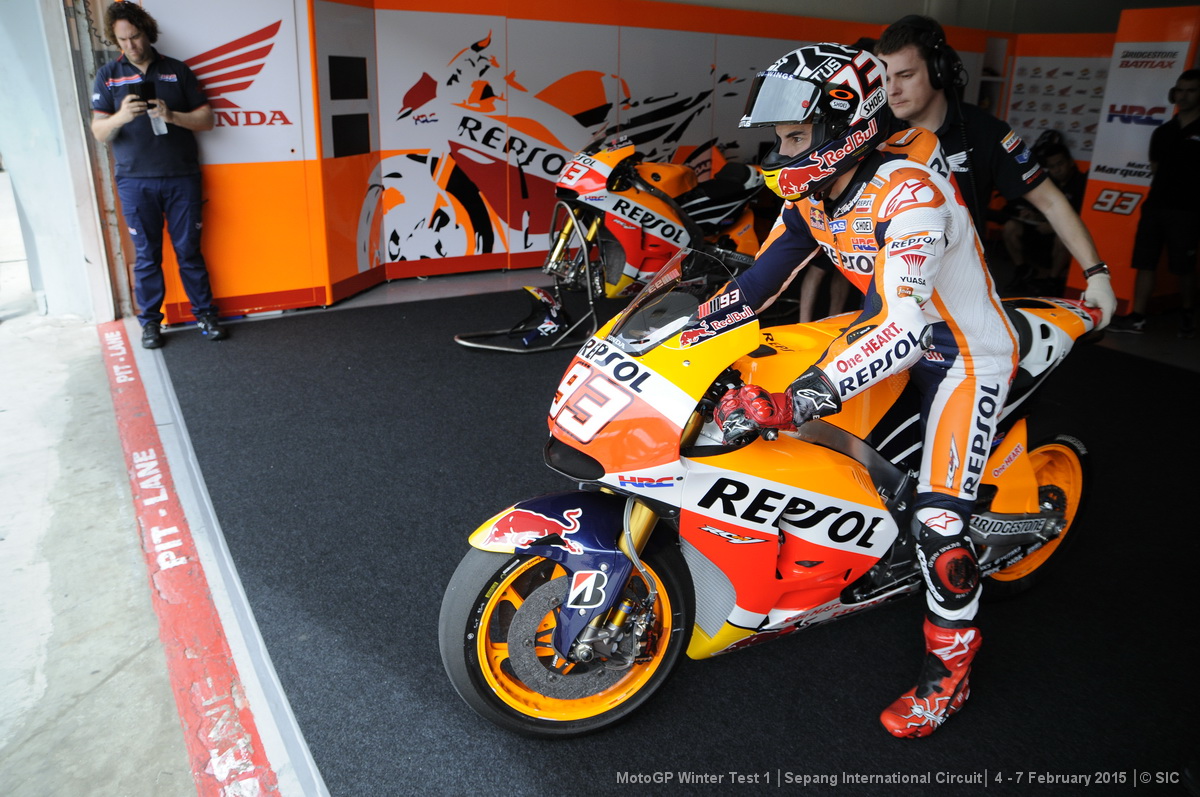 ADVERTISEMENT
The first official testing for the 2015 MotoGP at the Sepang International Circuit has seen riders from Repsol Honda and Movistar Yamaha conquering the fastest lap times. Marc Marquez and Dani Pedrosa of Repsol Honda and Valentino Rossi of Yamaha took turns to lead the 30 riders under the clear bright skies of Sepang.
Marc Marquez clocked 2 minutes 0.930 seconds in the afternoon, but his time improved as the day progressed, and his time improved to 2 minutes 0.262 seconds, making him the fastest rider of the day. He managed to complete a total of 63 laps.
Right behind Marquez is Valentino Rossi of Yamaha who clocked a 2 minutes 0.380 seconds, followed by his team mate Jorge Lorenzo who clocked his fastest lap of 2 minutes 0.521 seconds.
The official testing at Sepang also saw the return of Aprilia and Suzuki into the MotoGP World Championship. Sepang will be hosting the second three-day official test session from February 23 to 25. The Malaysian leg of the MotoGP World Championship will be held from October 23 to 25.
These are fastest riders for the first testing season of the 2015 MotoGP World Championship at Sepang.
1. Marc Marquez (Repsol Honda Team) 2:00.262
2. Valentino Rossi (Movistar Yamaha MotoGP) 2:00.380
3. Jorge Lorenzo (Movistar Yamaha MotoGP) 2:00.521
4. Andrea Dovizioso (Ducati Team) 2:00.617
5. Dani Pedrosa (Repsol Honda Team) 2:00745.