Previously in our article here , it is an unfortunate fact that the only new cars available for the price of a new Myvi are basic, small A-segment hatchbacks or budget models from Proton. However, should one consider something used, you can get a variety of cars, ranging from decent C-segment saloons, continental marques and even some sports cars! Yet again there a lot of factors when considering such cars, so this is the guide we created to assist those looking for a used car under RM60K. Before we roll, perhaps it's good if we revisit our guide on hunting for used cars.
ADVERTISEMENT
We split the categories into 4; not by car genre but depending on how much you love your cars.
THE SAFE CHOICE
Suzuki Swift 1.5L (2005-2010)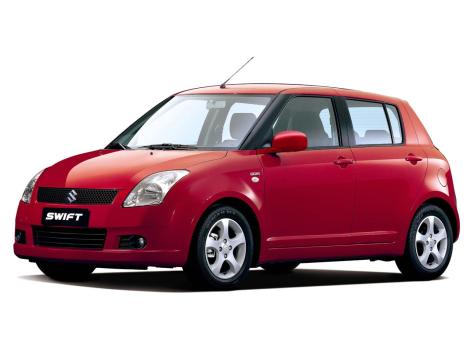 Price: below RM50K
Fact: Apart from the Fiesta, the Swift is a worthy consideration if driving dynamics or fun driving is something you're looking at. Sometimes it is known as the poor's man Mini, but we don't agree, the Swift has a strong reputation all its own.
Pros: Fun to drive, brilliant handler.
Cons: Not really impressive fuel consumption among 1.5L B-segment cars. Small boot. Interior lacks tactile feel.
Note: Lookout for models from 2005-2007 where those units are CBU from Japan. CKD units began in the middle of 2007 onwards. Another worthy alternative is the Suzuki Swift Sport where a used unit can be spotted at RM60K++.
Toyota Vios 1.5L (1st and 2nd gen)
Price: Under RM55K for a 2010 model (2nd gen, aka Dugong) , under RM40K for models prior 2007 (1st Gen)
Fact: Malaysia's best selling non-national car has everything a typical Malaysian needs, a simple and reliable saloon for daily motoring.
Pros: Very reliable. Decent fuel economy. Easy to maintain.
Cons: Tight space for rear passengers (esp 1st Gen Vios). Just like Master Yoda says, fun driving it isn't.
Toyota Corolla Altis 1.8L (9th Gen Corolla, 2001-2006)
Price: Under RM50K (04-06 models), under RM40K (01-03 models)
Fact: Brad Pitt once appeared on the Corolla Altis TVC. Apart from that, this is a safe C-segment saloon which should suit daily drivers well.
Pros: Reliable and durable as a Toyota should be. Has traction control.
Cons: Faux wood and beige interior may be a bit off-putting for a young Malaysian's taste. Similar to the Vios, the drive is uninspiring.
Mazda 3 1.6L (1st Gen, 2004-2009)
Price: at RM45K-60K
Fact: Another C-segment saloon/hatchback which can be considered from Japan. Thanks to Mazda's "Zoom-Zoom" philosophy, this is a fun car to own
Pros: Good ride and handling, reliable
Cons: Underpowered 1.6L engine. You might actually get smoked by a Myvi at a traffic light.
THE SLIGHTLY ADVENTUROUS CHOICE
Ford Fiesta 2010 (pre-facelift, 2010-2011)
Note: Previously it was located in the "Safe choice" but due the Fiesta's ongoing gearbox issues, it's better to place this over here
Price: around RM50K-60K for a 2010-11 model
Fact: One of the best alternatives to the Myvi, after all the Fiesta is the king of superminis in many parts of Europe, and one of the best-selling Ford cars ever introduced. Locally, it's credited by many for single-handedly saving the Ford brand insofar as cars are concerned – Ford was becoming known too much as a truck-maker only, thanks to the phenomenal popularity of the Ranger 4×4 pick-up.
Pros: Good looks, excellent driving dynamics, great equipment list, double-clutch gearbox (it's the only car with such gearbox in that price range). High standard equipment list for a car in this price bracket.
Cons: Double Clutch gearbox (there are issues reported on Ford's Powershift by some Fiesta owners), no manual shifting for double-clutch gearbox.
Proton Satria Neo 1.6L
Price: RM20k-RM30K for non CPS version. With CPS at RM40K
Fact: Proton's two door sporty-hatch needs no introduction. Get the CPS if possible.
Pros: Fun to drive, brilliant ride and handling, lots of modding opportunity.
Cons: Poor driver's ergonomics, forget passengers, especially in the rear. Forget buying this car if you're over 6-feet tall, you will not be able to see out the front, no kidding. That's why Hammond from TG liked this car, he's short.
Mazda 6 2.0L (1st gen, 2004-2006)
Price: RM35K-50K
Fact: Mazda's D segment saloon with "Zoom-zoom" zest.
Pros: Great looks, sporty handling.
Cons: There aren't many used units around
Ford Focus Mk2 (2005-2010)
Price: RM35K-50K
Fact: The world's best-selling car apart of the Toyota Corolla is one of the most underrated cars in Malaysia. If possible try to get the TDCi (diesel) version, it's a diamond in the rough, a real gem with awesome fuel-consumption.
Pros: Great value, great ride and handling
Cons: Parts may hard to source and pricey, 4-speed automatic gearbox to propel a 2.0L engine is disappointing.
Peugeot 407 2.0L (2004-2008)
Price: RM40K-60K
Fact: A decent mid-size saloon can be obtained under RM60K budget. Continental in feel and looks.
Pros: Ride and handling is as good as a continental car should be, decent space, great cabin ergonomics.
Cons: Archaic and disappointing 4-speed automatic gearbox.
Proton Inspira 1.8L Manual (2010-11)
Price: RM50-55K for 2011 model
Fact: A C-segment saloon with a manual stick. Who says we have forgotten about manual lovers? This is also one of Proton's best models to date, if only because it's mostly a Mitsubishi Lancer with a different badge. No we're not being mean, we're just stating a fact.
Pros: Great ride and handling, and comfortable as well. Good modding platform. It's a manual!!!
Cons: Forget it if the roads you travel is a usually a slow-moving car park, manuals are a pain in jams.
THE ADVENTUROUS CHOICE
Skoda Octavia TSI 06
Price: Less than RM30K
Fact: A true's left winger's choice. Do not underestimate this car, as after all, Skoda belongs to the mighty Volkswagen group. The Octavia shares a similar engine and parts with Audi/VW.
Pros: A decent European sedan for half a price of a new Myvi, shared parts with Audi/VW should mean they're easy to obtain, although likely just as pricey.
Cons: Spotting a worthy used unit around Malaysia is like looking for a needle in a haystack.
BMW 3 Series E46 318i 2.0L (00-05)
Price: below RM50K
Fact: Bavarian's finest executive saloon from 2 generations ago can be owned for a price of a 1.3L Myvi.
Pros: Rear-wheel-drive goodness, will make peers envious.
Cons: Parts may cost an arm and a leg. Be prepared for issues like engine oil leaks, air con compressor failing. General wear-and-tear parts are not cheap.
Note: Alternatively, the Toyota Altezza RS200/Lexus IS200 can be considered as it is the direct rival of the E46 and best of all it is under RM60K. Similarly, it is rear wheel driven and there plenty of aftermarket parts to play around. However, due to its age it may be tricky to maintain one and worse, it is hard to spot a used unit for sale.
Audi A4 (B6) 1.8 (00-05)
Price: RM50-60K
Fact: Apart from the BMW, the other German saloon with the famed four-rings is worth a look too. There a lot of Audi mechanics about the Klang Valley as well, although maintenance cost and parts are indeed expensive.
Pros: Its turbo charged.
Cons: Its turbo charged.
Honda Integra Type R DC2 (93-97)
Price: Below RM48K
Fact: One of Honda's finest front-wheel drive coupes is now possible to be had for less than RM50K.
Pros: One of the best front-wheel drive machines ever made, great performance.
Cons: Honda's parts (either aftermarket or original) tend to be much pricier, a thief magnet, forget getting a loan for this one.
Note: Alternatively, you can get the Civic EG/EK series, converted with a B series engine with performance parts for less than RM50K. Just like the Integra, it's best to prepare RM50K spare cash to own one.
The NUTTER'S CHOICE
Mazda RX8
Price: RM60k below
Fact: A sports car that is rotary powered. The only car with the unique suicide doors, the RX8 is supposedly a chic magnet (relative) where you can bring not one but three into your car, comfortably!
Pros: Great to drive, roadtax of a Myvi 1.3, power of a 2.6L car!
Cons: It is not really fast. Just as other rotary powered cars, it is a horrible fuel-guzzler and it is a nightmare to maintain one.
Alfa Romeo 156 (or any Alfas prior 159)
Price: RM30K below
Fact: Italian passion for half a price of Myvi! As what Jeremy Clarkson says, you can't be a true petrolhead until you've owned an Alfa.
Pros: Beautiful gorgeous saloon. Italian panache and style on 4-wheels.
Cons: To maintain such a aged Italian car in Malaysia, the word "nightmare" is an understatement. You really do need patience and passion (not to mention a lot of cash) to have this classy Italian in your garage, or soon you may be sleeping in it. Best to have a spare "kapchai" for your transportation since this car will spend a lot of time in workshops. (I'd really love to rebuke this, but having owned 5 different Alfa's at one time or other, I have to admit it's quite true. But it doesn't mean I love the brand any less, you have to own one to know what I mean… – Chris Wee)
In our next installment coming soon, Chris Wee will be going one step further. What happens when you only have less than TEN grand to spend on a car? That's right, <RM10k. Is there any hope for the really cash-strapped who need a car? Stay tuned!
Compiled by Travis Chang and Chris Wee.