ADVERTISEMENT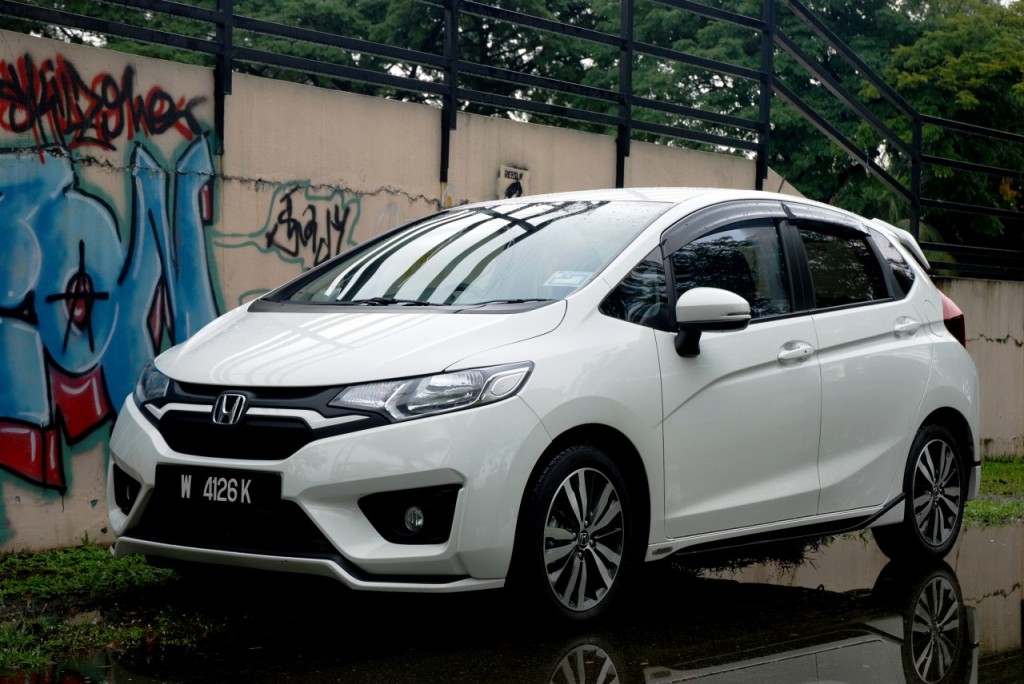 December has been a busy month for us here at Autofreaks. Besides having been given an opportunity to spank a brand new Porsche Panamera GTS and 4S, I also had the chance to test a budget buyer's dream in a form of the Honda Jazz.
Yes, of course, my article won't be able to make u drool as I explain about its useful ULTRA seats nor will I be able to tempt you with its horsepower figures, but I do expect you'd stick around and read on because unlike other hot hatches or sports cars we've tested in previous weeks, the Honda Jazz is built for customers who have different priorities. It is 'the' car for those seeking fuel economy, comfort and practicality as well as a sensible and reliable level entry subcompact vehicle.
The Honda Jazz I had for review here is the high spec V replete with the Modulo package that includes front under spoiler, side under spoiler, sports pedal, as well as rear under spoiler. All these cosmetic enhancements will cost you an additional few thousands, but it does make the car look so much sportier and jazzier, don't you think?
Even without the cosmetic enhancements, the overall look of the 3rd-generation Jazz certainly appeals more to the younger generation, style-conscious buyers. I genuinely think that its new design look so much better compared to its predecessors; it's modern, bold and sporty, even my elderly next door neighbour found its redesigned exterior quite attractive.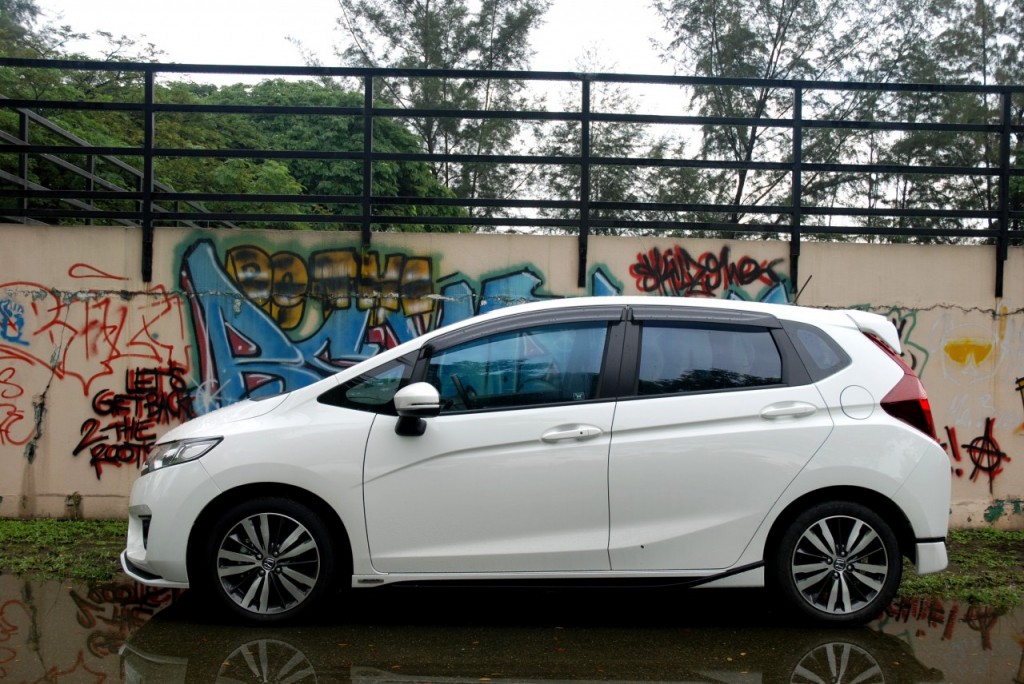 Given that this is an entry level sub-compact vehicle; at 3,955mm long, 1694mm wide and 1,524mm tall, the Honda Jazz is actually roomier compared to its rivals of similar size like the Ford Fiesta hatchback and Kia Rio. There's surprisingly oodles of space inside. One of the Jazz's party tricks is that its versatile seats can be transformed into a spacious loading area. This is all made possible thanks to the cleverness of the car's fuel-tank layout that is camped under the front seats, making room for the Jazz's so-called ULTRA seats.
The ULTRA seats can be folded flat or flipped up for a versatile loading space for different needs and it's really impressive how much space you'll be able to get once you fold down the seats! Below are some of the examples of how you can maximize your rear space in the Honda Jazz.
So yeah, although I only needed a small amount of cargo space to haul all my shopping bags, it's good to know that the Honda Jazz offers an abundance of space in case I need to make a trip to a furniture store or transport bulky or longish items. IKEA addicts will love it! Complemented by its low-lip tailgate and wide opening doors, I have to agree that the Honda Jazz is an exceptionally adaptable cargo hauler!
The Honda Jazz makes no exceptions when it comes to following the trend of what we all call consumer connectivity. On the dashboard, you will be able to find a 7-inch display audio as well as a fully automatic air conditioning controlled by touch panel for a touch-sensitive interface. Those who enjoy convenience at their fingertips will also love the steering audio switch where you can browse your favourite music whilst staying focused on the road.
Need to charge your mobile phones? Just plug them in via the USB ports available below the centre console. Besides that, there's also a hands-free telephone steering switch that allows you to accept or reject calls hands-free via Bluetooth connectivity. All these creature comforts are very easy to operate and it comes in handy especially once you get the hang of it.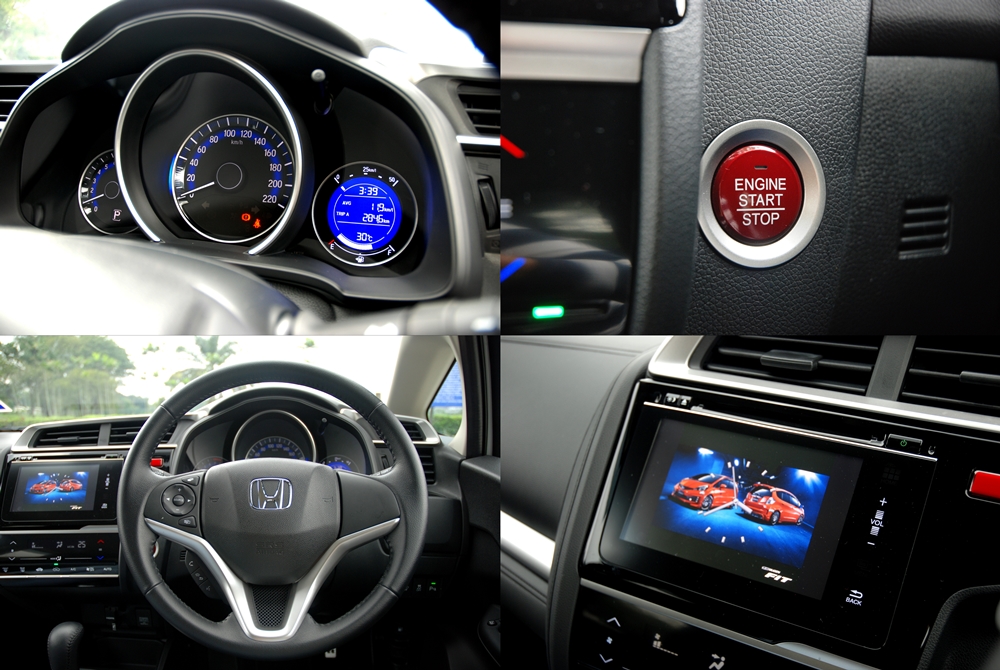 On an interesting note, I noticed that the Honda Jazz comes with a parking sensor, ultrasonic sensor and vehicle stability assist (VSA) button that can be turned on and off according to the driver's preference. It's good to know that the Honda Jazz allows you to disengage these safety features but is it really that necessary?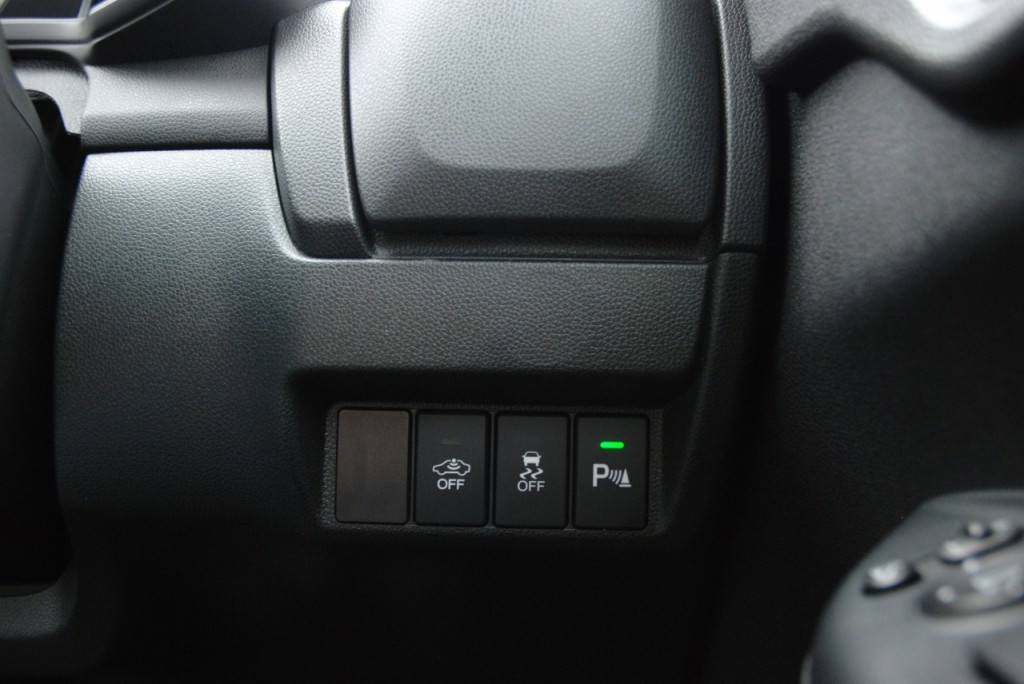 The latest Honda Jazz is powered by the same 1.5-litre i-VTEC 4-cylinder engine from the previous generation model that's capable of churning out 118hp and 145Nm of torque, except now it is mated to a Continuous Variable Transmission (CVT) that brings improvement to the fuel economy.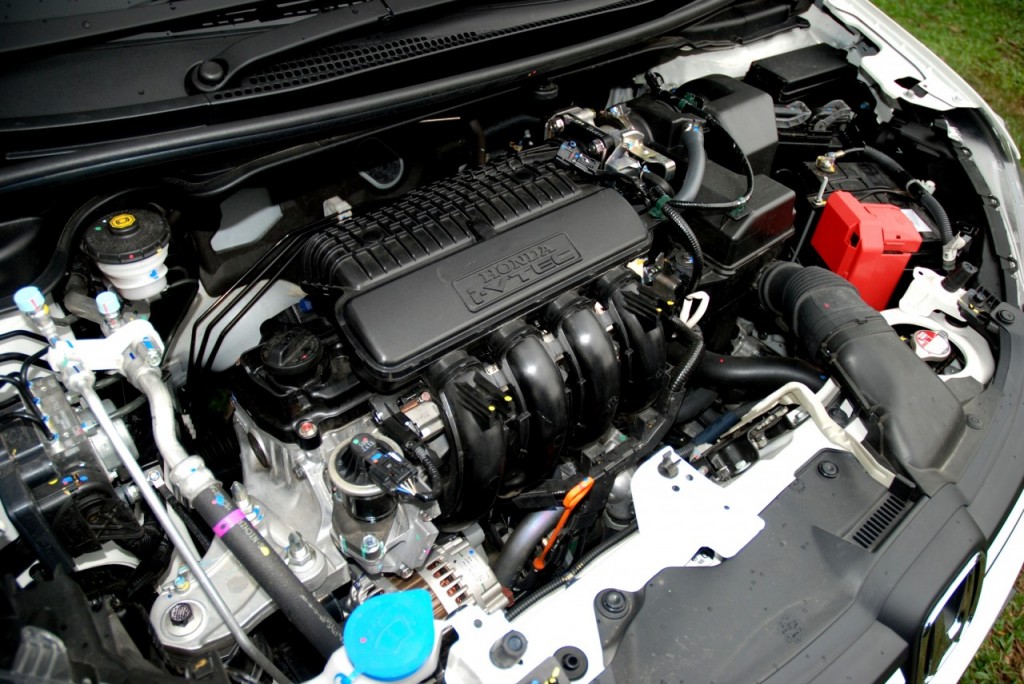 As the CVT is becoming increasingly popular these days, despite many claims that it's a tad noisy, especially at mid-throttle or hard acceleration, it didn't seem to bother me that much because the Honda Jazz is such a breeze to be driven around town and it's capable of moving-off from a standstill at a much swifter pace thanks to its lightweight characteristics.
My daily route to work normally consists of Jalan Duta and Maarof before reaching Mid Valley City. Currently there's plenty of road construction due to the MRT project, so the path going to the office is very bumpy and uneven. Not to mention that there's at least 5 traffic lights in a stretch of 1 kilometer as well as the horrid traffic jam that can be expected especially in the morning and evening. So normally I get really agitated and stressed when driving back and coming to work. Thankfully, the cabin is well insulated so I don't hear much traffic noise from inside the car.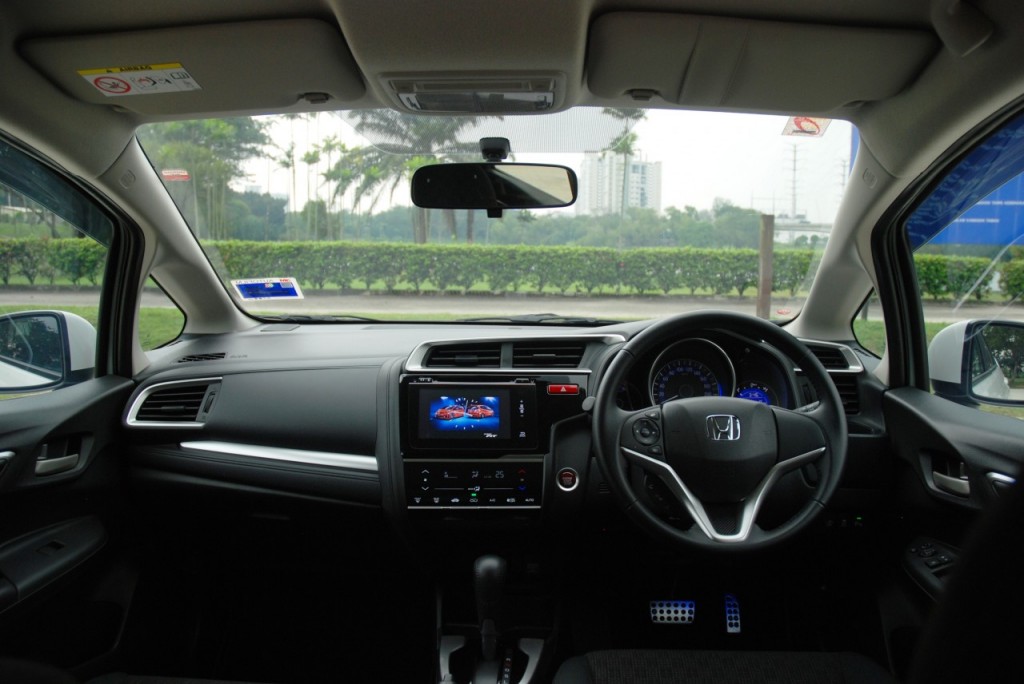 In terms or ride comfort, the new suspension setting is so cushy it's as if there's a pillow stuck underneath the car's platform. If you're carrying a baby around in this car, I wouldn't be surprised if he or she stays asleep for hours on a long distance drive.
The audio system is also decent enough for an audiophile like me, and given that the car has 9 cup holders, I was able to stock-up plenty of mineral water bottles just in case I felt a little dehydrated when behind the wheel.
When I had the Honda Jazz for a weekend I also managed to drive the it to a shopping mall. One of the reasons why I like to drive a hatchback is because it is very easy to squeeze and reverse into a tight parking space. The Honda Jazz is no exception. The steering wheel is so light, so it is easy for me to maneuver in tight spaces and park it anywhere. Although there's no reverse camera equipped in the Honda Jazz, those big windows makes it easy for you to look at your surroundings when reversing.
However, I did notice that the A-pillar is too thick to a point that it maximises the blind spot area. This is apparent, especially when you're at a junction or crossing a road. Maybe it's just me, but as you can see on the picture below, if I can barely see a Nissan Almera hidden behind the thick A-pillar, what chance does a small cub-bike have?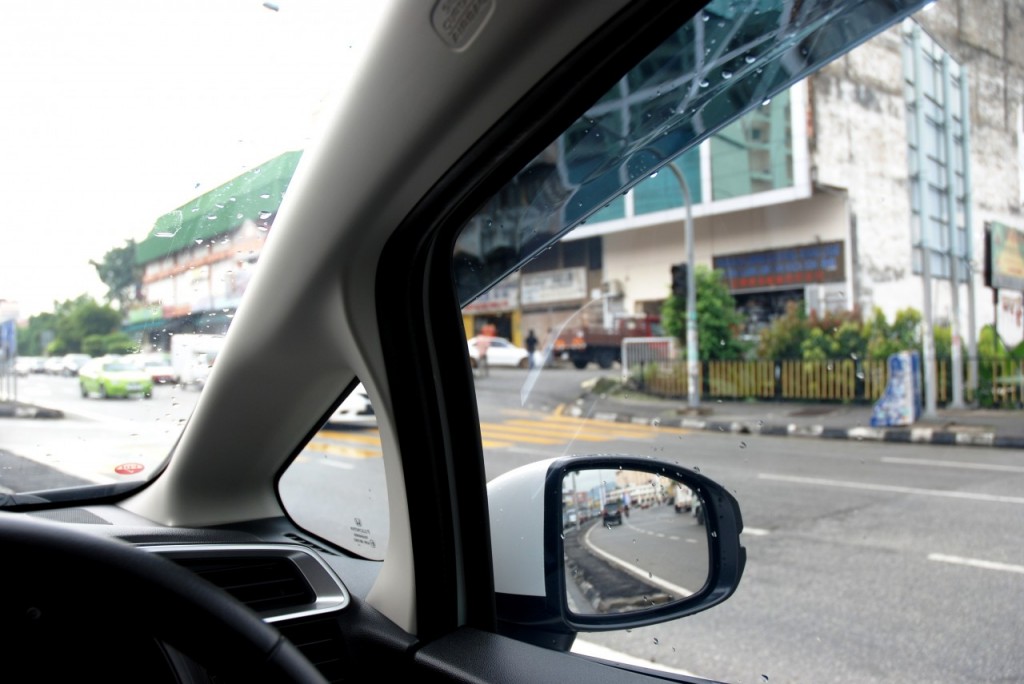 Beyond that, the Jazz feels quite reassuring to drive, it feels steady and safe, something you would never expect from a sub-compact car. It doesn't roll around too much in corners so it is easy to have a confident ride from behind the wheel. So it's no surprise that it would sell well in Malaysia because it's simply a great package with a good price tag.
At a starting price of RM72,800, the Honda Jazz is what you'd call good bang for the buck; it is able to justify its price tag with its comfortable ride, user practicality and abundance of space. Whether you have a family of 5 or an empty nester, the Honda Jazz serves its purpose well as an all-around daily commuter especially for those living in the urban area. After all, it's everybody's kind of car!
SPECIFICATIONS: Honda Jazz 1.5L V
Displacement: 1,497cc, 4-cylinder
Transmission Type: Continuous Variable Transmission (CVT)
Power: 120hp @ 6,600rpm
Torque: 145Nm @ 4,600rpm
Fuel consumption: 12.1km/l combined (monitored)
Price: RM87,800 on-the-road with insurance