ADVERTISEMENT
Santa, I have been really naughty lately, so please don't send me a sock of coal for Christmas, but the temptation to speed in these Porsches was just too great for me to resist. It was so intoxicating and the adrenaline rush so overwhelming. I just had to succumb to the immense pleasure the Panamera had to offer…resistance was futile…I'm sorry. Confession done.
It's not my fault, really. It all began when an invite came to my inbox that read 'Porsche Panamera Retreat 2014'. Honestly, given the nature of our line of work, invites like this don't come as often as you might have imagined, especially when there's a Panamera GTS and a Panamera 4S involved. So that was how I found myself waking up at 7am on a Monday morning making my way to the Porsche Centre in Damansara, abandoning the office for a whole day.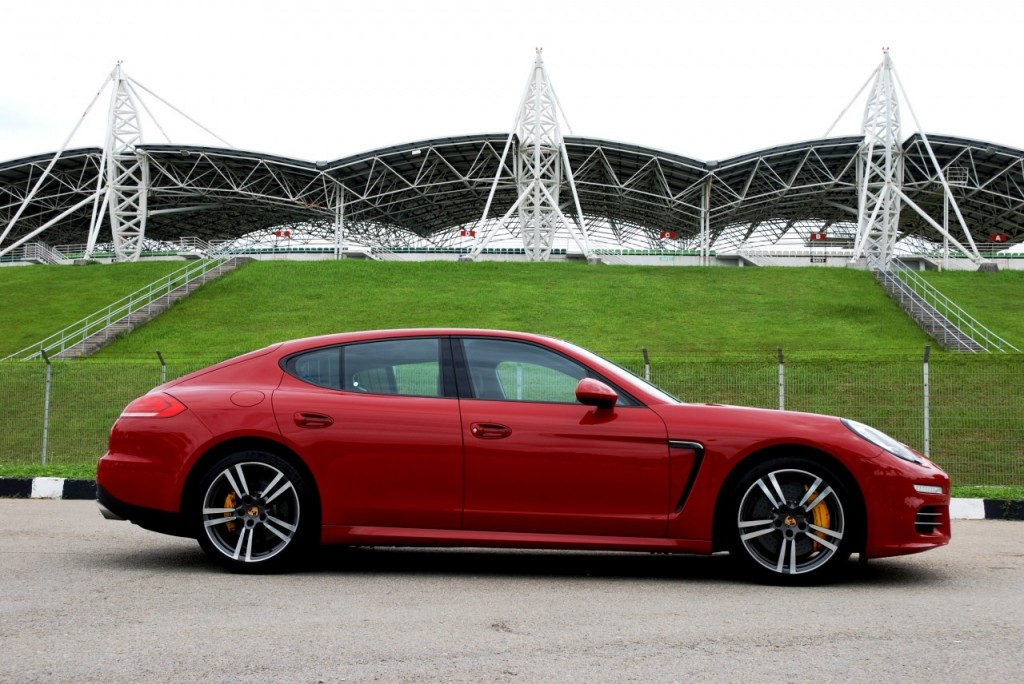 As I was briefed, this whole day outing was a very casual drive for a small group of selected motoring journalists with no specific route provided. But since we had to stop for lunch in Cyberjaya, we thought it would be fun to take a highway route to Sepang and tackling some back roads before reaching our lunch stop.
For a start I was given the keys of the Panamera 4S. While my driving partner decided to take the first leg, I had to a good one hour to admire the Panamera's super plush interior. The overall interior should more than satisfy most luxury car seekers out there, and with a little bit of retro touch added to it, needless to say, the cabin is simply a wonderful place to be in. Everything has been designed to perfection, from the Sports Chrono stop watch, the black leather seats, to the Sport Design steering wheel with paddle shifts. The seats are spacious and supportive, especially for a long haul trip and the center console houses a plethora of buttons and dials for all kinds of functions.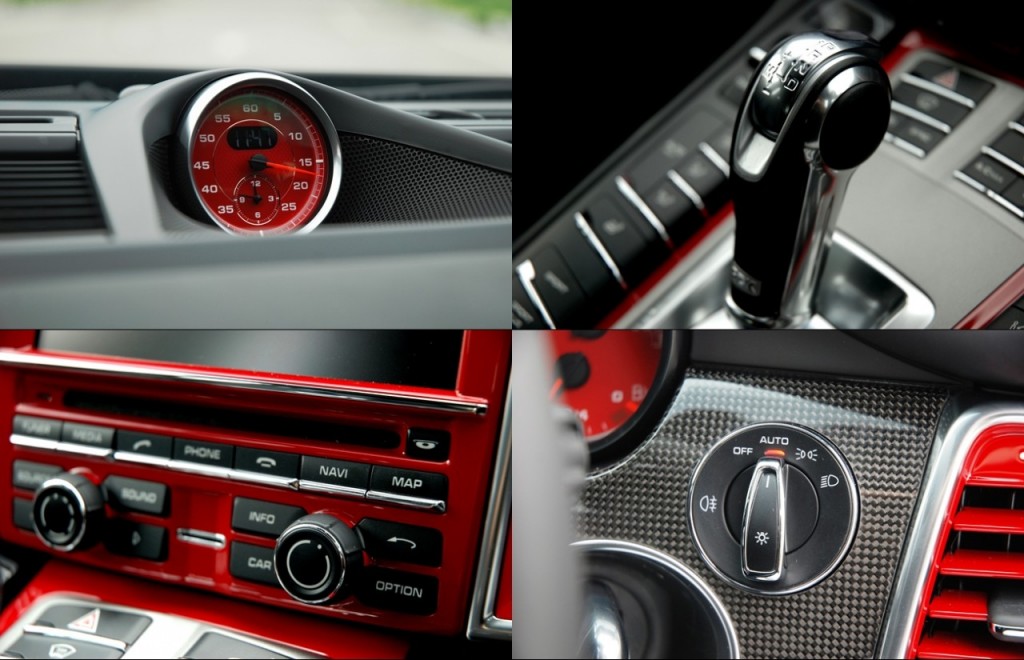 Underneath the hood of the Panamera 4S lies a new 3-litre biturbo V6 that replaces a 4.8-litre V8. Compared to its predecessors, Porsche claims that the new down-sized engine is a tad quicker and has gained an extra 20hp at 420hp and an additional 20Nm at 520Nm of torque. Plant your right foot on the pedal and it only takes 4.8 seconds to reach 100 km/h. Well, that's pretty impressive for a car that weighs 1,870kg, don't you think?
I first took the Panamera 4S to the back curvy and narrows roads, however, given its inherent size and weight, tossing it along tight corners didn't feel as much fun as I would have expected. Don't get me wrong, the Panamera 4S does feel planted and stable with excellent grip when jamming through corners, all thanks to PDCC, active anti-toll bars and a set of 20-inch Michelin tyres fitted on our test unit, however, it does its job much better on long straights.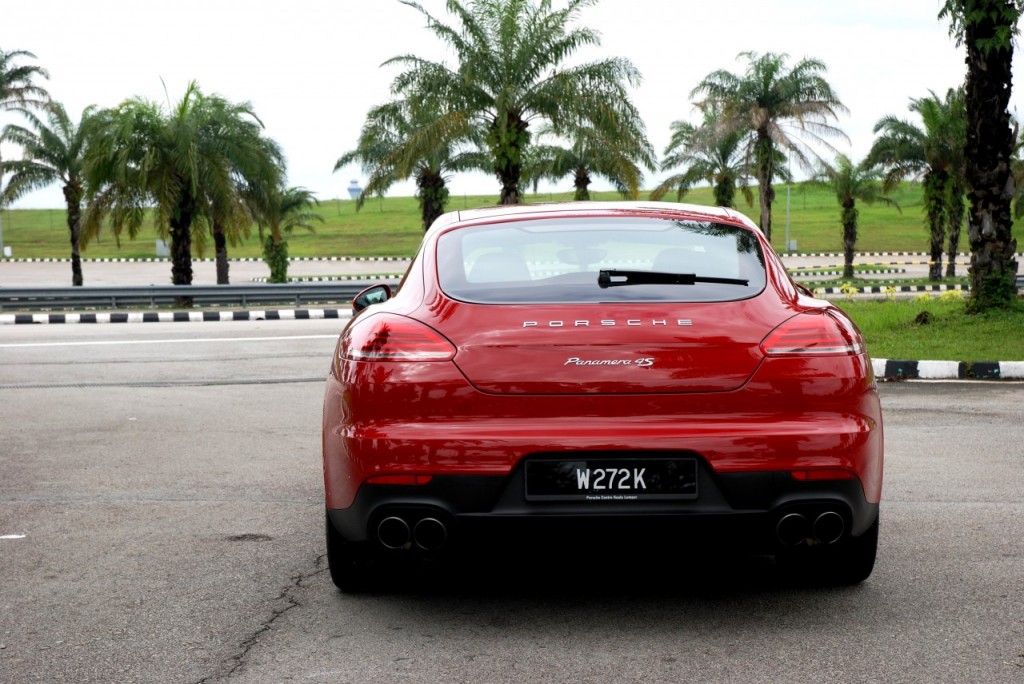 Once I drove it out to an open road and upon activating the Sport Plus button, the Panamera just blasts forward like a rocket ship at launch. OK, maybe I'm exaggerating a little bit, (Ya think? – Ed.) but despite its sporty characteristics, the Panamera is also excellent to drive long distance with ease. It felt so stable on the road and never loses its intended line, even when encountering undulations in mid corner.
The Ceramic Composite Brakes (PCCB) which are available as an option is quick to bite, especially when there are vehicles that pull into your lane suddenly, failing to notice your approaching speed. The PCCB brakes cost more than RM38 thousand but is proven to be very useful especially if you're driving like an insane person and encounter a slow moving object suddenly in your way. But hey, I'm not suggesting anything, but after all the Panamera 4S has a top speed of 288km/h, so you might want to put that to good use once in a while. Just sayin….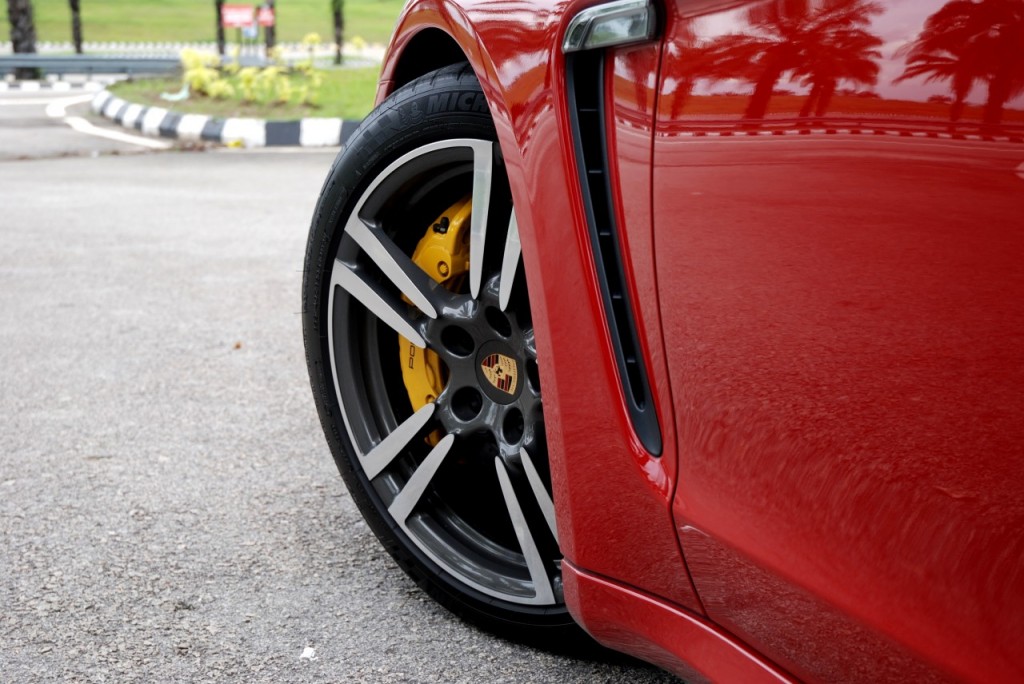 Plus, carbon ceramic brakes are 50% lighter than standard discs of a similar design and size, which equates to lesser unsprung weight. As well as enhancing braking performance and fuel economy (lesser weight), the ceramic brakes also improve the car's agility and handling. So yeah, you can't go wrong with this one (An optional braking system that costs the same as a brand new Proton Iriz kinda puts things into perspective doesn't it? – Ed)
Like all Porsches, the Panamera 4S offers a confidence-inducing drive complemented by its free-revving biturbo engine that expresses its sporty-emotional side acoustically. When you press the Sport button, an exhaust flap increases the size of the opening, and this results in an audible sound that is very sonorous.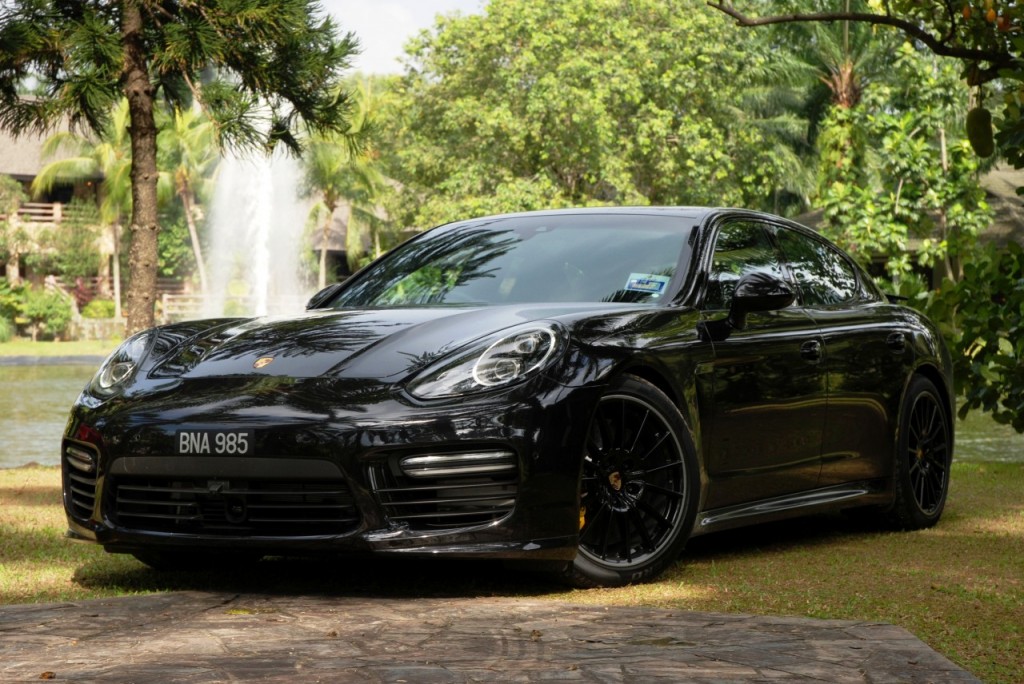 After lunch, we swapped keys and so it was my turn to get behind the wheel of the Panamera GTS. As soon as I stepped into the cabin, I realised that what the 4S lacks was the soft Alcantara fabric brushing against my skin. Yep, did I tell you before that if driving nude (*cough) is legal in Malaysia I would only do it in a car equipped with Alcantara seats? Jokes aside, this fabric is so soft and comfortable as if you're caressing a baby's cheek. Our test unit had Alcantara seats, roof-liner and other bits of the interior, while the carbon-fibre trim on the door sills and the dashboard creates a very pleasing visual appeal to its passengers.
What the Panamera GTS has, as an advantage over the 4S, is the distinctive exhaust system that provides a very aggressive Motorsport-like note that can be heard from miles away, and even echoes long after you've left the scene. As soon as you depress on the throttle, the V8 suddenly barks wickedly into life as if you have awakened a beast from its slumber. It brings out the masochist in me because the sound is so painfully loud, but also aurally pleasing at the same time.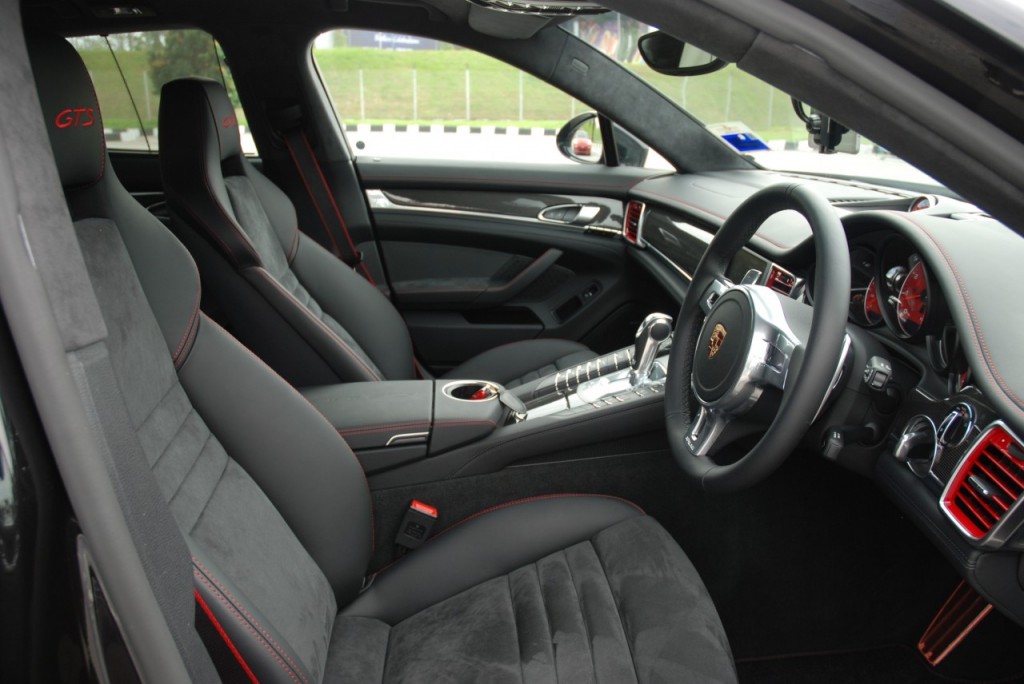 As a naturally aspirated unit, the 4.8-litre V8 engine delivers good throttle response when compared to the 4S. The V8 engine is capable of churning out a staggering 440hp and 520Nm of torque and it offers fast shifts when required thanks to the 7-speed PDK transmission which transfers power to all four wheels.
During an upshift, selected engine cylinders are deactivated temporarily, which enables the speed of the engine to be synchronized with the speed of the transmission more quickly. This allows the Panamera GTS to have an even faster shift time, which results in a continuous flow of power during hard acceleration. It only takes a mere 4.4 seconds to give you that thrill of going from a standstill to 100 km/h and to think, it can do all that without the help of forced-induction.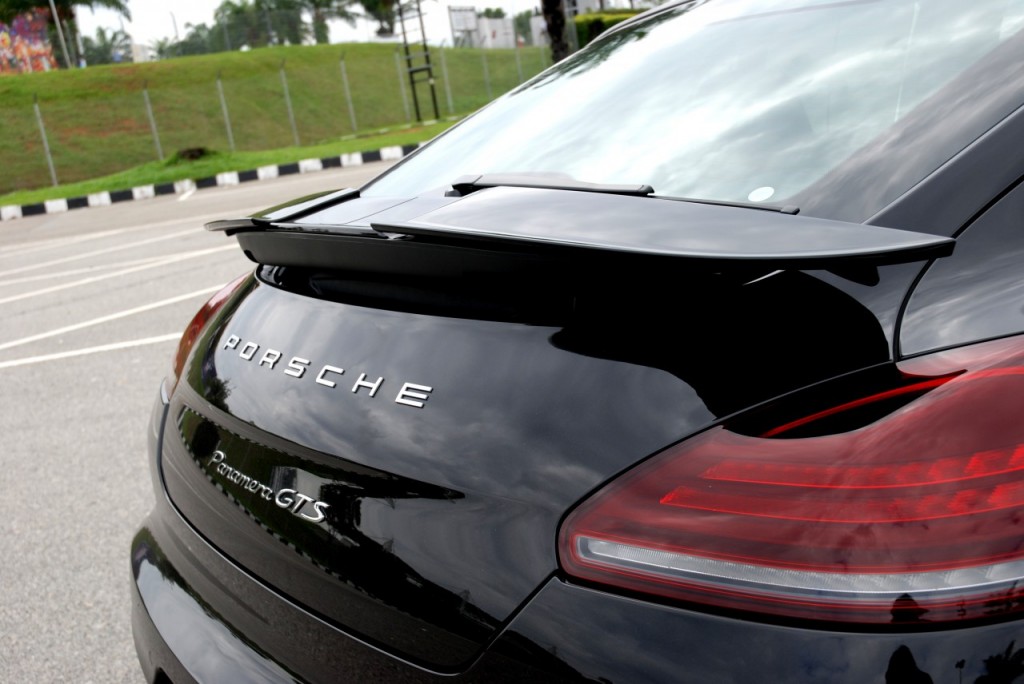 With the gearbox in automatic 'Sport' mode, upshifts take place at higher engine speeds and downshifts are swifter. In addition, Porsche Active Suspension Management (PASM) and Porsche Dynamic Chassis Control (PDCC) also switch to Sport mode to deliver harder damping and more direct steering and, therefore, even more agile cornering. As a result, the Panamera GTS grips the surface with amazing tenacity, as well as turns and stops with unrivalled composure.
We took a long route from Cyberjaya to Banting where there were no twists and turns involved, but just one long freeway. Suddenly, out of the blue, the rain came pouring down in buckets, but that didn't stop me from chasing the Panamera 4S that I had driven earlier in the morning, after all I knew that car, and I knew I could take it. Its all-wheel drive system is very useful for these kinds of situations and boy, the Panamera looks so sexy when it sweeps through the rain drops, almost disappearing into the blazing backwash.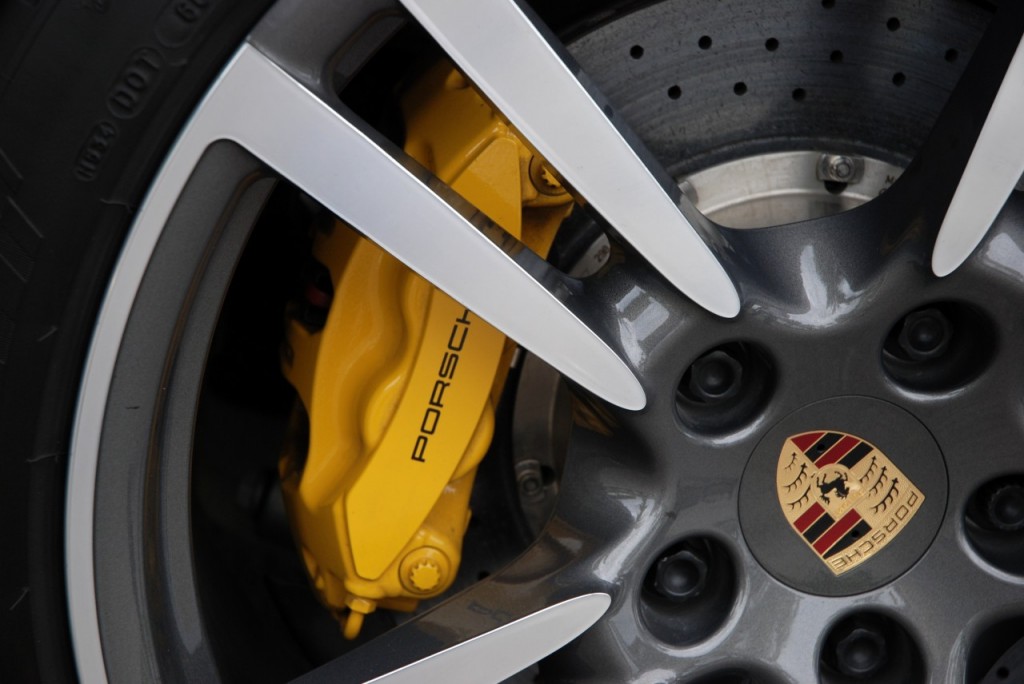 Time flies by so fast when you're having fun, and before I knew it, it was my driving partner's turn to take the wheel. For a moment there I felt a tad jealous…
The Panamera 4S and GTS are best described as 'the best of both worlds', it is a practical car with plenty of creature comforts, but also great fun to drive especially around a race track, or tight, twisty road. Its only drawback is that with a hefty price tag, only a small population of earthlings would have the luxury of sitting behind the driver's seat.
It's for those who enjoy the extravagance of life akin to taking a private jet around the world or dining at a Michelin Star restaurant. Just like other Porsches, you can also customize your Panamera with Sport Chono packages at a few hundred thousand Ringgits extra. The basic model price starts at RM1.02 million (Panamera 4S) but the list of standard equipment is very restricted. But hey, if you're already buying a Porsche you might as well splurge for the best goodies the German marque has to offer, like Porsche Dynamic Chassis Control (PDCC), Porsche Ceramic Composite Brake (PCCB) or 20-inch Sport wheels, don't you think?
SPECIFICATIONS:
Porsche Panamera GTS
Displacement: 4,806cc, V8
Power: 440 hp @ 6,700rpm
Torque: 520Nm @ 3,500rpm
Acceleration: 0 – 100 km/h: 4.4 s
Top speed: 288 km/h
Fuel consumption: Combined 10.7 l/100km
CO2 emissions g/km: 249
Price: MYR 1,130,000*
Porsche Panamera 4S
Displacement: 2,997cc, V6
Power: 420 hp @ 6,000rpm
Torque: 520Nm @ 1,750-5,000rpm
Acceleration: 0 – 100 km/h: 4.8 s (Sport Chrono Package 4.5 s)
Top speed: 286 km/h
Fuel consumption: Combined 8.9l/100
CO2 emissions g/km: 208
Price MYR 1,020,000*
* Nett selling price for vehicle with Standard Equipment.