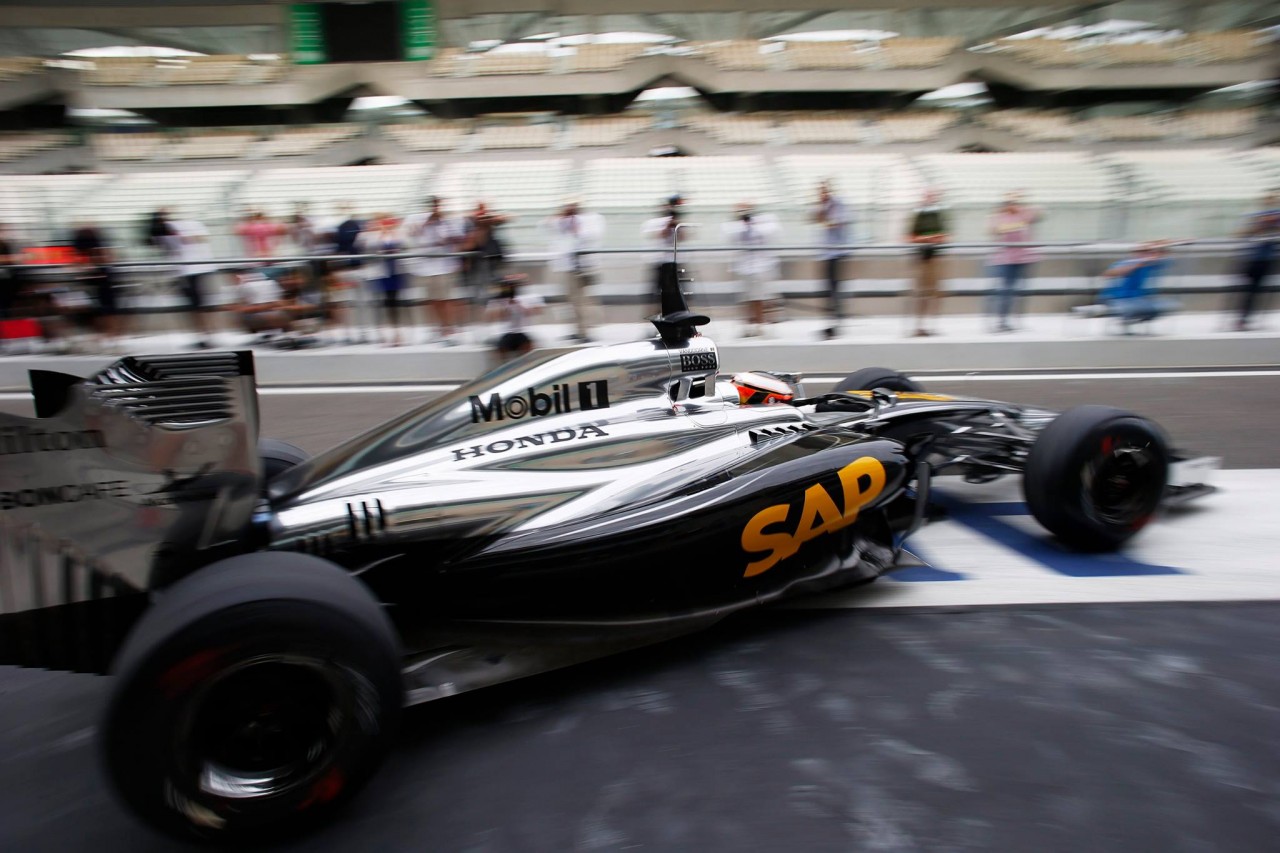 ADVERTISEMENT
McLaren has unveiled the Honda-powered McLaren Formula One (F1) car during the two day Abu Dhabi test, with the first proper run for the interim MP4-29H/1X1. The two day test marks the first proper test of Honda's new V6 turbo engine that will be used for the 2015 season.
Unfortunately, an electronic issue meant the car spent the entire morning in the garage. The car was out of the pit after lunch, with test and development driver Stoffel Vandoorne conducting a number of exploratory installation runs throughout the afternoon.
However, the young Belgian driver was halted on a couple of occasions by a fuel/data exchange issue – the second of which left him stranded on the circuit, causing a red flag. Nonetheless, the first day of running was positive for the team, as it enabled the team to begin its troubleshooting programme well ahead of the first test of 2015, which takes place at Jerez in early February.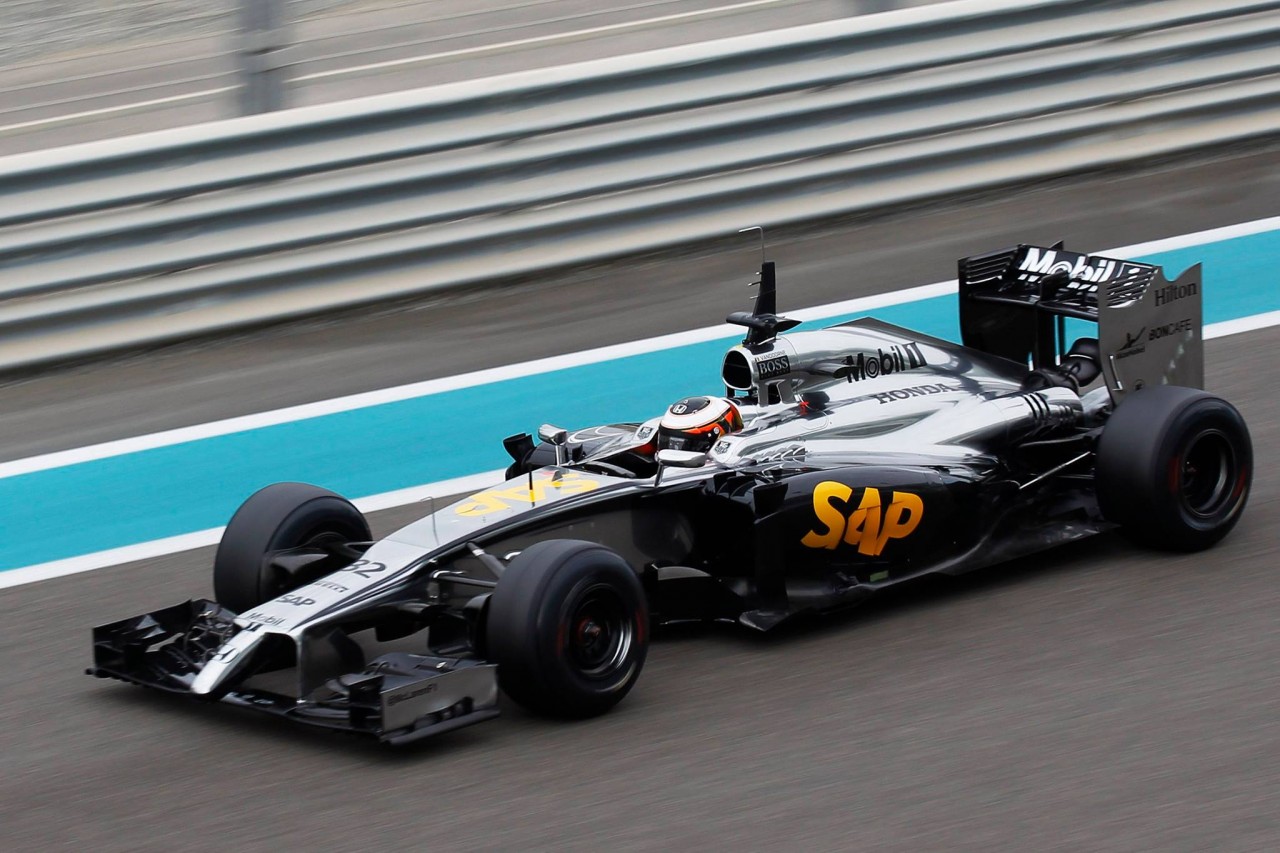 Here are the quotes from the team:
ERIC BOULLIER – Racing director, McLaren Mercedes
"Running a modern Formula 1 car is a very complicated procedure – and this week's test is all about how the departments at Sakura, Milton Keynes and Woking learn to work with the operational hub at the circuit.
"This test is an opportunity for us to build up that operational strength; to get McLaren and Honda working together under the same roof. We encountered a number of issues, including a lengthy check of electrical installations this morning, but it's satisfying to see that we got the engine fired up, the car out of the garage, and some laps on the board in the afternoon.
"We're not chasing laptimes this week, it's just about gradually expanding our knowledge. Tomorrow will hopefully be all about conducting longer runs as we learn about different parts of the engine, and run through each separate system."
YASUHISA ARAI – Honda R&D senior managing officer – chief officer of motorsport
"This week's test is really all about performing some fundamental systems checks on the engine before we begin testing in earnest next February. When I was at Jerez earlier this year, I noticed just how many issues the teams faced in readying these turbo engines, so we really wanted to get those initial checks under our belts before winter testing starts in 2015.
"The engine we used today is still under development – it's not for the actual race – and we're on schedule to develop it further ahead of the forthcoming season. There are a few more steps coming before Australia.
"We're making good progress for the new season as one team."
STOFFEL VANDOORNE – Test & development driver
"Firstly, I want to say that wearing Honda's famous 'H' logo on the chest of my overalls and team kit makes me feel extremely proud. Before today, McLaren Honda had only existed to me as a chapter in F1 history – to actually become part of it is very exciting.
"We'd hoped to get a few more laps under our belts today, but we had a fuel data-logging issue that stopped the car a couple of times. However, the team are already analysing the situation and we'll hopefully cure it ahead of tomorrow.
"Nevertheless, it's been a very positive day for us. At this stage of development, any lap we complete has a benefit – and it's better to be solving these initial teething problems in November rather than in Jerez next February. I've already given the team some useful feedback.
"The purpose of this test is to enable the engineers to deepen their knowledge of the McLaren and Honda collaboration. This is their first time working together at the track, and – operationally – it's all a bit different.
"We're still building up the power – we haven't run the engine at full power yet – so it's difficult to get a feeling for it, but it sounds absolutely fantastic! People often say that if an engine sounds good, then it usually has lots of power – so let's hope that's the case!"
[Source: McLaren]