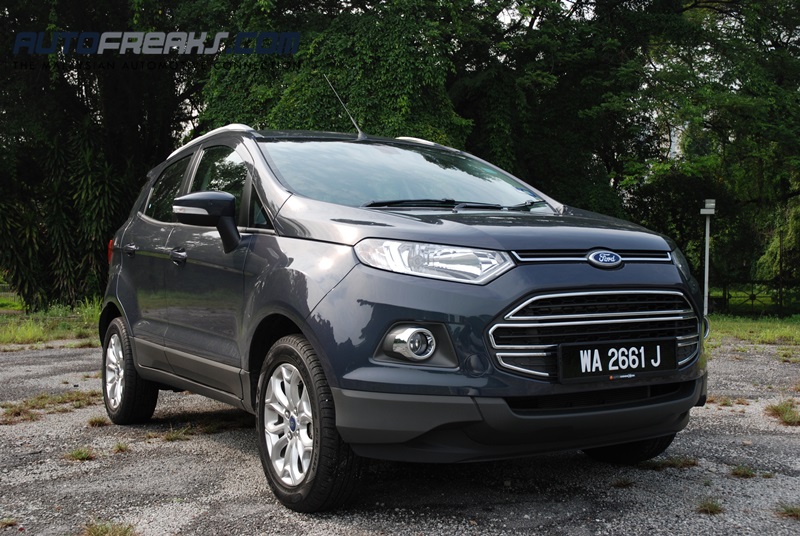 ADVERTISEMENT
The city can serve up plenty of obstacles. No, I'm not referring to a Honda nor am I referring to inconsiderate drivers out there, what I'm talking about is the number of potholes, protruding manhole covers, rough roads and floods that you will encounter during your daily commute these days.
If you're tired of encountering all this on a daily grind, fret not because the all-new Ford EcoSport 'Crossover' might just be the car you've been waiting for. It is based on the Fiesta's platform, but with a body that stands higher off the ground and with extra interior room to boot, pun intended. However, does the EcoSport have what it takes to be an all-around city car for savvy buyers, and is it as charming as the Ford Fiesta? I was given the top-of-the line Titanium 1.5 variant for the weekend to find out for myself.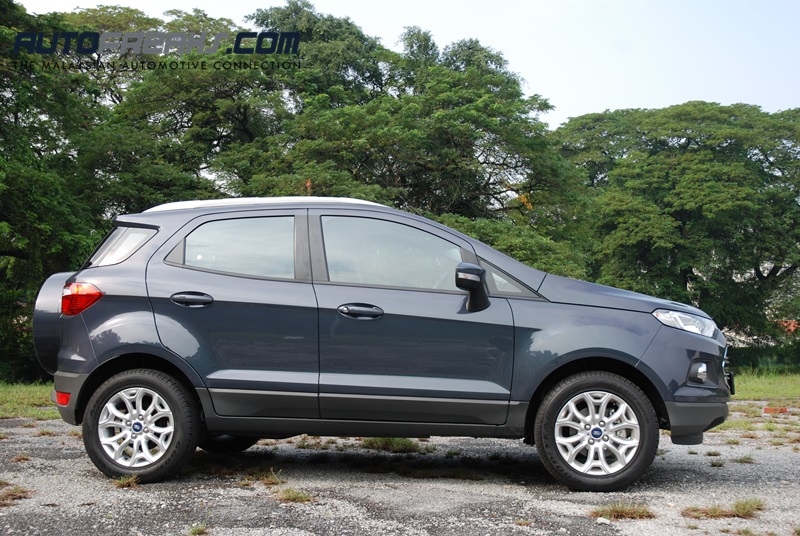 Before we get into the nitty-gritty details, one of the EcoSports' unique selling-point is its 200mm of ground clearance between the car and the road. With our tropical climate experiencing the monsoon season every year, the EcoSport is a sort of 'blessing' for those who live in a frequently flooded areas where you can just drive through large pools of water with ease, within reason of course. However, given that the EcoSport is using only a front-wheel-drive system, I was not keen to test the EcoSport's 550mm water-wading capabilities.
Under the hood, power is supplied by the Fiesta's 1.5-litre Ti-VCT engine mated to a 6-speed PowerShift transmission driving the front wheels. This is actually good for 108hp and 142Nm of torque. Given its bigger dimensions and weight, I didn't expect the EcoSport to behave like the Fiesta. However, once I'd taken it for a drive around town, the EcoSport surprisingly didn't disappoint me at all. This crossover is actually a delight to be driven around and although it isn't as zippy as the Fiesta, the EcoSport felt polished and smooth on the road. And since there's no manual shifting required, the crossover is very easy and relaxing to drive and all you'll get is a continuous flow of smooth power at modest speed.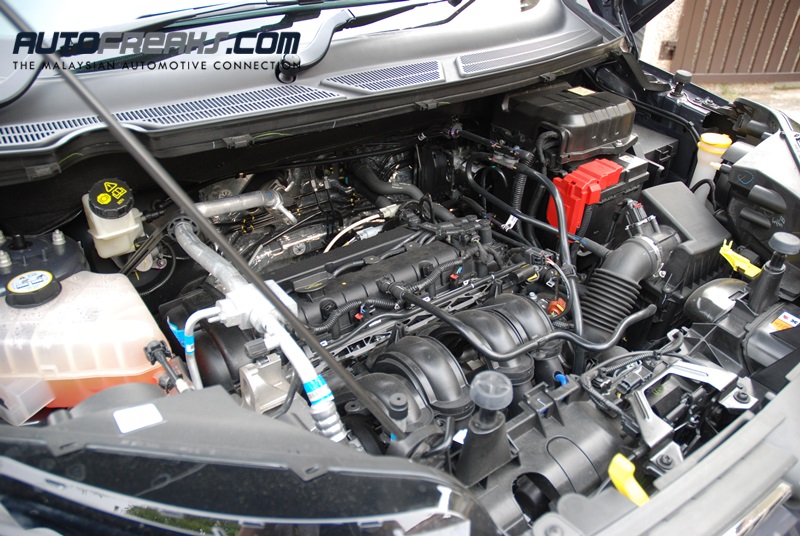 Unfortunately, once you merge into the motorway and start to push on the throttle just a little bit, you'll notice that the little SUV has an annoying tendency to accelerate sluggishly away from the traffic with a very noticeable engine grunt. Ride and handling isn't its strong point either. Unlike the Fiesta, and due to the EcoSport's high ride height, you'll have to compromise with its lack of body control especially when going through sharp bends.
There's a lot of body-roll and the crossover didn't feel connected to the road as I would have enjoyed in the Fiesta. The steering feels a little light and the chassis doesn't exactly feel eager to attack a curvy road. Suffice it to say, the the EcoSport is not the type of car you'd want to drive if you're always late for work!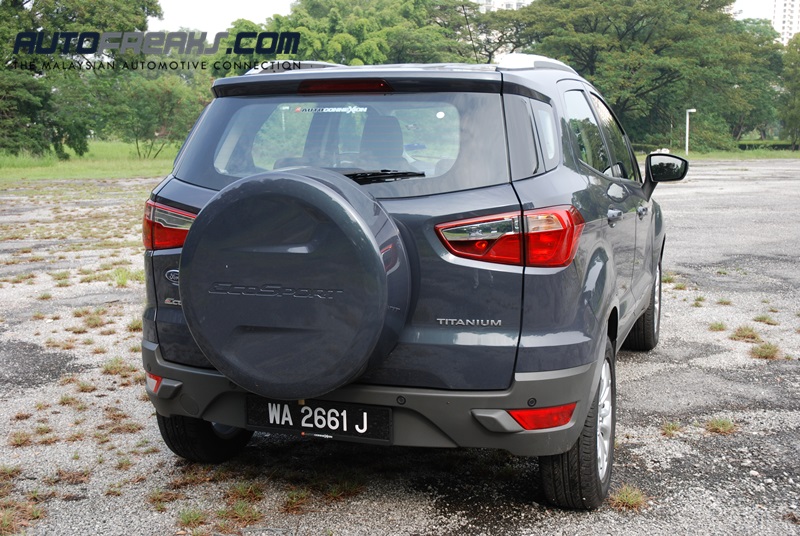 In terms of design, I personally love the cute 'bulbous' shaped front-end that reminds me of a puffer-fish, (do you see the similarity in the picture below?). Around the back, however, things get a little #throwbackthursday. There's a huge spare wheel-cover located on the rear of the EcoSport that remind of the old Suzuki Grand Vitara my grandfather used to drive and it kinda ruins the whole rear-end styling. That's not all, if you're planning to purchase this crossover for your significant other, I don't think she will want to utilize the boot space either. For instance, if you park the EcoSport in a small parking area, you won't have enough room to open the huge and heavy rear door (because of the covered spare wheel attached to it) and even worse, you might accidentally hit the car behind because it open sideways (I learn this the hard way sadly). So most probably, you'll end up chunking all your groceries in the back seat to save time.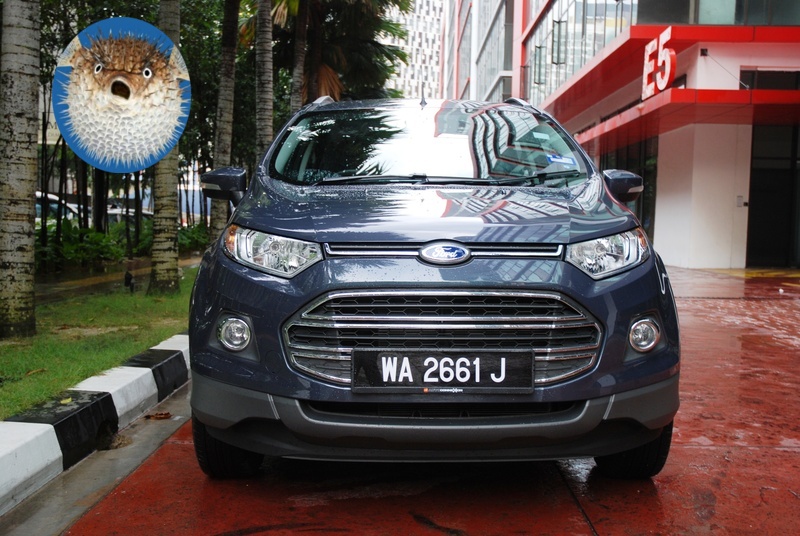 Inside, you'll be able to find a familiar-looking interior as seen in the Fiesta (picture below on the left). If you are a tech-savvy person, then you'll love the EcoSport just like I do. As usual, there's voice-control and SYNC that seamlessly connects your Bluetooth and USB capable devices so you can make and receive calls, play your favourite songs and have your text messages read out loud to you, albeit in a weird robotic female voice. And if you prefer to engage a dialogue with SYNC in Mandarin, you can do that as well too in the EcoSport. SYNC can also select your favourite music played on the USB or iPod via voice command, but as a regular user of SYNC, the voice command doesn't really respond well to unfamiliar songs or names.

Elsewhere, other smart and convenient features available in the EcoSport are follow-me-home lights, Smart Keyless Entry, Ford Power Start Button and rear parking aid with park pilot as well as an auto-dimming rear-view mirror that prevents the driver from being blinded by the headlamps of cars behind by detecting glare from their lights.
While a lot of people might not appreciate a sunroof in their car, from a female perspective, a sunroof is a great way to get Vitamin D for your skin, especially if you're a busy working all year long and don't have time to go for a holiday on a beach. So yeah, I do enjoy retracting the sunroof in the EcoSport and let the sun warm up and brighten the whole cabin.
In terms of safety, there's 7 airbags to protect you from every angle on the inside of the car. Apart from that, there's traction control, ABS and to ensure that you don't roll back when stopping on a hill, there also Hill Launch Assist. HLA assist will keep the brakes on for you, giving you time to smoothly accelerate away on an uphill slope. Yep, this car is pretty much a no-brainer!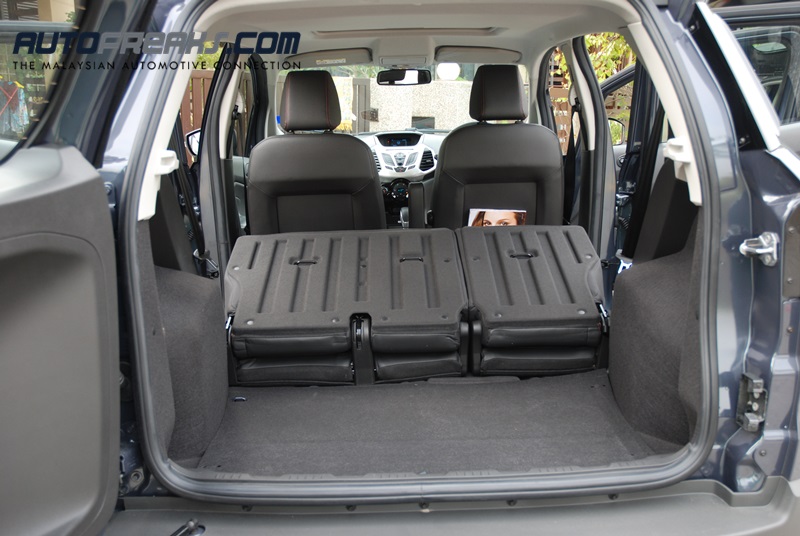 Space is what the EcoSport offers an abundance. It has generous 560-litre boot-space can literally swallow a washing machine once you fold down the 60:40 split rear-seat, and if that's not good enough, the overall boot space can actually increase up to 705-litres of space to chuck in all your possessions and belongings. That's not all, according to Ford, there's at least 20 storage spaces inside the EcoSport to stash (or lose) all your stuff everywhere like in the side door, under the front seats, centre console and the glovebox; talk about convenience and practicality! The seats are very spacious as well, three adults can sit comfortably in the back with plenty of headroom and legroom to spare.
If you are one of those tech savvy buyers seeking an alternative for a compact car, then the EcoSport might just be right up your alley. Although it lacks a thrilling sporty ride, the EcoSport still charms with its cute 'puffy' looks and practicality, suitable for those soccer moms or families with small kids. Not convinced yet? If this doesn't work, nothing will. How about a cute photo of a baby sitting at the rear of the EcoSport to convince you otherwise!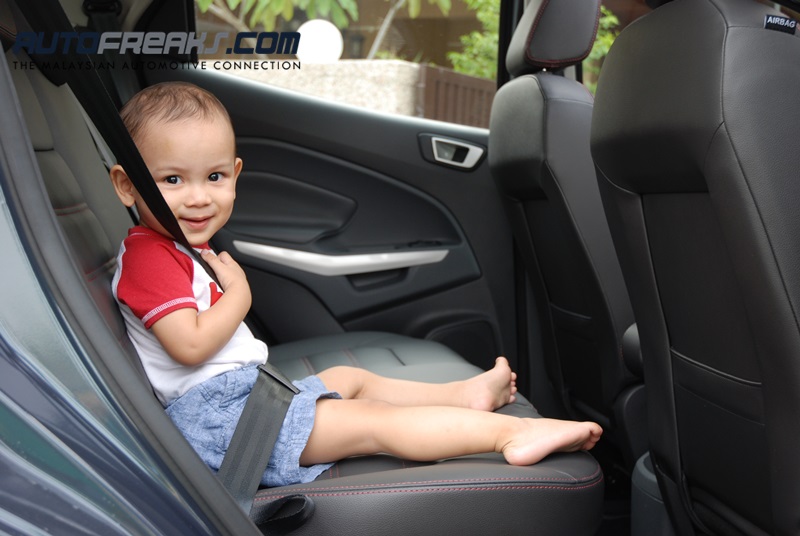 SPECIFICATIONS: Ford EcoSport 1.5 Titanium 
Price: RM101,012 on-the-road without insurance
Engine: 1.5-litre Ti-VCT Multipoint Fuel-injection
Max power: 110PS @ 6,300rpm
Max torque: 142Nm @ 4,400rpm
Transmission: 6-speed Powershift Automatic