ADVERTISEMENT
Suzuki Malaysia Automobile (SMA) has kicked off the brand's 2nd nationwide Suzuki Mega Roadshow in the Klang Valley, in what promises to be the best chance for Suzuki fans and enthusiasts out there to enjoy sensational deals on all Suzuki models, win fantastic prizes and get to meet celebrity Suzuki enthusiasts; Keith Foo and Ustaz Hanafi Live in person.
During the Suzuki Mega Roadshow, visitors and customers will get the opportunity to come up close and personal with the entire range of Suzuki cars, namely the Suzuki Swift, Swift RS, Swift Sport, Alto, Jimny, and Grand Vitara. Apart from that, customers who register successfully at any of the Suzuki Mega Roadshow venues will receive a limited-edition Suzuki Bluetooth speaker.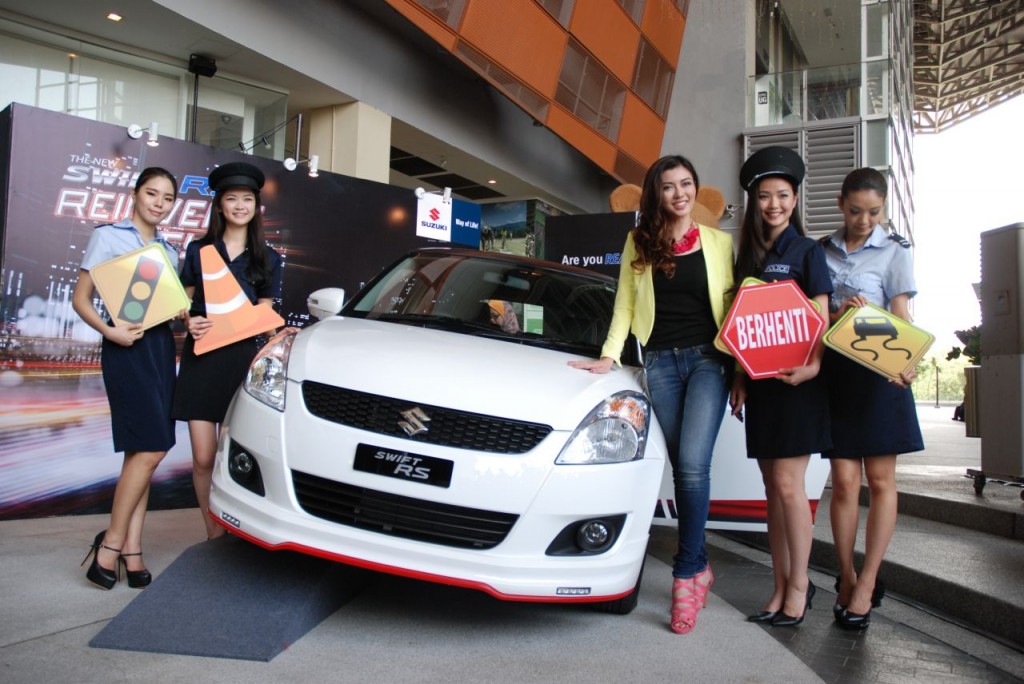 There are plenty of promotions and offers awaits including cash rebate of up to RM7,000, and an attractive financing rate from as low as 1.68% on selected models.
Also, customers will be in for a special treat as popular local celebrities Keith Foo and Ustaz Hanafi will be making special appearances at selected venues during the mega roadshow to share their take on the Suzuki 'Way of Life!' which involves their own personal travel experiences, as they impart valuable travel tips and advice for a safe and pleasant drive or journey.
So check out the list of dates and venues below to take part in the Suzuki Mega Roadshow and to see first-hand which Suzuki car suits your lifestyle best!
7 Nov – 9 Nov (Friday – Sunday)
i. Mydin USJ, Subang Jaya
Special appearance by Ustaz Hanafi from 2:00pm to 4:00pm on 8 November
14 Nov – 16 Nov (Friday – Sunday)
i. Setia City Mall, Shah Alam
Special appearance by Keith Foo from 2:00pm to 3:30pm on 15 November
21 Nov – 23 Nov (Friday – Sunday)
i. [email protected], North Circle, Petaling Jaya
Special appearance by Ustaz Hanafi from 2:00pm to 4:00pm on 22 November
28 Nov – 30 Nov (Friday – Sunday)
i. AEON Seri Manjung Shopping Centre, Perak
Special appearance by Ustaz Hanafi from 2:00pm to 4:00pm on 29 November
5 Dec – 7 Dec (Friday – Sunday)
i. Queensbay Mall, Penang
Special appearance by Keith Foo from 2:00pm to 3:30pm on 6 December
12 Dec – 14 Dec (Friday – Sunday)
i. AEON Mall Bukit Mertajam, Penang
Special appearance by Ustaz Hanafi from 2:00pm to 4:00pm on 13 December
18 Dec – 20 Dec (Thursday – Saturday)
i. Mydin Mall Kuala Terengganu, Terengganu
Special appearance by Ustaz Hanafi from 2:00pm to 4:00pm on 20 December
8 Jan – 10 Jan (Thursday – Saturday)
i. KB Mall, Kota Bahru Kelantan
Special appearance by Ustaz Hanafi from 2:00pm to 4:00pm on 10 January
16 Jan – 18 Jan (Friday – Sunday)
i. East Coast Mall, Kuantan Pahang
Special appearance by Ustaz Hanafi from 2:00pm to 4:00pm on 17 January
23 Jan – 25 Jan (Friday – Sunday)
i. Komtar Shopping Centre, Johor Bahru
Special appearance by Keith Foo from 2:00pm to 3:30pm on 25 January
30 Jan – 1 Feb (Friday – Sunday)
i. Dataran Pahlawan Melaka Megamall, Melaka
Special appearance by Keith Foo from 2:00pm to 3:30pm on 30 January