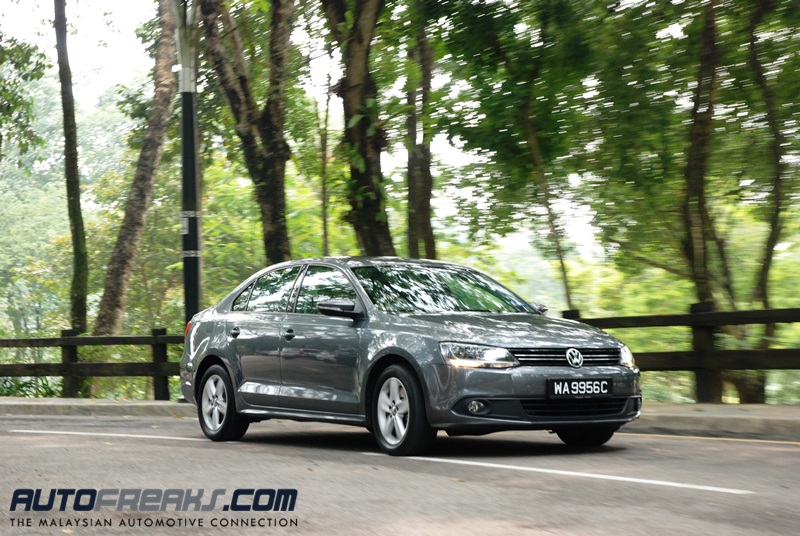 ADVERTISEMENT
With more than 14 million units sold across the world since 1979, the VW Jetta is probably the most popular model in the Volkswagen line-up. Last year alone, Volkswagen delivered a total of 925,000 units of the Jetta worldwide, making it the best-selling sedan for both the brand and of the entire VW Group.
With the vast popularity it has garnered in more than three decades, I was keen to find out why the VW Jetta is so well-accepted around the world, but not in Malaysia because it doesn't appear to be the bread and butter model when compared to its popular Golf hatchback. Are we missing out on a hidden gem here, or is the Jetta is a just a vanilla daily ride?
The VW Jetta that was provided to me for a weekend was the locally-assembled model which made its debut in April this year. Unfortunately, this isn't the latest iteration of the Jetta. In the US, a facelifted model is available with a wealth of new driver assistance technologies and some really cool features. Regardless, the locally-assembled model as tested here isn't as far back as you might imagine, well…maybe a little teeny-tiny bit.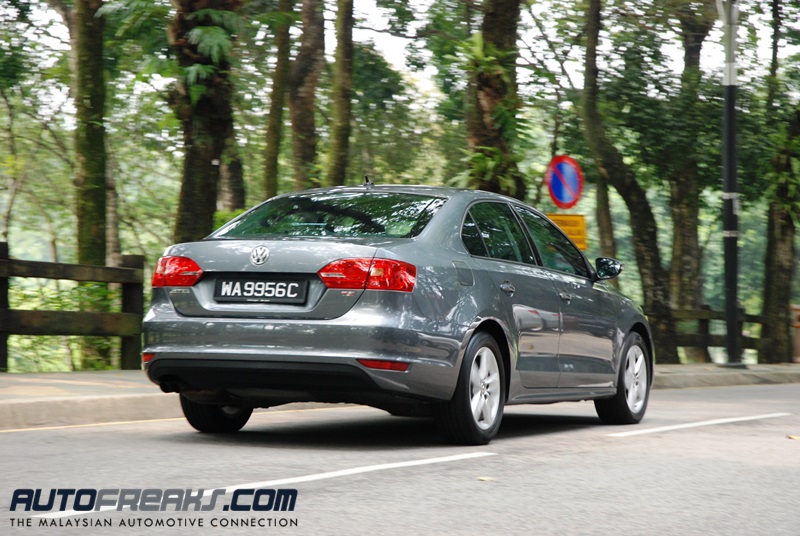 Externally, the overall styling isn't anything to shout out about; its very conservative and identical just like the rest of its siblings although the design team from Wolfsburg would probably prefer the term clean and timeless design. However, as an old saying goes, "Beauty isn't universal, it's subjective" and good looks won't necessarily determine if you are good in bed, oops, I mean in terms of ride, agreed? So let's take a look what's hidden beneath the hood.
The Jetta is powered by a 1.4-litre twin-charged direct petrol injection TSI engine (with a 7-speed direct shift gearbox) that gives an impressive output of 157hp and a torque of 240Nm between 1,500 to 4,500rpm. That's good enough for a 100km sprint in 8.3 seconds and a top speed of 221 km/h. So does the Jetta have the grooves and moves like a Jagger?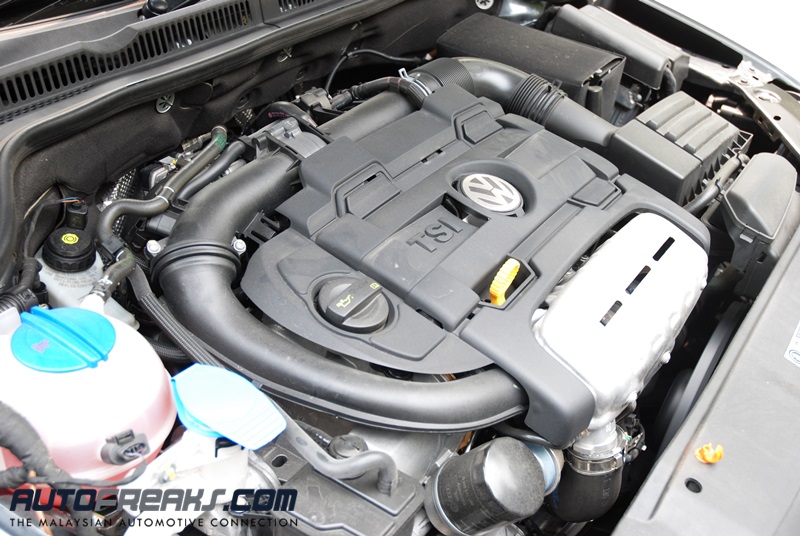 Well, I won't say it that way, after having tested the Jetta on a combination of city and highway roads, the overall drive is very refined, just like what you would expect in a German-engineered car. The 7-speed direct shift gearbox deserves an award for its quick and smooth gearshifts and the Jetta felt very relaxing to drive, even over longer distances. It might not be able to move at a speed blinding-velocity, but it is zippy enough to merge into the freeway at speeds and allows you to punch it off the line to pass slow drivers.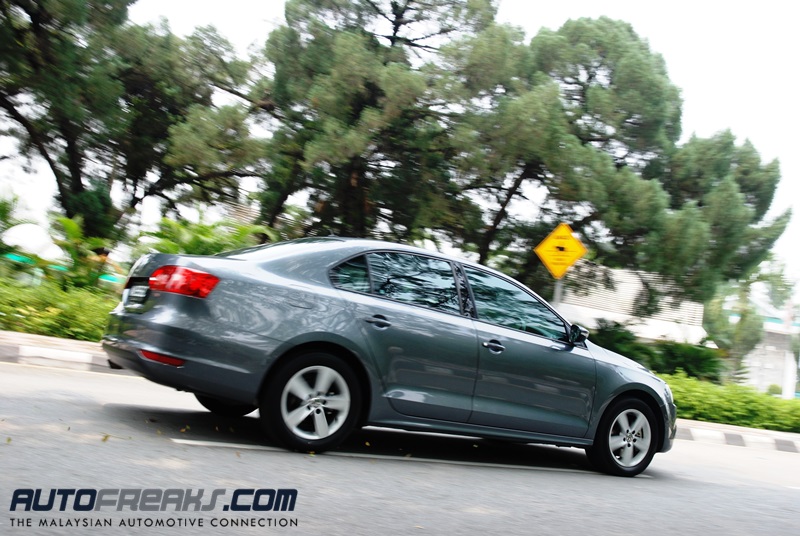 I was also impressed with its low-level of noise, vibration and harness; the Jetta was able to provide its occupants with a comfortable journey despite going through trunk roads or less-than-perfect 'patchy' roads. The suspension was able soak up all the annoying road bumps yet strong enough to prevent the chassis from rolling too much. Thanks to its well insulated cabin, you could barely notice any wind or tyre noise coming through the cabin. I also enjoyed using the steering wheel that provided plenty of feedback, allowing me to the maneuver easily, especially around town.
As far as driver and passenger comfort is concerned, the VW Jetta won't disappointed either. The overall interior design is very subtle and not too flashy and I won't say the build-quality and fit and finish is top notch, but for its price bracket, the Jetta will make you feel like you're driving a premium car. For instance, the contoured seats are furnished with 'Sienna' fabric seat upholstery, (I'm not sure what 'Sienna' fabric is but from my observation, it's a very good quality type of fabric) and there's a multi-function leather steering wheel complemented with leather gearshift knob.
The list of functional interior features include auto-dimming rear view mirror, cruise control and auto power windows as well as a glove compartment with cooling function which I find it really handy to keep your canned drinks chilled on the go.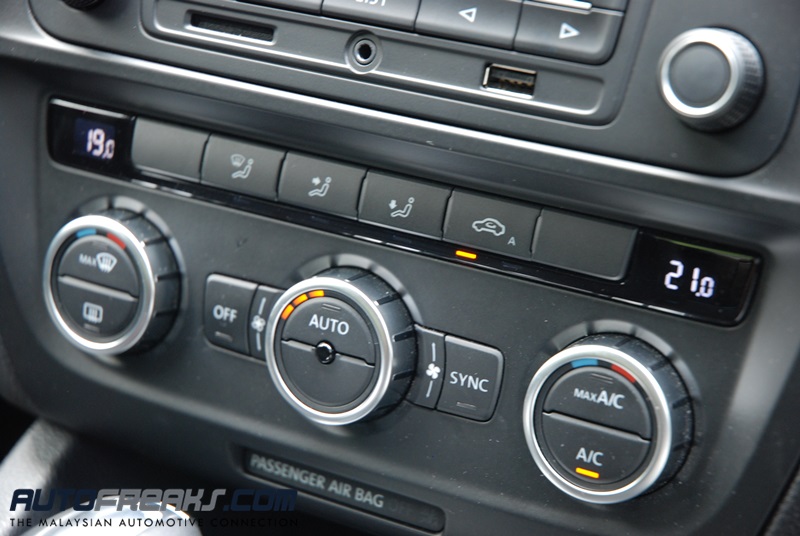 Elsewhere, there's also a generous amount of standard kit equipped in the Jetta. The list includes front spot lights and rear fog lights, automatic headlight activation with 'Leaving Home' and 'Coming Home' functions, Park Distance Control (PDC) for front and rear, and electrically adjustable exterior mirror, just to name a few.
Although functional, the Jetta's entertainment features are a little outdated, so to speak. While the latest Golf offers a new touch-screen colour display which we find pretty cool and nifty, the Jetta only comes with RCD320 radio with multiple connectivity options such as Bluetooth, SD-card slot, USB with iPod interface and AUX-In. This multi-function display comes with multi-language support and its audio system is further supplemented with 6 speakers.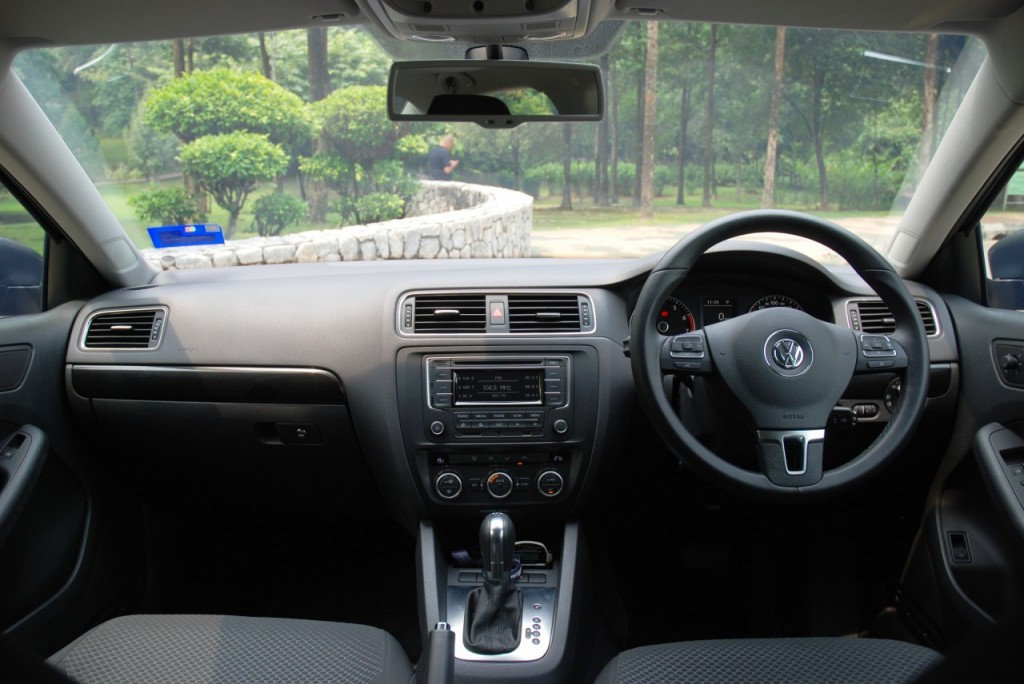 However, most buyers would prefer to purchase the Jetta over the Golf for its additional luggage space. What you'll get is 510-litres of space that is 130-litres bigger than the Golf hatchback. There are also handy features designed to further enhance the load bay, such as a 60/40 foldable rear seats. But then again, a four-door sedan body shape isn't quite as versatile as a hatchback when it comes to loading and carrying bulky items is it?
For me, the Jetta is what you call the vanilla sedan. A lot of people choose vanilla ice cream because they are too scared to take chances or afraid of being disappointed when making other choices. But don't get me wrong, the Jetta isn't a bad option, but it's more of a default choice. After all, not everyone wants to be bold and try something different, some prefer something that is relaxing and comfortable to drive for their daily commute.
With the Jetta, you can simply let go of all your performance anxieties and just be yourself. It's very easy to drive and you don't need a PhD to figure out how to control all the functions in the car. Its simplicity is what makes it a really charmer.
And whenever I drop by at an ice cream stall, I prefer to order Vanilla ice cream because it is the best flavor of them all and it's worth every single cent, just like the Jetta…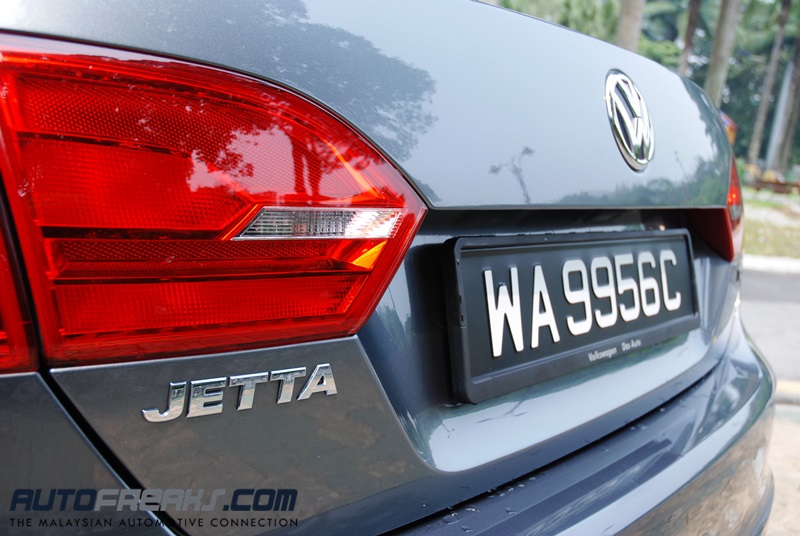 Available in four colour choices: Candy White, Platinum Grey, Reflex Silver and Deep Black, the Malaysian-assembled VW Jetta is priced at RM 130,888 on-the-road without insurance. For more info, visit their official website here. 
SPECIFICATIONS: Volkwagen Jetta 1.4 TSI
Price: RM130,888 on-the-road without insurance
Engine: 1.4-litre TSI direct-injection
Max power: 157hp @ 5,800rpm
Max torque: 240Nm @ 1,500 – 4,500rpm
Transmission: DSG 7-speed direct shift gearbox
Top Speed: 221 km/h
0-100km/h: 8.3 seconds