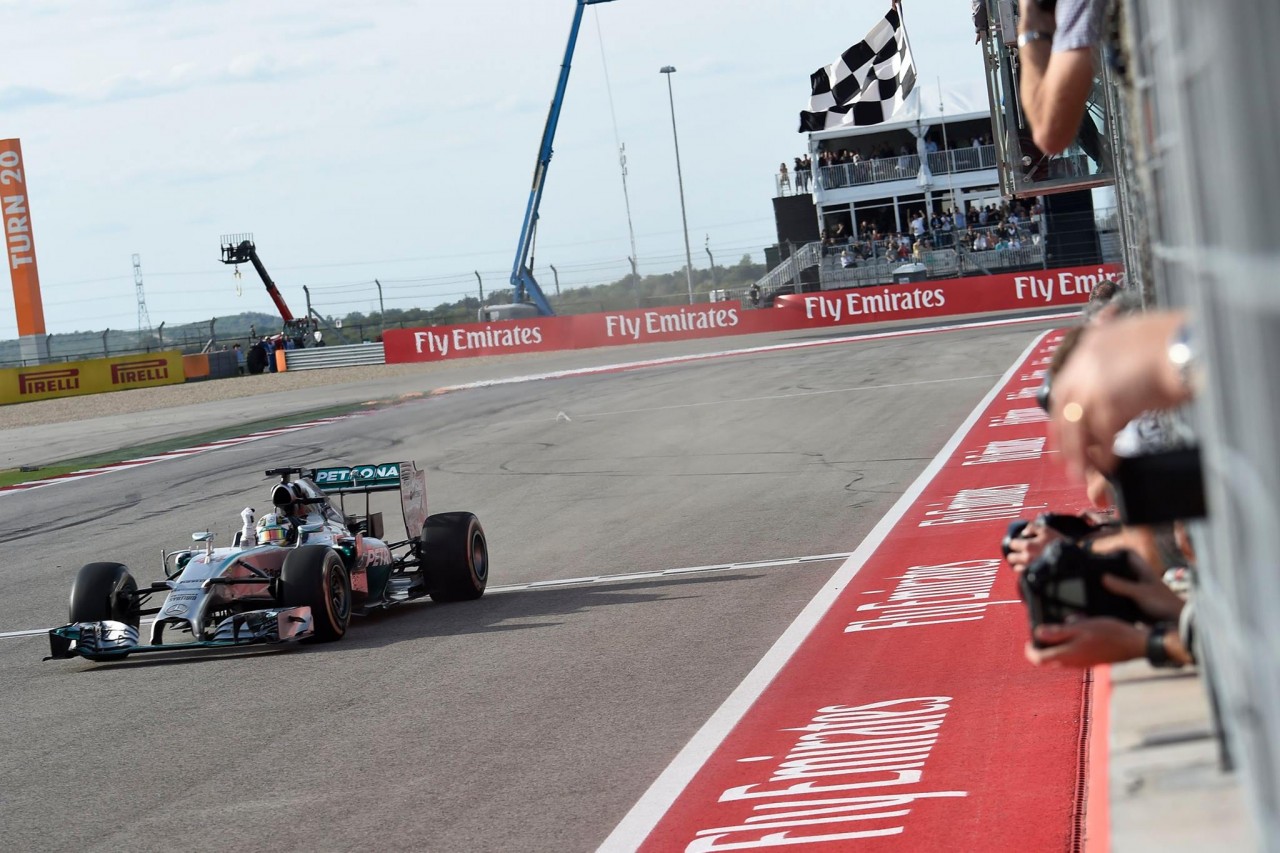 ADVERTISEMENT
Lewis Hamilton is that much closer to becoming this year's Formula One World Champion when he defeated Nico Rosberg fair and square to win the United States Grand Prix in Texas. While the German settled for second, Red Bull Racing's Daniel Ricciardo said prior the race that he would target a spot on the podium, and he kept his word by finishing third.
The grid in Austin, Texas saw lesser cars after F1 strugglers Caterham and Marussia pulled out from the remaining races. When the race started, Rosberg who was in pole-position had a strong start to keep Hamilton at bay. Last year's race winner, Sebastian Vettel had to start from the pit due to power-unit change penalty.
An early tussle between Force India's Sergio Perez and Sauber's Adrian Sutil on turn 15 eliminated both drivers from the race. Kimi Raikkonen unfortunately made contact with Perez, ruining his race in the process.
The Circuit of the Americas has always promised great race action and this time there's no exception. On lap 24, Hamilton regained composure and then overtook Rosberg at turn 12 to claim the lead.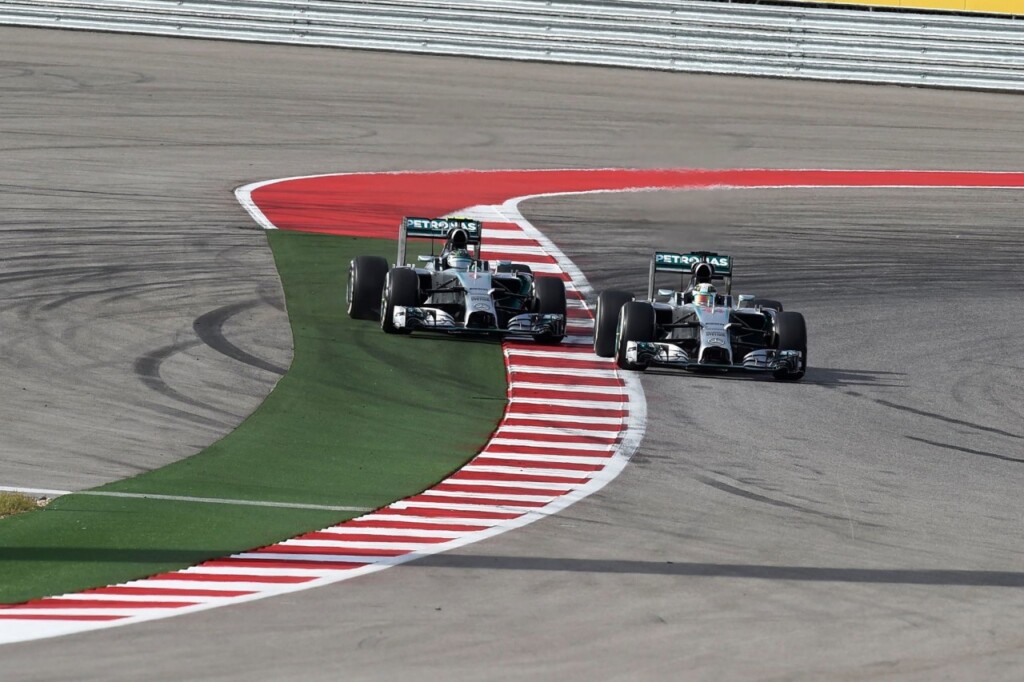 There was also more action at the back of the field with Fernando Alonso, Sebastian Vettel, Jenson Button and Jean-Eric Vergne were in an overtaking frenzy, duking it out with each other to get the best results in America. The one between Alonso and Button below is worth checking out as per this link.
The battle for ninth place between Jean-Eric Vergne and Romain Grosjean ended on a sour note when both of them made contact. Grosjean's car was damaged and struggled, pulling him further at the back. Vergne was given a time penalty for causing that collision, pushing him from ninth to tenth. Lotus's Pastor Maldonaldo finally scored his first points after inherited ninth from Vergne.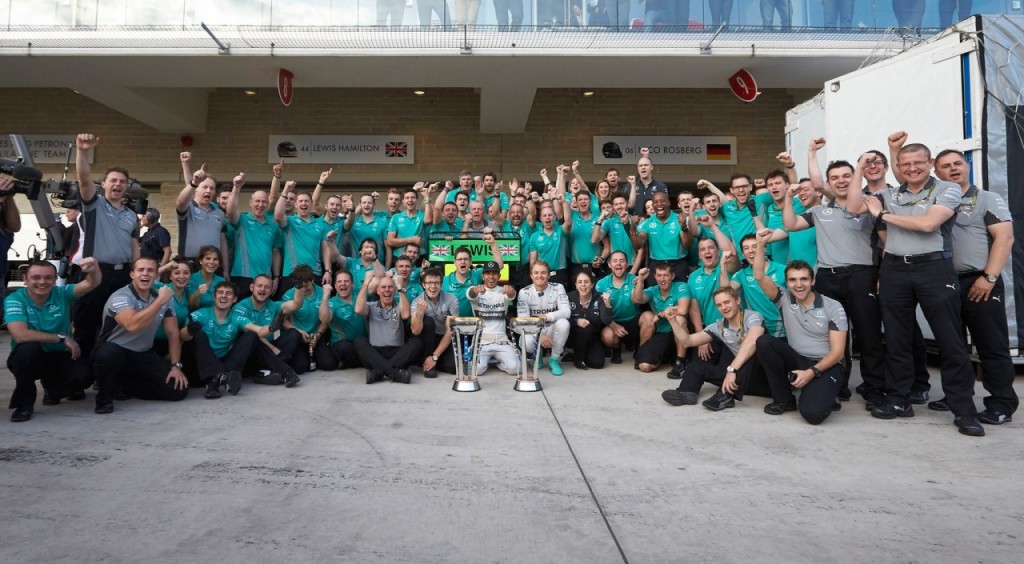 The victory in America has allowed Hamilton to hold a 24-point lead over Rosberg. Also, this is Hamilton's 32nd race victory, one more than Nigel Mansell to become Britain's most successful F1 driver. Despite his five successive victories, the title fight will be decided in the double points season finale in Abu Dhabi.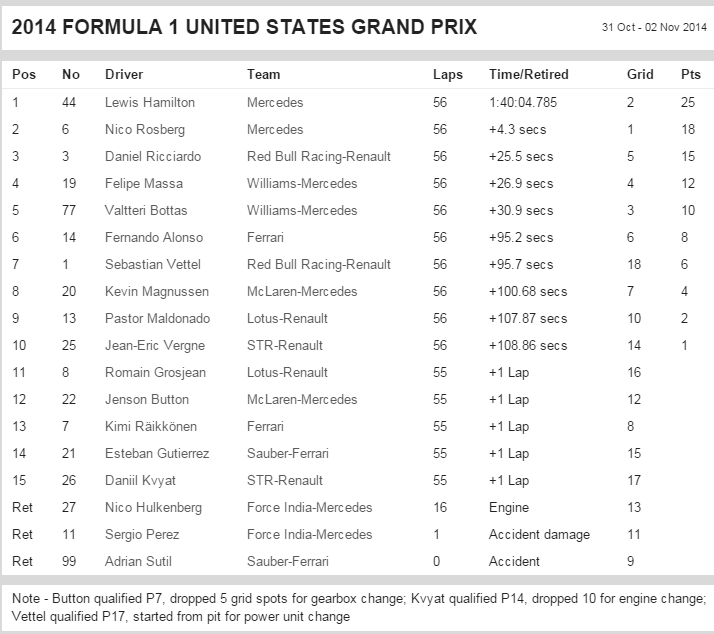 [Image Source: AMG Mercedes Petronas F1 & Formula One]