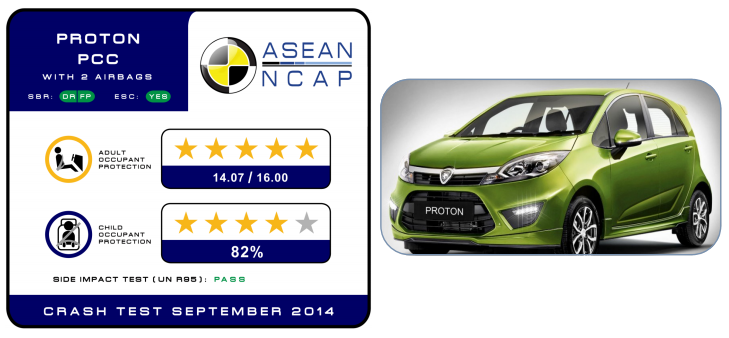 ADVERTISEMENT
We are mere hours away from Proton lifting the covers off its latest compact car, and to build-up the anticipation, ASEAN NCAP has released the result of its crash test.
The ASEAN NCAP rating are as following:
Adult Occupant Protection (AOP) – 5-Star
Child Occupant Protection (COP) – 4-Star
It seems like Proton has set a new trend in producing safer cars, and this is the second time for Proton to achieve 5-Star in AOP after Prevé/Suprima S model.
As previously mentioned, the PCC's key selling point is the safety features as all variants will have dual airbags (except for the 1.6-litre Premium variant which has 6) , Brake Assist, Hill Hold Assist, ABS with EBD, and Electronic Stability Control with Traction Control.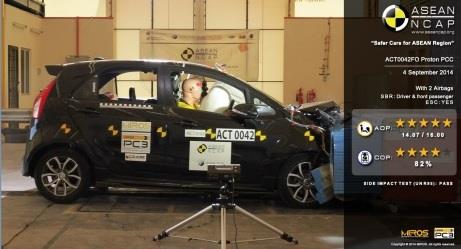 As final pricing will only be made public after its launch, you can read about its tentative price here. ASEAN NCAP Secretary-General, Mr. Khairil Anwar Abu Kassim said, "This is the good sign for us and most importantly to the consumers that they will know the result of our rating even before the launch so that the decision making will be made easier for more values for their money. This is also our promise to conduct more tests after the pilot phases, frequently informed the consumers and therefore making the system of promoting safety culture especially in vehicle safety works."
ASEAN NCAP Chairman, Prof. Dr. Wong Shaw Voon said, "I am personally glad with the current trend in our market in which safety is now growing as one of the important factors for car buyers to consider. Also, when looking into the recent results of ASEAN NCAP and safety specifications of new cars in the market, safety has now brought up the passenger car market to another level where the price remain competitive but at the same time we can see fitment of safety items such as airbags and ESC becoming more common in the affordable car sector."
Click here to view its full press release. [Crash test image from Asean NCAP website, www.aseancap.org]