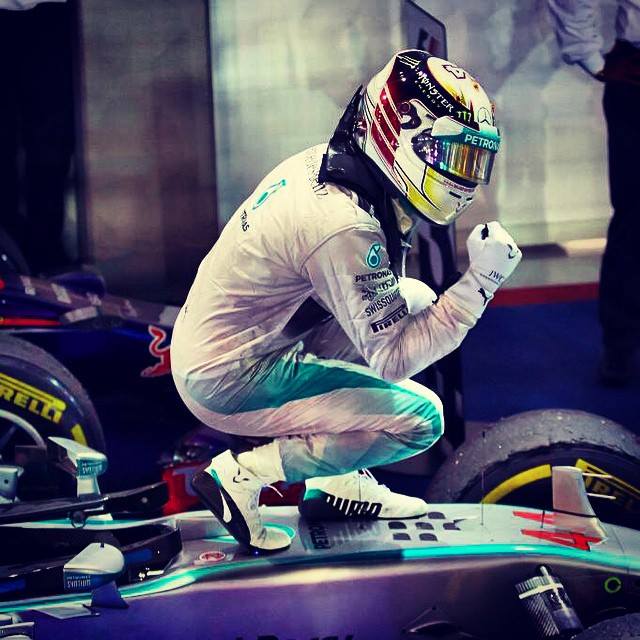 ADVERTISEMENT
Lewis Hamilton dominated the street circuit of Singapore by winning the race, snatching the championship lead away from Nico Rosberg. The Red Bull squad had a brilliant result with both cars taking the final two podium positions, with Sebastian Vettel finishing ahead of Daniel Ricciardo. Rosberg meanwhile retired from the race following an electrical problem in his W05.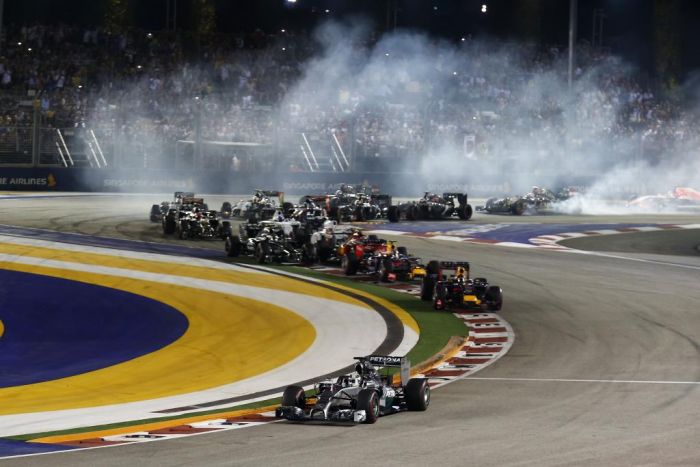 Even before the race, mechanical gremlins haunted Rosberg's car, forcing him to start from the pitlane after he'd qualified strongly in second. As the five red lights turned green, Hamilton got away in the lead and Fernando Alonso leaped ahead of the two Red Bulls. However, Alonso went wide at turn one, handing over second position to the surging Vettel.
Things got worse for Rosberg; not only did his car struggle to overtake the slower cars, but his disastrous first pit stop to change his wonky steering wheel turned into a permanent failure, forcing him to call it a day, or rather, night. The steering column wiring loom failure resulted in Rosberg's second retirement of this season. Together with Hamilton, this is the fifth retirement of the W05, not a stellar reliability record for the fastest car in the field.
Contact between Force India's Sergio Perez and Sauber's Adrain Sutil in lap 30 damaged Perez's front wing, prompting a safety car period to remove the debris. When the race resumed, Hamilton stayed on with his aging tyres while his competitors from Red Bull and Ferrari were on fresher rubber.
Hamilton later handed the lead to Vettel when he made his third and final pitstop. While Vettel was reportedly struggling with his car, the Briton made a daring overtaking move to reclaim the lead from the German. Hamilton crossed the finish line in first place at lap 60, a lap shorter than the original run when the two-hour time limit was reached.
The Marina Bay street circuit is not known for overtaking, but outgoing Torro Rosso driver, Jean-Eric Vergne proved his mettle by overtaking Hulkenberg, Raikkonen and Bottas to finish the race in sixth. Vergne retained his sixth place finish despite being hit with a 5-sec penalty twice for gaining an advantage by exceeding track limits.
Despite being a night race, Singapore is also known as a physically demanding track. McLaren's Danish rookie Kevin Magnussen went through hell to collect a single F1 point with his tenth place finish. His overheating McLaren had made him uncomfortable in the cockpit, and the young Dane couldn't drink from his drinks bottle as the water was boiling hot. Magnussen was later sent to the circuit's medical center for treatment for burns after the race.
The F1 circus heads east to another popular track in the calendar, Suzuka, Japan in two weeks time.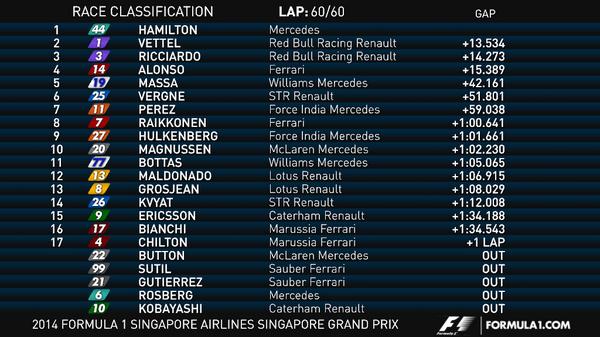 [Image Source: AMG Mercedes Petronas, Formula1.com]