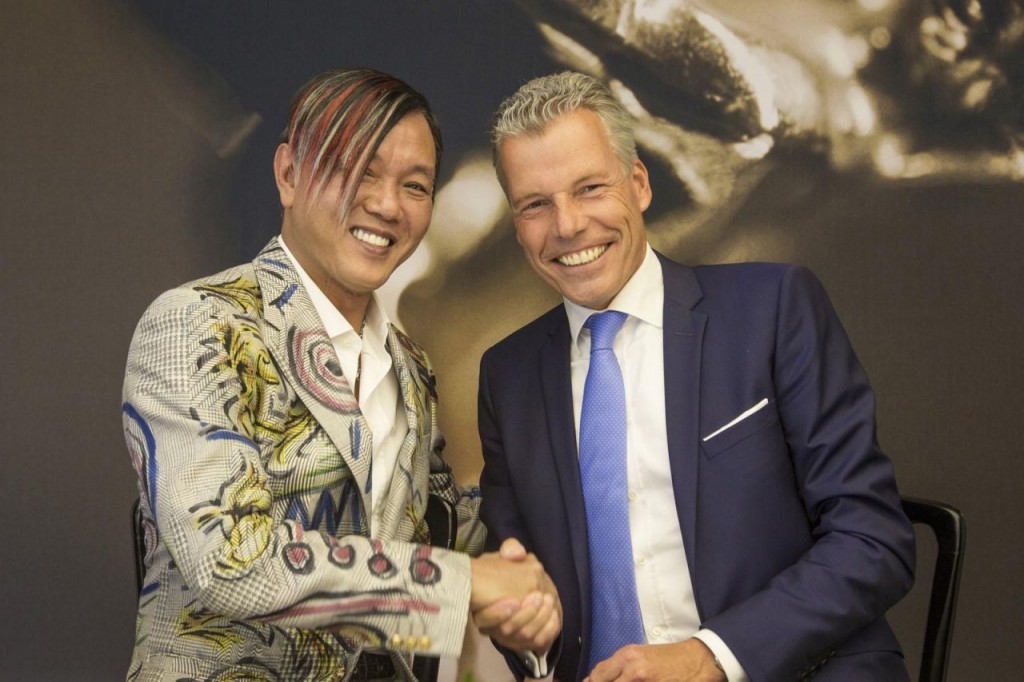 Hong Kong tycoon Stephen Hung (the guy in a fancy suit and trademark highlighted hair above) recently placed the biggest order for Rolls-Royce cars, by purchasing 30 Bespoke Extended Wheelbase Phantoms for his Louis XIII hotel in Macau.
ADVERTISEMENT
According to Rolls-Royce, this transaction represents the world's single largest order of the British company ever with two of the fleet will be the most expensive Rolls-Royce Phantoms ever commissioned adorned with gold-plated accents on both the exterior and interior.
Each of the 30 Rolls-Royces has been extensively customised by Rolls-Royce's Bespoke design team at Goodwood working hand-in-hand with Mr Hung and Louis XIII to create truly bespoke vehicles. Newly created bespoke elements have been applied extensively both to the interior and exterior of the cars including bespoke clocks designed and created by Graff Luxury Watches.
Rolls-Royce further adds that the Phantom fleet will chauffeur the guests of Louis XIII, located on the Cotai Strip in Macau, when it opens in the first half of 2016.
In addition to the fleet, Rolls-Royce will also assist in the design of the hotel's driveway and will also train chauffeurs in the proper handling of the luxury cars.
Stephen Hung was a former investment banker who made his fortune from deals in investment banking and real estate.  His latest project is the 22-storey Louis XIII hotel that will be the world's most extravagant suite hotel, with a one night stay costing a staggering RM418,000 per night!
"Macau is rapidly evolving into the luxury capital of the world and we are honoured to have the opportunity to add to Macau's many distinctions, the world's largest fleet of Rolls-Royce Phantoms, including the two most luxurious vehicles Rolls-Royce has ever built. Louis XIII and Rolls-Royce Motor Cars share the same philosophy: to deliver the perfect experience to the world's most discerning customers," said Louis XIII Chairman, Stephen Hung.
Even more intriguing is Stephen Hung's history with Rolls-Royce. According to the Wall Street Journal, as the son of wealthy real estate investors, Hung drove a Rolls Royce to work, even as an intern with Citibank.
Source: Rolls-Royce