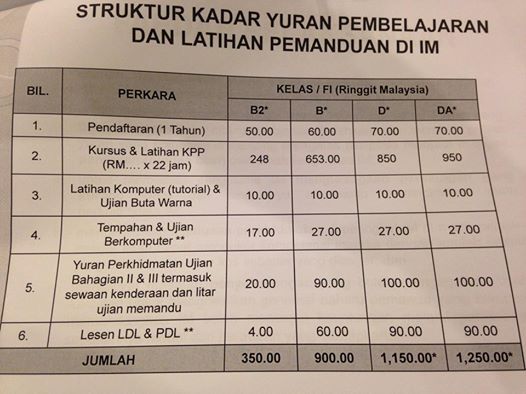 ADVERTISEMENT
The Road Transport Department (JPJ) has just released the new ceiling price for driving school fees. The new ceiling price is set to be obeyed by all driving schools nationwide. For those driving school institutions found to be charging exceeding the ceiling price can be reported to [email protected] or at the nearest JPJ state office or headquarters.
Based on the new ceiling price, students may need to fork-out a maximum RM1,150.00 for a 'D' license for private cars with manual transmission, while an additional RM100 for private car license with automatic transmission. Motorcycle license begins at RM350 for B2 and RM900 for B.
This follows the previous development in July where the driving school fees were set to be increased from RM1,200 and above, but later was called off following the discussion between the Youth and Sports Minister with the Transport Minister.
[Source: JPJ]