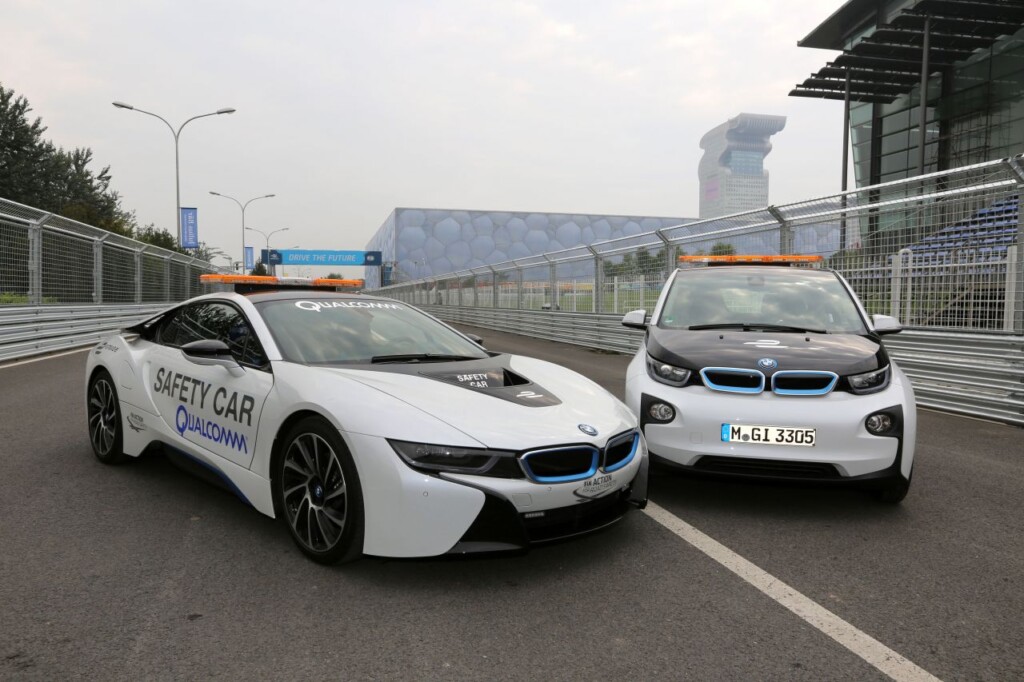 ADVERTISEMENT
When the inaugural season of the new FIA Formula E Championship gets underway in Beijing (CN) on 13th September, BMW will also be involved as the Official Vehicle Partner. The BMW i8, the low-emission hybrid, will be employed as the safety car in the forward-looking all-electric single-seater series. Two fully-electric and therefore zero-emission BMW i3 models will take on the role of the medical car and extraction car respectively.
"From 2014, the International Automobile Federation (FIA) is breaking new ground with the FIA Formula E Championship," said Jörg Reimann, Vice President BMW Brand Experience Customer. "Fully-electric single-seater racing cars, narrow street circuits in the heart of major cities around the world, and an innovative incorporation of fans via social networks: the concept of the series is interesting in many ways. As a pioneer in the field of electric mobility, we know that it is sometimes necessary to break the mould, but that it is still possible to remain true to your fundamental values. For this reason, the fully-electric BMW i3 and our low-emission hybrid, the BMW i8, are still synonymous with the driving pleasure BMW is renowned for. In brief: BMW i and Formula E are a perfect match. This makes it attractive for us to be involved in the inaugural season of the new FIA Formula E Championship. We now have this opportunity as the 'Official Vehicle Partner' and are very much looking forward to the 2014/2015 season."
Jaume Sallares, Marketing Director for Formula E, said: "We are delighted to be announcing this partnership with BMW – one of the leading innovative automobile manufacturers. The BMW i8 and i3 models are fantastic, both in terms of performance and ground-breaking design, and, with the wireless electrical vehicle charging technology from Qualcomm, it means they can be rapidly deployed, without unplugging, ensuring they get out on track attending to incidents without delay."
BMW i is synonymous with visionary vehicle concepts, inspiring design and a new understanding of premium, focussing strongly on sustainability. Both BMW i models feature a revolutionary LifeDrive architecture, consisting of an industrialised carbon passenger cell, the first of its kind in the automobile industry, and an aluminium drive module predominantly made of secondary aluminium.
The BMW i3, which generates 170 hp and 250 Nm, was launched at the end of 2013 and is the BMW Group's first fully-electric model in large-scale production. It boasts a visionary design, revolutionary vehicle architecture, innovative networking of driver, car and the environment, and the driving pleasure BMW is renowned for. The premium character of the car is highlighted by the sustainable and unrivalled product substance.
The BMW i8 is the sports car of the future. Thanks to a top performance of 362 hp, 570 Nm of torque, the efficient carbon and aluminium lightweight design concept, and a new benchmark in aerodynamic quality in the sports car sector, with a Cx value of 0.26, the BMW i8 accelerates from zero to 100 km/h in just 4.4 seconds and 80 to 120 km/h in 2.6 seconds – and all with the consumption figures of a compact car.*
The FIA Formula E Championship was initiated by none other than FIA President Jean Todt, who has been a strong supporter of the series. All the teams will compete in identical cars, generating 200 kW/272 hp, for the 2014/15 season. In the race they generate 150kW/200 hp, with the remaining power available via a "FanBoost" system, which can only be used a certain number of times during the race. Each team in Formula E competes with two drivers and four cars. The drivers must make a mandatory pit stop to switch cars.
In total, ten teams will compete in the FIA Formula E Championship. These include such prominent names as Andretti Autosport, Amlin Aguri and Virgin Racing. As well as BMW DTM driver António Félix da Costa (PT) and BMW driver Michela Cerruti (IT), the driver line-up also features the likes of Nick Heidfeld (DE), Jarno Trulli (IT), Bruno Senna (BR), Sebastien Buemi (CH), all of whom are known for their time in Formula One. The calendar consists of ten events in major international cities like Beijing, Buenos Aires (AR), Miami (US), Monte Carlo (MC) and Berlin (DE), where street circuits will be erected specially. The season ends on 27th June 2015 in London (GB).
Formula E will also be here locally where they will be racing on a street circuit in Putrajaya on the 22nd of September.
For more information about Formula E, check out one of Autofreak's previous article.