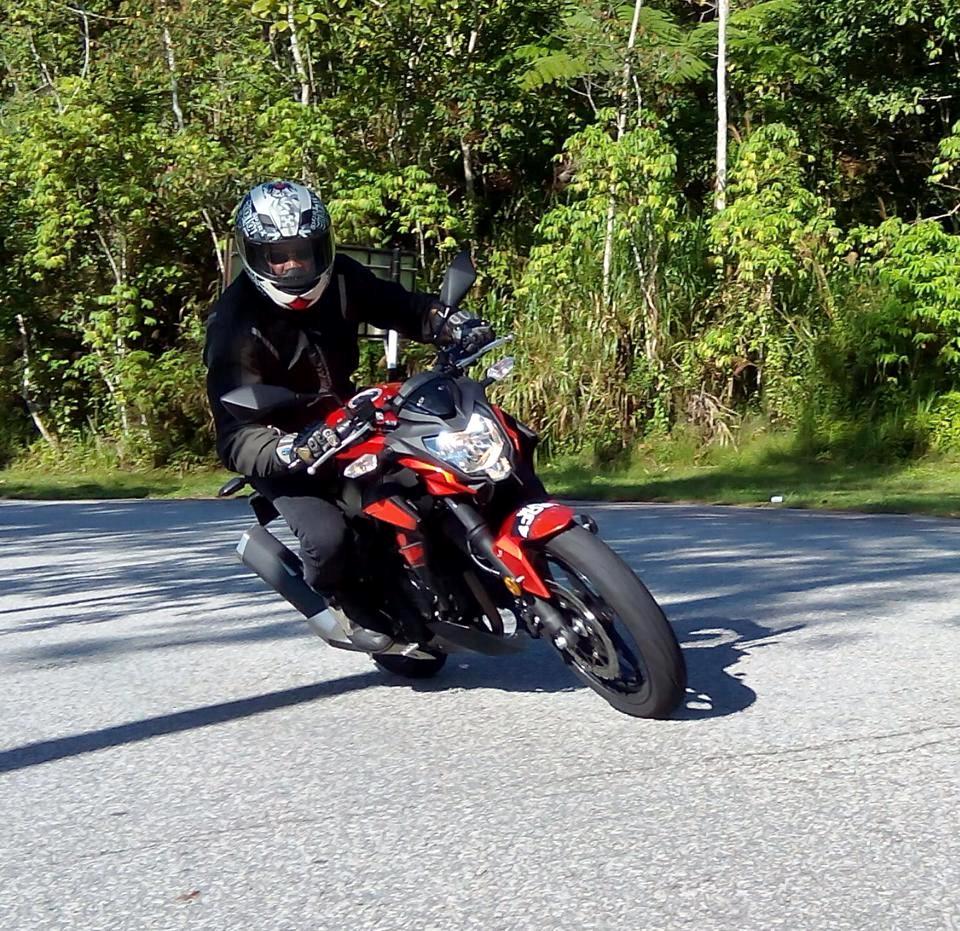 ADVERTISEMENT
I don't remember a time when the local biking community has been so pampered, except for maybe the boom-time of the mid-90's. Since the start of the year there have been numerous bike events and launches and I'm pretty sure that 2014 is going to be remembered as a banner year for bikers in Malaysia, for in addition to superbikes, we've also been privy to an array of smaller bikes below the 500cc range, and recently Kawasaki Motors Malaysia Sdn Bhd (KMMSB) introduced us to the new Z250SL.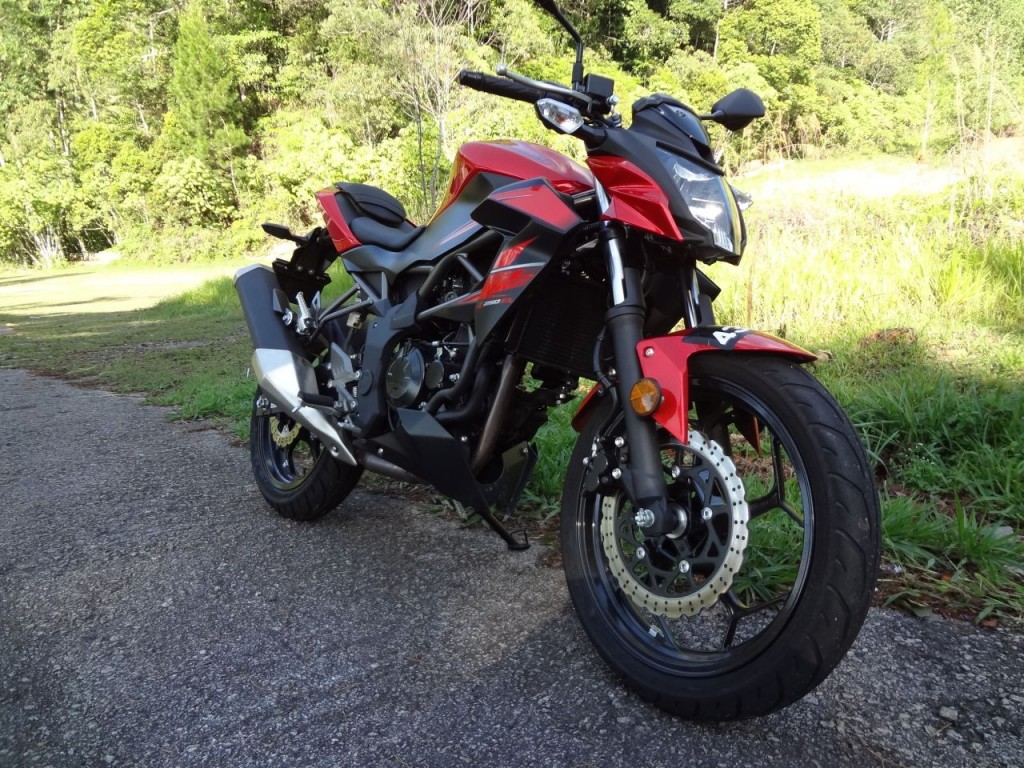 Think of it as a Ninja 250 with its kit off and you get the picture. The Z250SL, simply known as the Z-two-fifty, is a 'naked' version of the former, sharing the same under-pinnings. The 'Zee' is actually a small 'Streetfighter', and looks every bit as sporty and aggressive as its bigger and more powerful 'Z' stable-mates such as the Z800 and Z1000, only in this case it's powered by a liquid-cooled DOHC single-cylinder 250cc engine, that puts out 28bhp and 22Nm of torque, mated to a 6-speed return gearbox; one-down, five-up.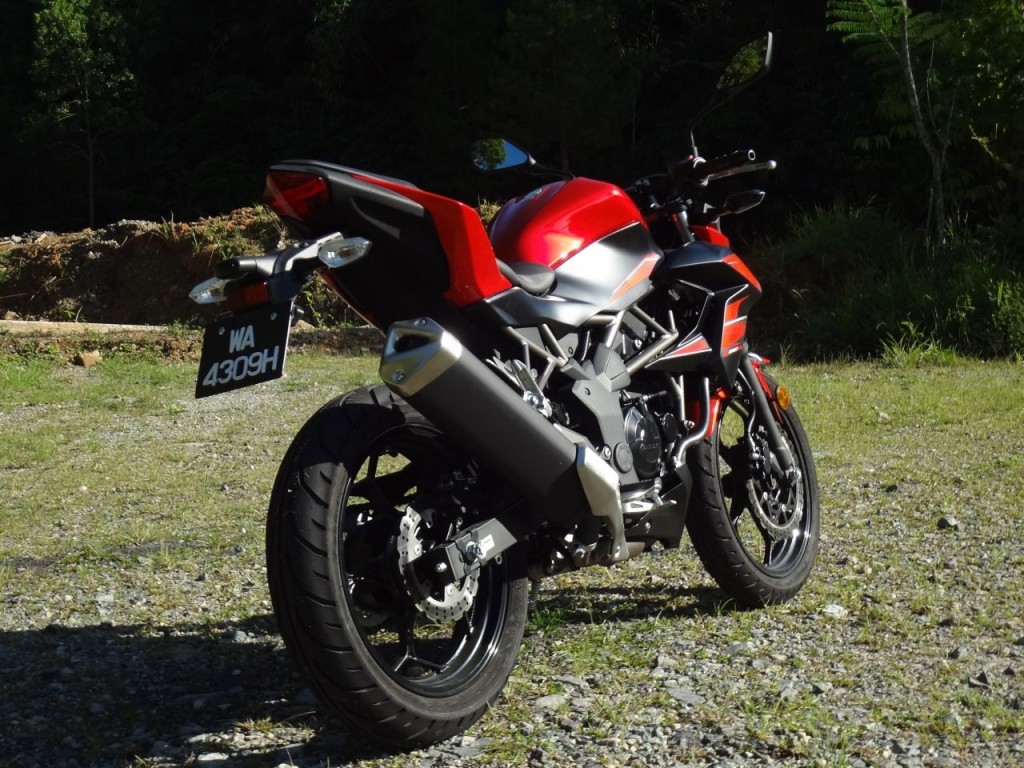 I have to admit, I thought I was hearing things when KMMSB told me that I'd be getting Z250SL test bike for a month immediately after its official launch. Yes, a month! I was skeptical at first upon seeing the bike at the launch, not just about if it would be able to move under my bulk, but also if I'd be able to get comfortable on it.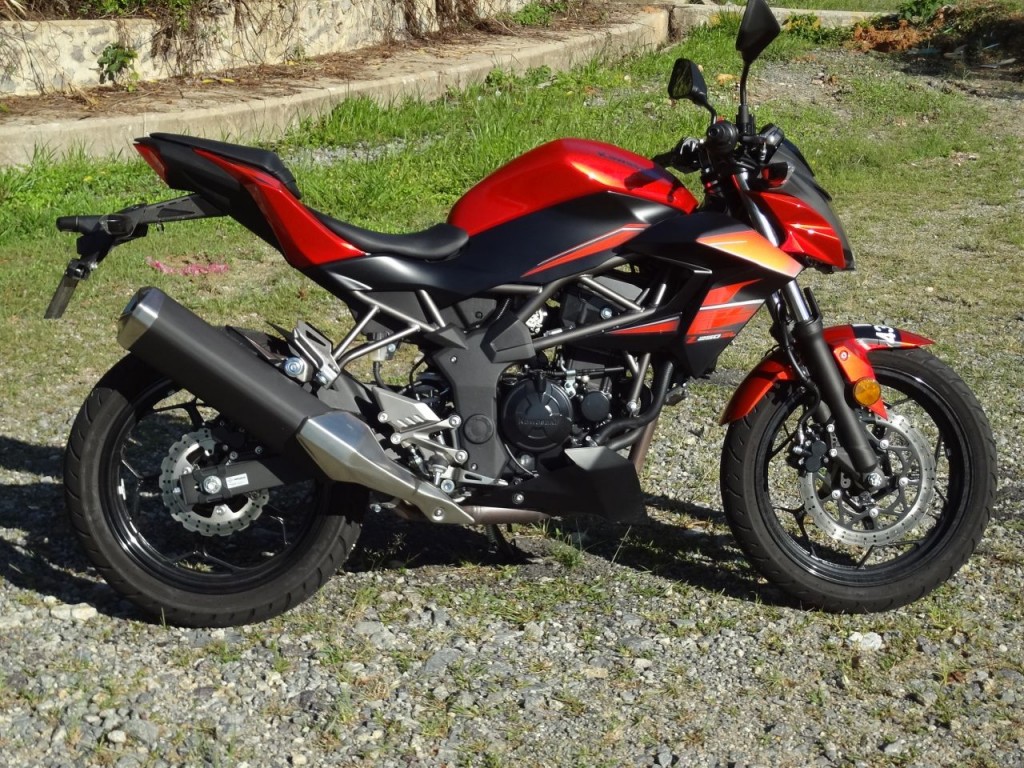 First-off, (with me on it) it's a small bike, and very slim, possessed of a somewhat upright riding position, but also angled forward in typical Streetfighter fashion. Those with longer legs may find their knees getting intimate with the twin front air-scoops that channel air to the radiator, but even harder to accept is the lack of a proper seat cushioning. Again in typical 'sports-bike' fashion, there's precious little padding in the seat, so long-distance rides may prove a literal pain in the 'you-know-where'.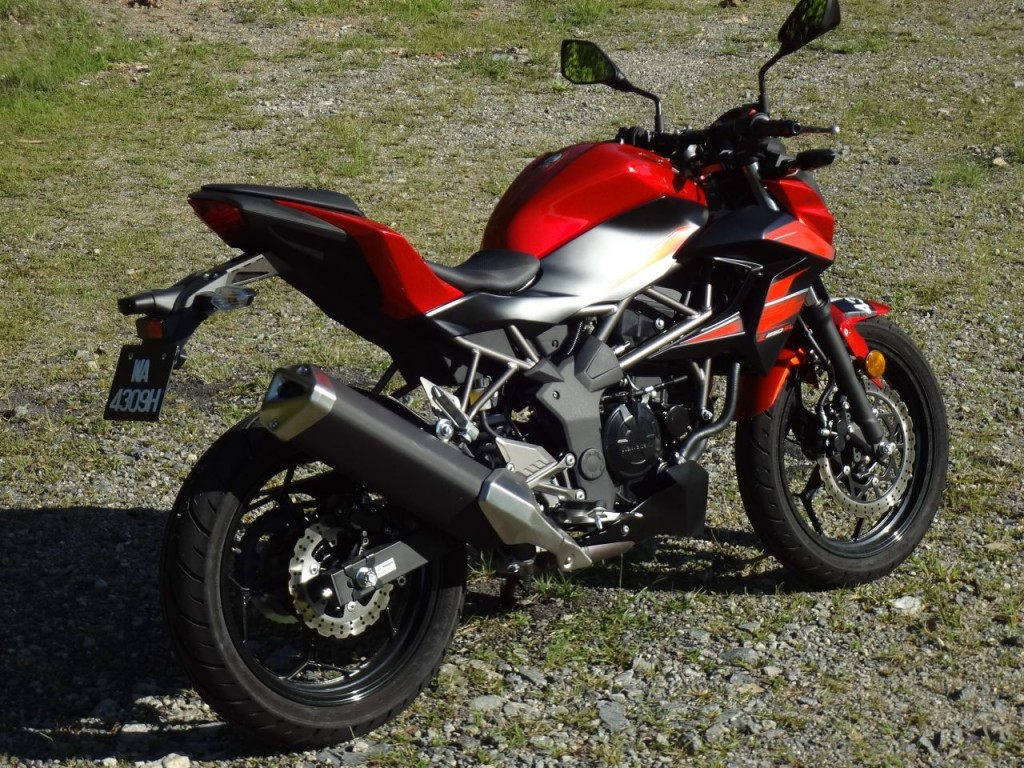 And speaking of seats, if you're planning to have a pillion with you most of the time, this bike should not be a consideration, because the rear seat on the Zee is really more for show than anything else. Kawasaki should offer a rear-deck cover as an option, seeing as how it could be construed as cruel and unusual punishment to carry a pillion on this bike. The positioning of rear foot-pegs require the pillion to pretty much 'squat' on the rear seat.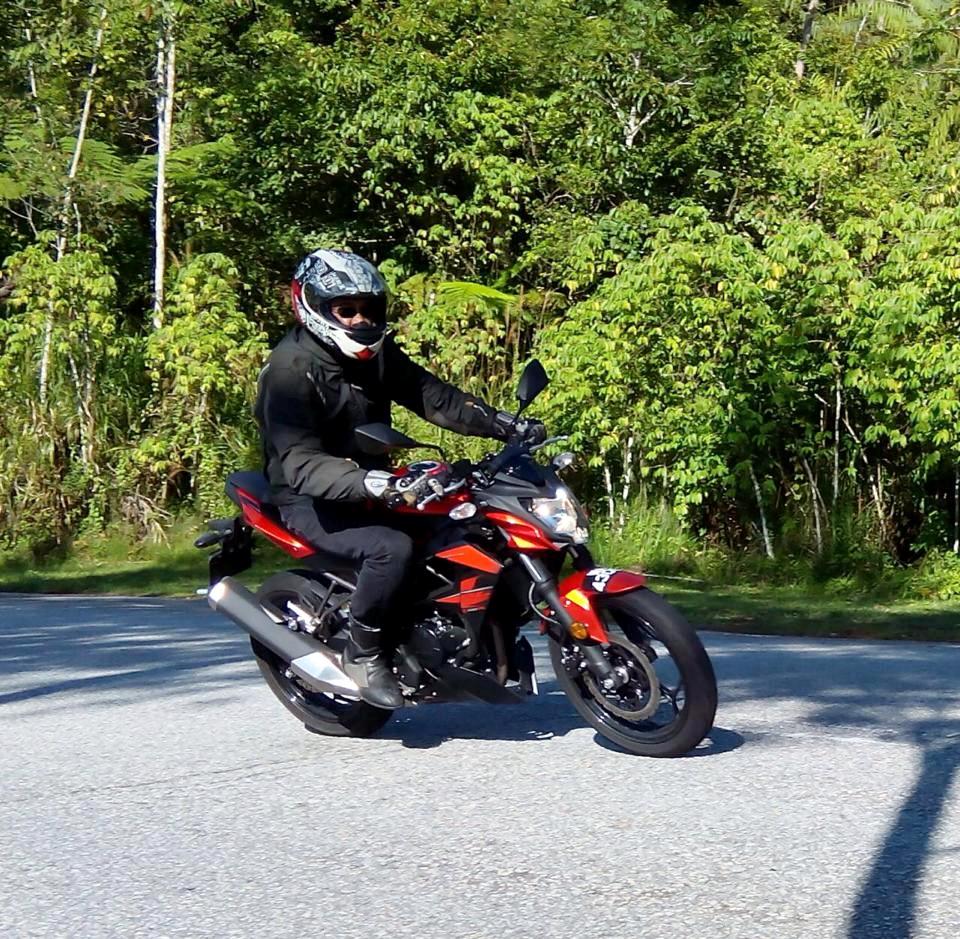 Truth be told though, that's the only gripe I have with the Z250SL. I was pleasantly surprised by just how much low-end torque it has, and whilst the 6th gear is mainly for highway cruising, the shifts from 1st to 5th, when the throttle is wrenched open, provide more than ample acceleration. And while top-speed is nothing to write home about – I managed 130kmh at full-pelt but I've heard that other riders have achieved 150kmh – it's the acceleration from 0-100kmh that should please the average biker looking to upgrade from an under-bone, or a 150cc. Think of it this way, you don't need to upgrade your licence from a B2 to a full B with this bike. The convenience of that alone should bode well for the allure of this machine, not to mention its selling price.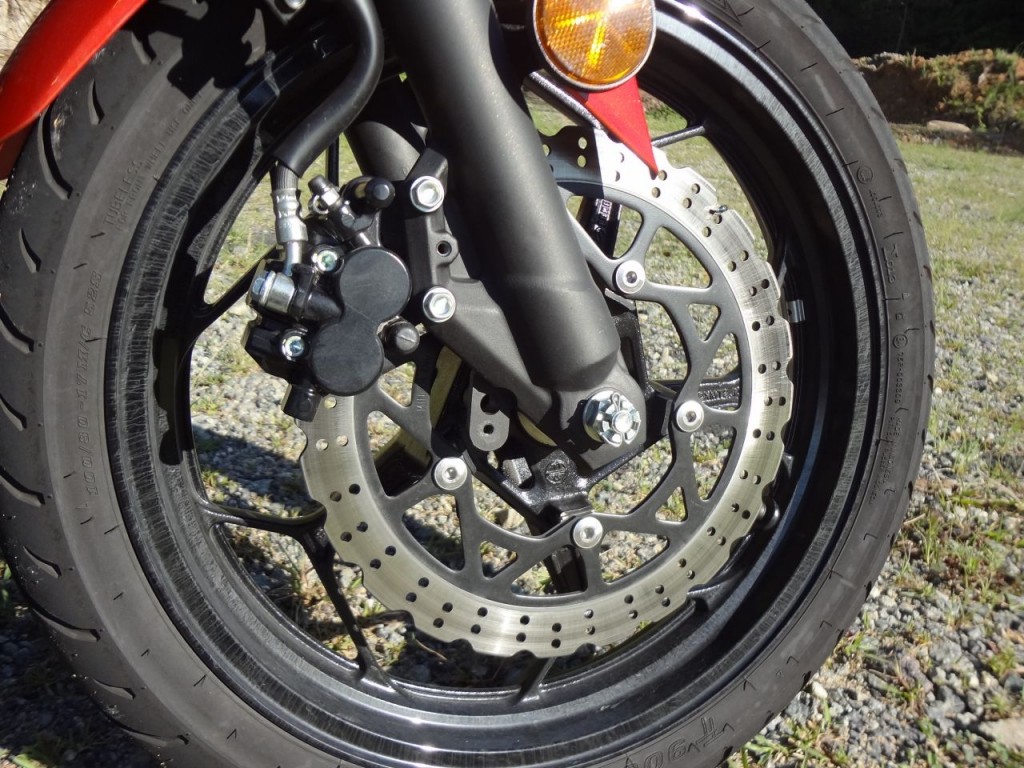 Stopping power comes by way of a huge 2-piston 263mm single-disc in front (193mm disc in the rear) which is good enough to bring the 148kg bike to a stop with just one finger. Even more impressive though is the Zee's handling. Actually, in my opinion, that's the best thing about this bike, the way it handles tight twists and turns.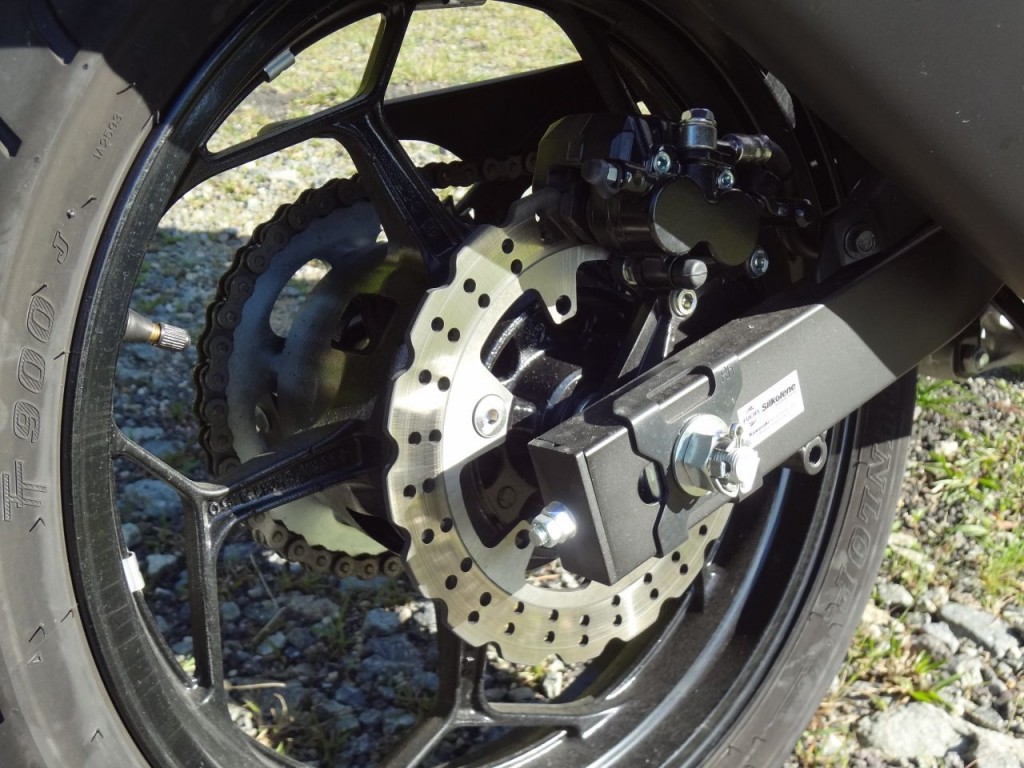 Suspension wise there's nothing ground-breaking with what's fitted in the Zee; telescopic front forks, UniTrak in the rear, but somehow it works really well on this bike. Perhaps it's the combination of the low kerb-weight and low-end grunt, because the Z250SL darts from corner to curve with incredible ease and surefootedness.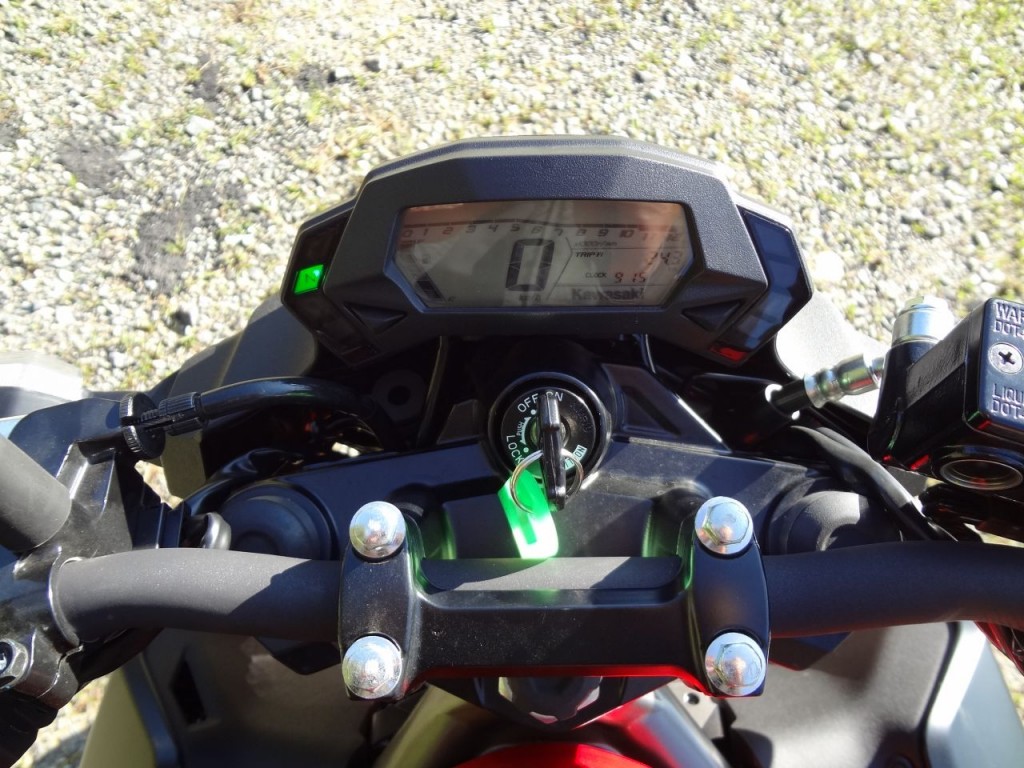 Even more impressive is that the gear-ratios are so well-matched (apart from 6th whose ratio feels like it's a week away) that spirited riding on a tight and twisty road can be achieved with hardly a dab of the brakes. By merely 'playing' with the gears, the Z250SL affords some serious fun when the roads tighten up. Equally impressive is the lack of vibration from the 249cc single-cylinder engine, and during more sedate riding, the bike just putters along smoothly. It has another ace up its sleeve too, thanks to the aforementioned 'slimness' of the bike.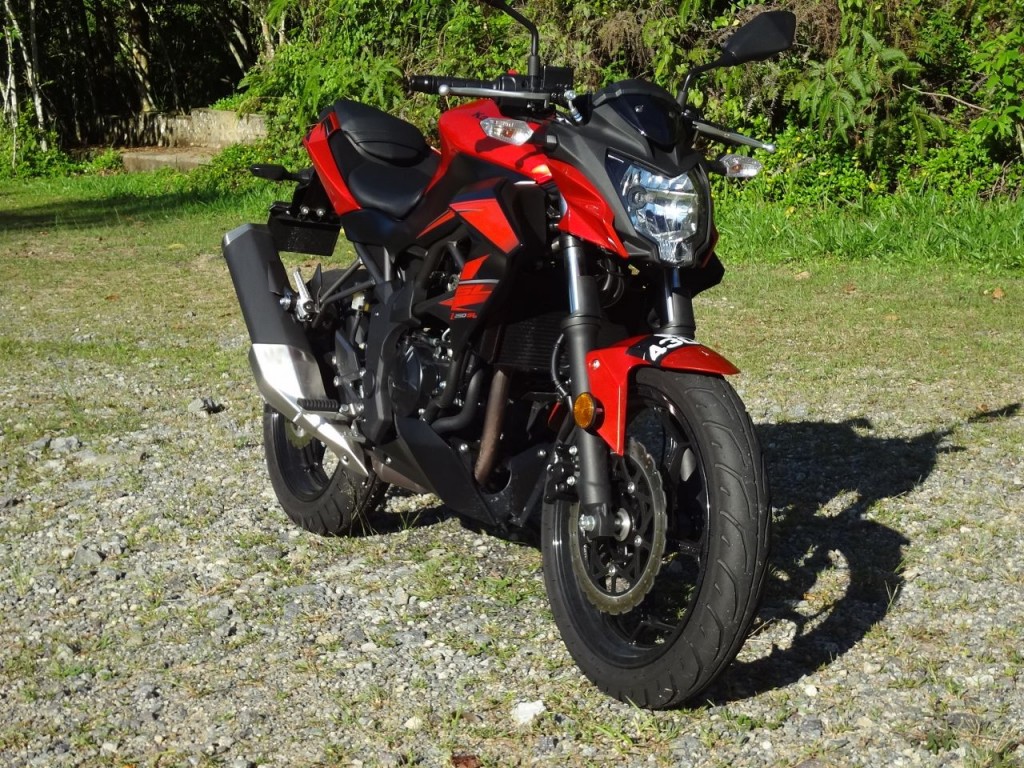 In addition to how it fares on the 'twisties', the Z250SL is probably one of the better 'commuter' bikes out there. Granted, there's not much cargo room for anything, but that can be said about all latter-day bikes in this genre, and nothing that a proper Givi top-box won't fix. The physical size of the bike allows it to filter through traffic quite easily and the semi-upright riding position makes it easy to gauge the surroundings.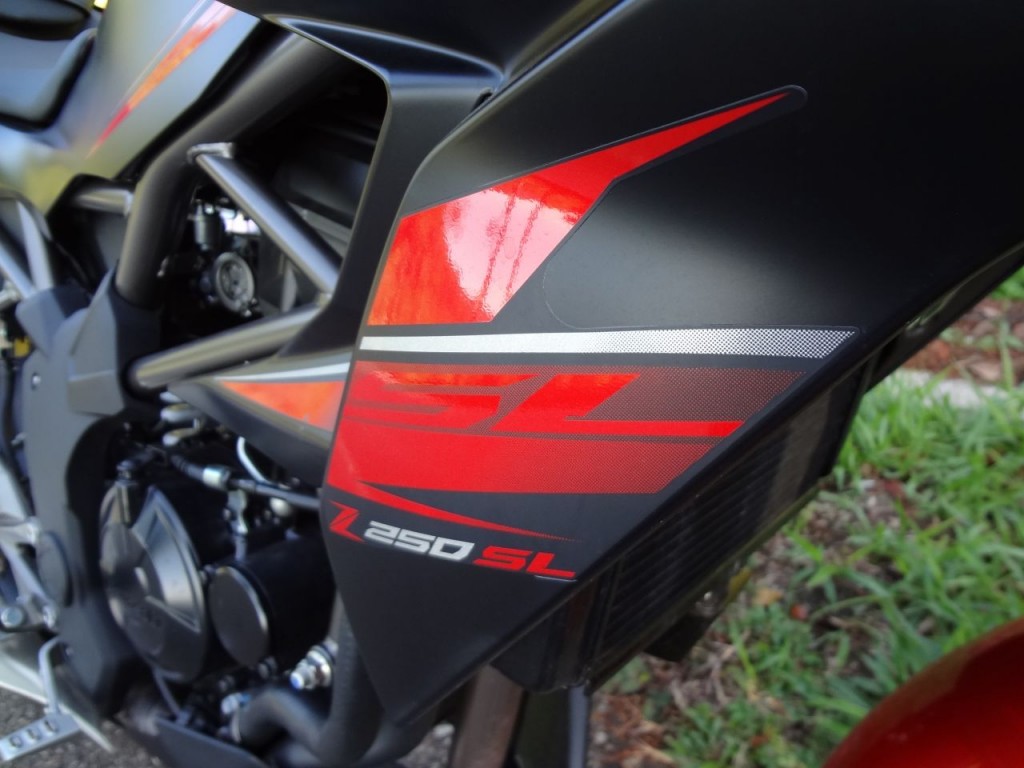 I have to say, I enjoyed the time I had with this bike, and for the asking price of (circa) RM15,739 it's a steal for anyone looking for an accomplished daily commuter, as well as something for a Sunday morning ride. Oh and did I mention that in a month of having it, I only had to fill up its 11-litre tank once?
Specifications
Engine                  Single-cylinder, DOHC, liquid-cooled, 249cc
Bore x Stroke     72.0 x 61.2
Max power         28bhp @ 9,700rpm
Max torque        22Nm @ 8,200rpm
Transmission      6-speed return (1-N-2,3,4,5,6)
Brakes F/R          Single, 2-piston 263mm disc / Single 193mm 2-piston disc (both cross drilled, petal type)
Suspension F/R  Twin-telescopic forks / UniTrak Monocross
Fuel tank             11-litres (RON 95 compliant)
Kerb weight       148kg
Base price           RM15,739
Photos by CW & Sunny Ho