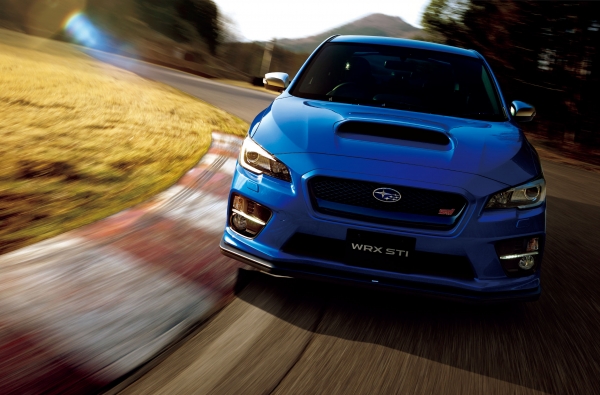 ADVERTISEMENT
Fuji Heavy Industries Ltd. (FHI), the manufacturer of Subaru automobiles, has introduced the all-new Subaru "WRX STI" and "WRX S4" in Japan. Both of Subaru's high-performance sedan goes on sale today at Subaru dealers throughout Japan.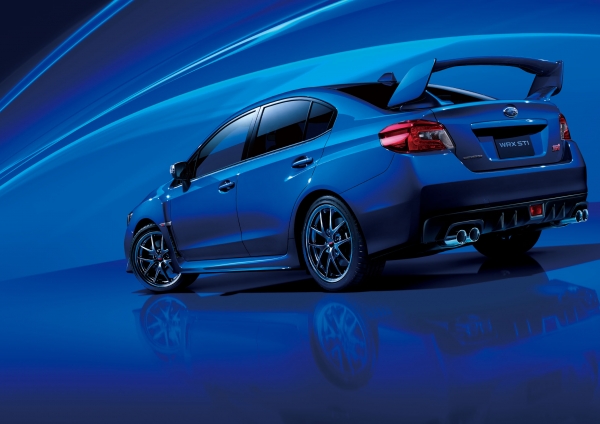 Embodying the WRX series product concept "Pure Power in Your Control" at the highest level, the WRX STI is the flagship model of the series. Every component of the vehicle, including body and chassis, has been refined and coordinated to achieve the ultimate in Subaru all-wheel drive (AWD) sports performance, enabling drivers to control the vehicle's ample power (308 PS at 6,400 rpm and 422 Nm at 4,400 rpm) at will. Standard equipment includes Subaru's motorsport-bred turbocharged 2.0-liter Boxer engine and multimode Driver's Control Center Differential (DCCD) system.

Specially developed suspension further enhances chassis rigidity to enhance steering response, rear grip, and flat ride. Handling characteristics honed to cope with driving conditions anywhere in the world, including the punishing track of Germany's Nürburgring circuit, offer agile driver response and more precise and stable cornering, while also enhancing steering stability and ride comfort.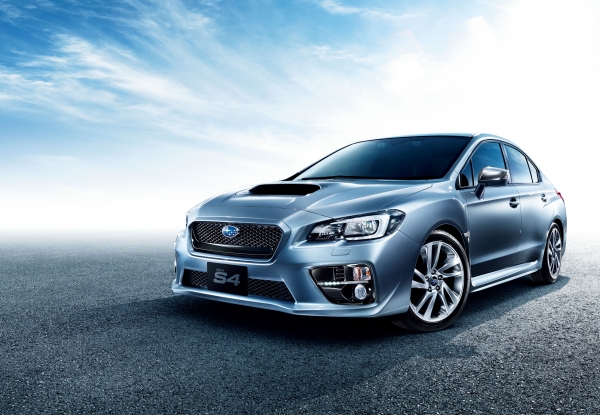 The WRX S4 sports sedan combines Subaru's state-of-the-art all-wheel drive (AWD) sports performance with unique overall safety features, superior environmental friendliness and refined quality. Subaru's core value of AWD sports performance lies at the heart of the high-level fusion of these four attributes, enabling more drivers to comfortably enjoy breathtaking Subaru performance with peace of mind. The S4 tag denotes the four values of "sports performance", "safety performance", "smart driving" and "sophisticated feel".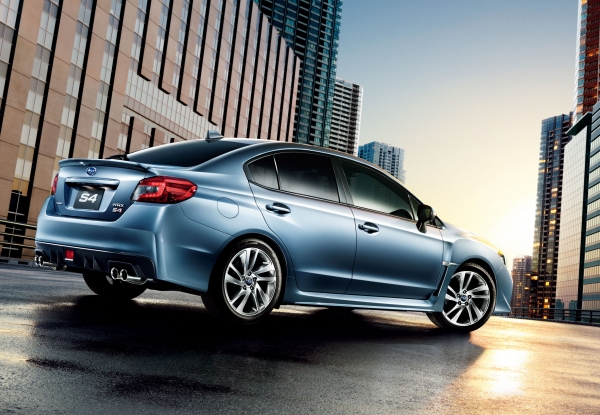 Teamed with Sport Lineartronic transmission, the 2.0-liter high-performance direct injection turbo (DIT) engine maximizes output and torque (300 PS at 5,600 rpm and 400 Nm at 2,000–4,800 rpm)  for impressive power performance. As well as offering sporty, fun driving with plenty of direct feedback, the WRX S4 achieves advanced levels of environmental friendliness. Moreover, this is the first model in the WRX series to be equipped with Subaru's own EyeSight driving assist system for enhanced overall safety. Comprehensive body and chassis enhancements have achieved a high-quality ride, greatly reducing driver burden to support safe and comfortable driving.
WRX STI Specs
Body size (Overall length / width / height): 4,595 x 1,795 x 1,475 mm
Wheelbase: 2,650 mm
Engine: 2.0-liter Horizontally-Opposed turbo engine
Displacement: 1,994 cc
Transmission options: six-speed manual
Maximum output: 227 kW (308 PS) at 6,400 rpm
Maximum torque: 422 N・m (43.0 kgf・m) at 4,400 rpm
Tire size: 245/40 R18
Seating capacity: 5
WRX S4 Specs
Body size (Overall length / width / height): 4,595 x 1,795 x 1,475 mm
Wheelbase: 2,650 mm
Engine: 2.0-liter Horizontally-Opposed direct injection turbo "DIT" engine
Displacement: 1,998 cc
Transmission options: Sport Lineartronic
Maximum output: 221 kW (300 PS) at 5,600 rpm
Maximum torque: 400 N・m (40.8 kgf・m) at 2,000–4,800 rpm
Tire size: 225/45 R18
Seating capacity: 5