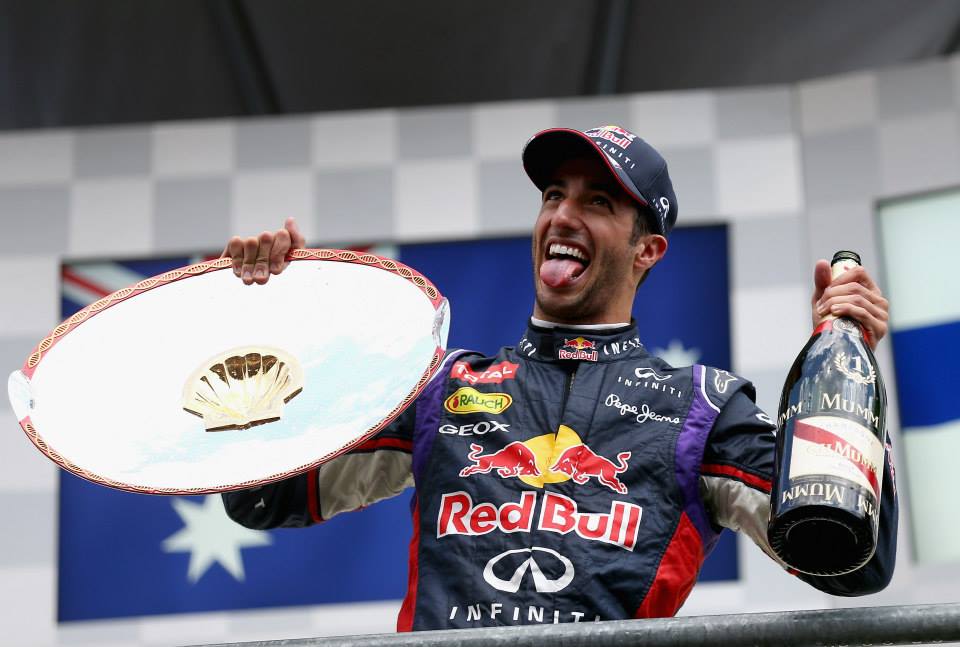 ADVERTISEMENT
Australia's F1 sensation, Daniel Ricciardo capitalized from Mercedes' misfortune to secure his third victory at the Belgium Grand Prix at Spa. Nico Rosberg emerged as first runner-up while Lewis Hamilton's title chances suffered a big blow following his third retirement of the season.
Rosberg started the race on pole, but it was Hamilton, who qualified in second, who got the best start by leaping in front of Rosberg. On lap two, Rosberg got too close with Hamilton, the German's front wing clipped Hamilton's rear tyre, causing a puncture on the Briton's car. Hamilton was forced to make an early pitstop and fell further back.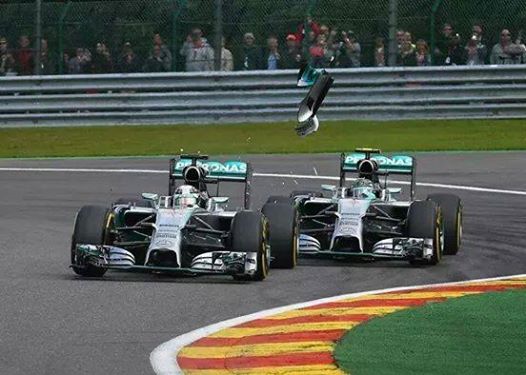 Daniel Ricciardo meanwhile remained steady and overtook two former World Champions, Fernando Alonso and Sebastian Vettel. The Australian had taken the lead after Rosberg went to pit to replace his damaged front wing and never looked back. A battle of the Finns emerged when Valteri Bottas and Kimi Raikkonen duked it out for third place, with the William's superior Mercedes powerplant giving Bottas the final podium spot.
Meanwhile, a bizarre incident occurred when a tyre carcass, believed to be from an earlier collision between a Marussia and Lotus, was caught on the front of Rosberg's car. The debris flapped around his car for a while, before it detached by itself.
At the closing stages, a huge battle for fifth place took place between Vettel, Alonso and the McLaren duo of Jenson Button and Kevin Magnussen, but it was Vettel who defeated the other three for ten points in the driver's championship. Magnussen was later demoted from sixth to 12th by the stewards post race following a scrap involving Alonso.
Five retirements took place during the race, including F1 debutant, Andre Lotterer, who replaced Kamui Kobayashi for a one-off race for Caterham. With only five laps to go, Hamilton returned to the pits to retire for good as the earlier incident pretty much ruined his race and to preserve his engine (after all, each driver is only allowed five engines per season).
Despite obtaining a 29-point lead over his teammate, Rosberg was jeered by fans during the podium and the team was unhappy with his actions. While the blame game between these two fractious drivers continues, the next race will take place in Monza, Italy in early September.
RESULTS
1. Daniel Ricciardo Australia Red Bull-Renault 44 laps 1hr 24m 36.556s
2. Nico Rosberg Germany Mercedes-Mercedes +00m 03.3s
3. Valtteri Bottas Finland Williams-Mercedes +00m 28.0s
4. Kimi Raikkonen Finland Ferrari +00m 36.8s
5. Sebastian Vettel Germany Red Bull-Renault +00m 52.1s
6. Jenson Button Britain McLaren-Mercedes +00m 54.5s
7. Fernando Alonso Spain Ferrari +01m 01.1s
8. Sergio Perez Mexico Force India-Mercedes +01m 04.2s
9. Daniil Kvyat Russia Toro Rosso-Renault +01m 05.3s
10. Nico Hulkenberg Germany Force India-Mercedes +01m 05.6s
11. Jean-Eric Vergne France Toro Rosso-Renault +01m 11.9s
12. Kevin Magnussen Denmark McLaren-Mercedes +01m 14.2s
13. Jean-Eric Vergne France Toro Rosso-Renault +01m 11.9s
14. Felipe Massa Brazil Williams-Mercedes +01m 15.9s
15. Adrian Sutil Germany Sauber-Ferrari +01m 22.4s
16. Esteban Gutierrez Mexico Sauber-Ferrari +01m 30.8s
17. Max Chilton Britain Marussia-Ferrari +1 lap
18, Marcus Ericsson Sweden Caterham-Renault +1 lap
Rtd Jules Bianchi France Marussia-Ferrari 39 laps completed
Rtd Lewis Hamilton Britain Mercedes-Mercedes 38 laps completed
Rtd Romain Grosjean France Lotus-Renault 33 laps completed
Rtd Andre Lotterer Germany Caterham-Renault 1 lap completed
Rtd Pastor Maldonado Venezuela Lotus-Renault 1 lap completed
Fastest lap: Nico Rosberg Germany Mercedes-Mercedes 1m 50.511s lap 35