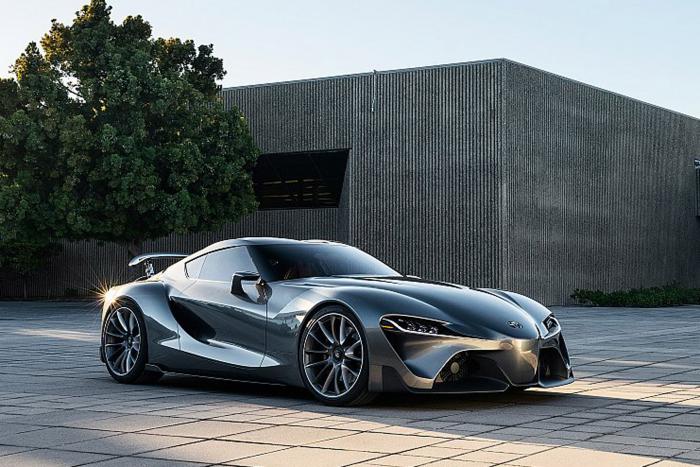 ADVERTISEMENT
Following a successful debut at the North American International Auto Show back in January, the Toyota FT-1 has returned in a graphite exterior paint and light, saddle-coloured leather at the Gordon McCall's Motorworks Revival gala held on California's Monterey Peninsula.
Toyota claims that the muscular, curved exterior builds on Toyota's rich sports coupe heritage dating back to the 2000GT, Celica, Supra, MR2 and most recently Scion FR-S. That first vehicle stunned in a bold red, while this second FT-1 impresses with sophisticated graphite. Both concept share the same shape and sporty design except the colour of the leather changes between the first and second FT-1 vehicles, and the visual difference is striking.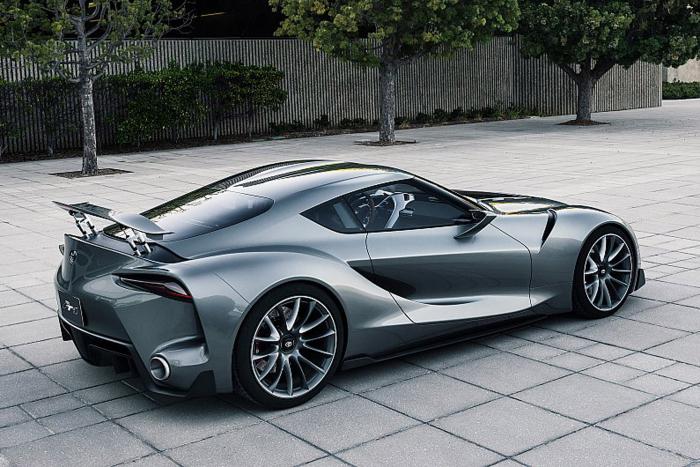 The first car was dominated by bold, masculine black, with red painted edges. In the second, the natural leather on the seat is supple with an all-natural grain. The painted edges that are red in the first concept are now subtly blended brown in the second. The intention is to bring in a more sophisticated feel and authenticity through colour choice, showcasing the versatility of the FT-1 sports car concept. Enthusiasts who desire a more pure high performance experience might choose the black-red pairing, while others may desire the premium, athletic feel of the saddle leather.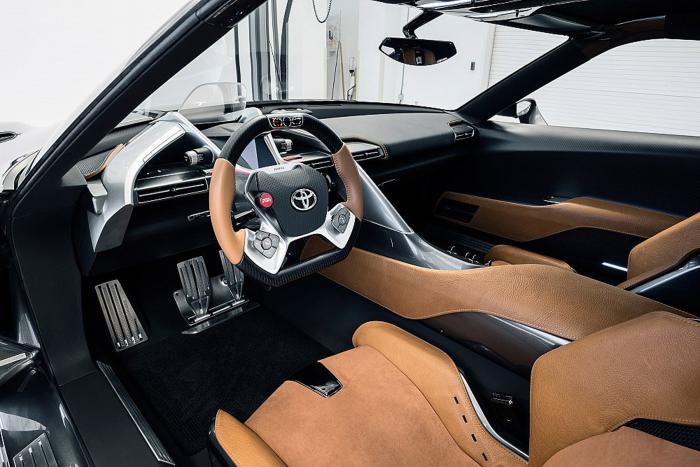 This may not seem particularly adventurous, but according to Sellene Lee, the designer from Toyota's Calty creative studio who proposed both FT-1 colour schemes, interior inspiration came from materials used in today's superhero costumes. A movie poster drew her attention to the modern shift from past heroes' bright tights and colours to today's performance fabrics and function.
To achieve the FT-1's advanced-looking, intricately detailed interior, Sellene Lee and the team compared leather thicknesses, grain sizes and textures to find the perfect combination. Raised metal mesh provides ventilation for the seats while lending a more textural, bold effect that beautifully matches with the metal accents. A dimensional embossed pattern on the instrument panel leather brings in a 3-D, technical look.
Beyond her superhero performance material concept, Sellene Lee moved away from the typical stitching or piping edge treatment found in many vehicle interiors. The painted red edges on the welded leather and painted brown edges on the second FT-1 were inspired by high-end leather bags she found in an upscale department store. When drivers sit in FT-1, they can feel the difference in materials, textures and colour choices in both cars.