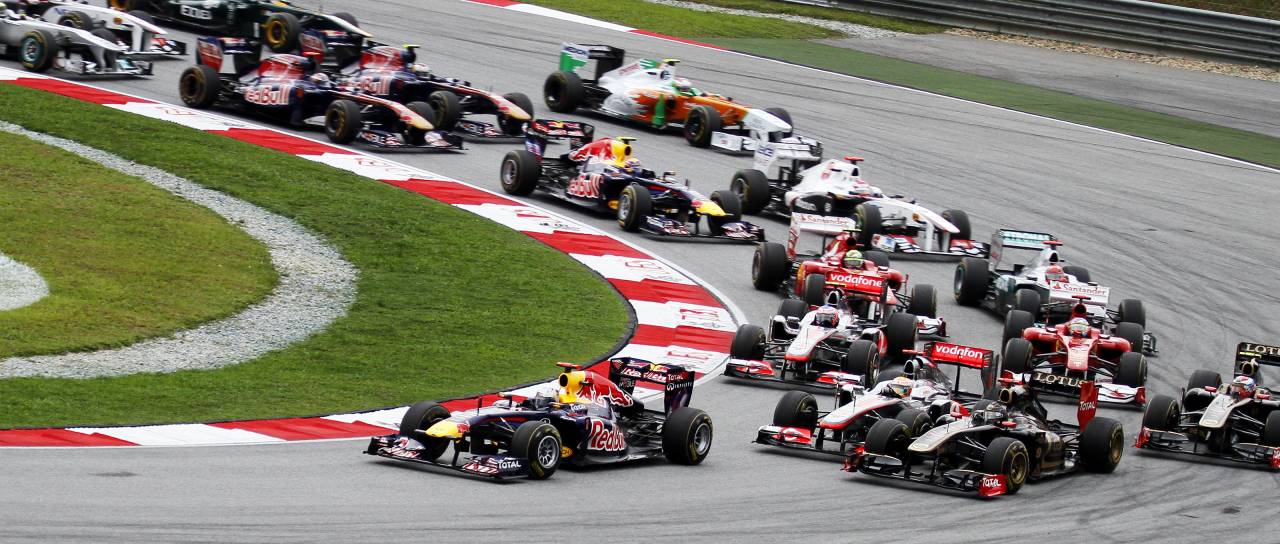 ADVERTISEMENT
There's no surprise that Formula One drivers are among the best-paid sportsmen in the world. These daredevils risk their lives for fame and glory in the pinnacle of motorsports, and that's why they are paid so handsomely.
To find out how they were paid this year, here is the annual list of F1 drivers salaries as revealed by Business Book GP2014 and reported on TomorrowNewsF1.com.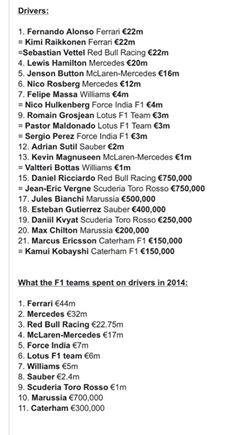 Being the team with the highest budget in F1, there's no doubt that Ferrari's Fernando Alonso and Kimi Raikkonen are the best-paid drivers, with each of them pocketing a cool €22 million this year. Quadruple world champion, Sebastian Vettel, is awarded similar pay with the Ferrari duo this year. Together, these three world champions share the top spot in this year's list.
Lewis Hamilton meanwhile settled in fourth as the Briton earns €20 million while teammate and archrival, Nico Rosberg is in sixth with €6 less than Hamilton. Jenson Button stands inbetween these Mercedes drivers with earnings of €16 million.
The biggest surprise goes to current F1 sensation, Daniel Ricciardo, who earns a mere salary of €750,000. Ricciardo, who won two races this year, earns less than 4% of his teammate's salary. Team Red Bull however gets the best bargain as the young Australian raked five podiums including two victories for the team for less than 1 million Euros.
Valteri Bottas from Williams, who so far took two podiums, earns €1 million, €3 million less than his veteran teammate, Massa, who's being outperformed by the younger Finn thus far.
F1 strugglers and formerly Malaysian owned Caterham are not only at the bottom of the standings, but also spent the lowest with both drivers Kamui Kobayashi and Marcus Ericsson taking home a meagre €150,000.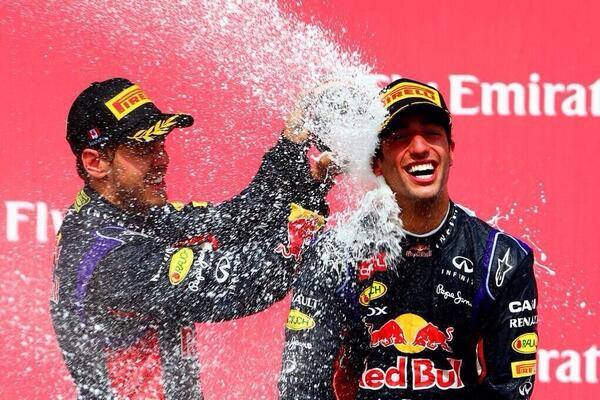 The list however does not include bonuses and endorsements, but judging with the race results so far, expect the Mercedes duo to receive massive bonuses. Also, a big pay jump awaits Ricciardo, who deserves more as he's done the unthinkable for a rookie in a top flight team – outperforming Sebastian Vettel.
[Source: Crash.net]