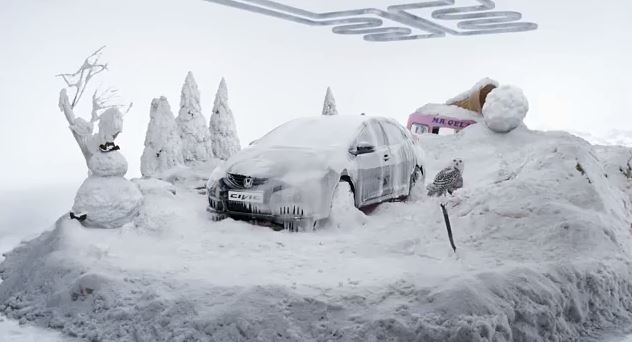 ADVERTISEMENT
Honda Motor Europe and Wieden+Kennedy London celebrate the Civic range with the launch of a new multi-channel campaign showing Honda's unparalleled dedication to thorough testing. The campaign is based on the idea that 'there's testing, then there's Honda testing', showcasing the dramatic lengths the manufacturer will go to when testing their vehicles, specifically the Civic model.
One example of this testing involves a specially controlled climate chamber used at Honda's European manufacturing plant in Swindon UK. The European built cars (Civic, CR-V and Jazz) are tested in extreme environments from temperatures as low as -30°C to +80°C conditions.
The 30 second film, which brings to life the extreme environments the Civic is subjected to during testing – from ice cold to extreme heat – by encasing the car in ice before slowly melting it away against a changing backdrop.
Based on an insight from consumer behaviour studies undertaken with Google, which have shown that such qualities form a key part of the purchase journey during the period of research and comparison, the campaign will highlight the Civic's desirable looks whilst also reinforcing its reputation for safety and reliability.
The campaign launches with a 30 second film which is then further supported by a 10 second online film and print executions. A rich media ad will feature an interactive version of the film, allowing the user to change the temperature of the ad and watch the environment change in response.
I wonder if the cars assembled in the ASEAN countries have to actually go through these similar tests.