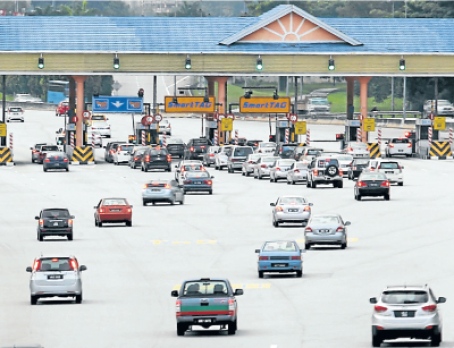 ADVERTISEMENT
Those travelling back to their hometown for this upcoming Hari Raya to meet their loved ones can expect discounts and rebates on highway toll rates nationwide from 23rd to 31st of July, 2014.
According to Works Minister Datuk Fadillah Yusof, 23 highway concessionaires have agreed to provide incentives to road users in the form of free tolls, discounts and rebates. Below are the details of this incentives.
Apart from that, PLUS Malaysia Berhad will temporarily open up several stretches at the current 4th lane widening project areas to facilitate smoother traffic flow on the North-South Expressway (NSE) and the New Klang Valley Expressway (NKVE) this coming Hari Raya holidays.
The highway stretches, KM16.3 – KM14.7 (Southbound) between Damansara and Subang, KM13.3 – KM9.65 (Southbound) between Subang and Shah Alam, KM25.0 – KM28.5 (Southbound) between DBKL arch and the Segambut Bridge, KM445.26 – KM447.63 (Southbound) between Rawang Interchange and Rawang Selatan, KM282.2 – KM280.4 (Southbound) between Bandar Baru Nilai and the Recron factory and KM280.4 – KM268.6 (Southbound) between the Recron factory and the New Seremban Interchange.
These stretches will be temporarily opened starting from 23 July to facilitate smoother traffic flow as well as distributing traffic during the holidays.
As traffic will slowly increase especially when Hari Raya is approaching, PLUS urges members of the public to plan their journey for Hari Raya based on their Travel Time Advisory (TTA) which has proven to have contributed to smoother traffic flow during peak periods in the past.
"The TTA provides travelling times for the public plying the NSE between 25 and 27 July (for balik kampung journey) and between 1 and 3 August (for balik kerja journey). Based on the TTA, those heading towards farther destinations are advised to leave the Klang Valley earlier, while those heading towards destinations that are nearer to the Klang Valley are advised to enter the highway at later hours", advised PLUS Managing Director, Dato' Noorizah Hj Abd Hamid.
So plan your journey well, and AF would also like to take this opportunity to wish all our Muslim readers Selamat Hari Raya Aidilfitri! Have a wonderful celebration and please remember to drive safe always!
Pictures and Source: The Star/ PLUS