ADVERTISEMENT
Sporty, practical, yet a safe and durable set of wheels, those are just a few words that best describe the Volkswagen Tiguan. Recently we were given a day to take this baby SUV on the scenic, twisty roads of Frasers Hill, loaded with tight corners to discover what it has to offer. 
Possessing its signature design language, the Tiguan is very easy to be recognized as a Volkswagen. At first glance, this practical SUV features rugged and aggressive styling that makes it look like a younger version of the Touareg. It has the attributes of a big SUV that provides cargo flexibility and spaciousness with a small car characteristics such as easy parking and good fuel economy. On top of that, its modern design makes it stand out whether it's being driven around town or even cruising down coastal roads. 
Upon climbing into the Tiguan I was quick to notice that it comes with a combination of Alcantara and fabric seats. Yes, Alcantara! This material is normally found in premium vehicles like a new Mercedes-Benz A-Class so it's pretty obvious that the Tiguan is blessed with the best quality material in the market. Apart from that, the seats are nicely bolstered and comfortable and after spending my whole day in the Tiguan, I'm confident to say that it was by far the comfiest SUV I've tested in its class so far.  
Apart from that, the Tiguan offers an abundance of space for three adults to be seated at the back with ample legroom and headroom. Unlike other compact SUVs, the Tiguan comes with a folding tables that allows to use your laptop, electronic gear, food and drinks while you're in the back seat. The boot is generous too, at 1,510 litres which allows you to load a stroller, laundry basket, golf bags and a couple of suitcases without having to infringe the passenger's cabin space.
The instrument panel and dashboard are very simple yet pleasing to look at where the buttons and switches are easy to find and use. The dashboard is dominated by a touchscreen with MP3 and 6-CD changer radio system, multiple connectivity options such as Bluetooth as well as 'Rear Assist' rear view camera and auto air-conditioning with 2-zone temperature control system.  There's even a speed warning that will start beeping every time you exceed a pre-set limit. Very useful for parents with teenage kids!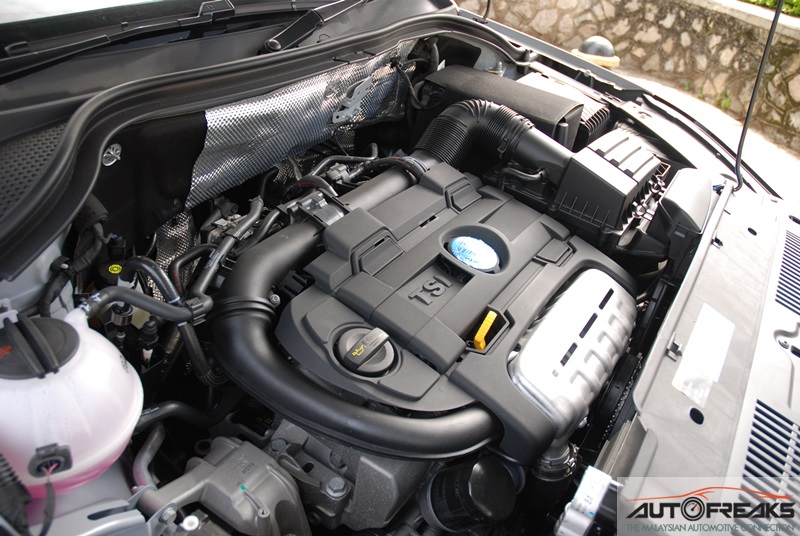 Volkswagen has down-sized the engine from the previous 2.0-litre to a 1.4-litre twin-charged direct petrol injection TSI engine mated to a 6-speed direct shift gearbox (DSG). I was a little skeptical in the beginning as to whether this small displacement engine shared with the VW Golf would perform well in 1,551kg vehicle, but to my surprise, the Tiguan handles well on the road where the 160hp and 240Nm of torque kicking in from a low 1,500rpm provides excellent performance for the majority of drivers out there. It does not provide you with a thrilling ride but it surely is fun to drive. And although it won't overwhelm you with lots of power, the Tiguan is zippy enough, plus it gets better fuel mileage than all its competitors.
Speaking of fuel efficiency, the Tiguan is equipped with a stop/start system engine and a regenerative braking system where kinetic energy applied during drive and brake converts frictional-losses to recharge the vehicle's battery. So every time you come to a complete stop, the engine will automatically stop to save fuel. Although it won't make much of a difference in the real world unless you are waiting in a traffic jam for hours, according to VW, the Tiguan returns a frugal 7.1 litres per 100km allowing drivers to go a distance of approximately 14.1 km per litre.
Speeding through the narrow uphill climb was also a breeze thanks to its easy manoeuvrability and good ride and handling. Despite its tall-ish ride height, the Tiguan proved to be stable with very minimal body-roll during cornering. And despite all that tossing and turning, I was really surprised that I did not feel the slightest bit of nausea or headache going through the curvy roads of Kuala Kubu Baru to the Gap at Fraser's Hill. My fellow motoring journalist and I were happily chatting throughout the whole journey thanks to its commendably low amount of wind noise intrusion into the cabin.
In terms of safety,  the Tiguan comes equipped with 6 airbags (dual front, dual side and curtain), standard three-point seatbelts, safety-optimised front headrests which is particularly effective at helping to minimize head and whiplash injuries in an accident, and an anti-theft alarm system for added safety and security. Apart from that, Electronic Stability Control (ESC) and a 'Rest Assist' drowsiness detection system that alerts the driver when he or she is drowsy is also fitted as standard, which simply translates to more peace of when hauling your family on a long journey. 
For the past few years, I've grown very fond of the Volkswagen brand and just like its range of models, the Tiguan doesn't disappoint. It offers something unique that sets the bar among the rest pretty high up. From its award winning powertrain to its generous amount of bells and whistles on board, this German SUV has a lot more to offer than any other conventional SUV. On top of that, at a priced at RM178,888, the Tiguan feels and drives more like is a premium SUV. 
Those seeking an SUV that fulfils all the practical aspects on a daily basis, but with the added appeal of sound German engineering should definitely test drive the VW Tiguan today.