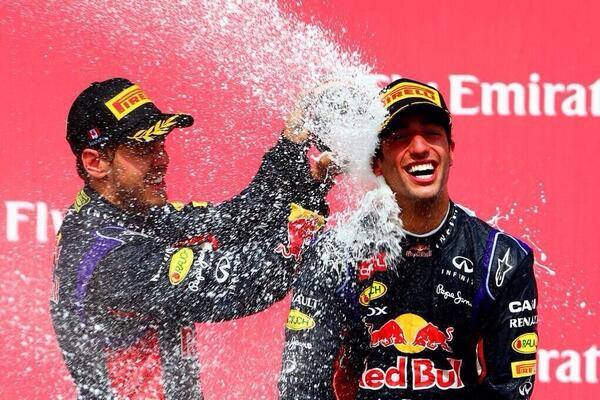 ADVERTISEMENT
Mercedes' dominating run in F1 came to an abrupt halt when Daniel Ricciardo scored his maiden victory in a dramatic way at the Montreal GP, Canada. The Australian pulled a late move on Nico Rosberg, who was battling a problematic Mercedes, to clinch victory at Circuit Gilles Villeneuve. Sebastian Vettel completed the race in third after narrowly escaping a massive collision between Felipe Massa and Sergio Pérez during the last lap of the race. Lewis Hamilton meanwhile was forced to retire from the race due to issues with his brakes.
As all lights went green, the remaining 20 competitors were probably hoping that Rosberg and Hamilton, who qualified first and second respectively, would crash to each other but Rosberg managed to block Hamilton, causing the Briton to drop to third behind Vettel. The first safety car period came during the first lap after the two Marussia cars collided into each other. By lap 7, when the race resumed, Hamilton snatched second place from Vettel, and it was business as usual for the Mercedes duo. Hamiton also forced Rosberg to make an error, but the German escaped by cutting the final chicane.
However, drama unfolded during the middle of the race, when the Mercedes duo began to go slow – due to the issue of energy recovery boost, that caused their cars a deficit of 160hp. That resulted to slower lap times, allowing competitors to catch up. After the Mercedes duo made their pit stops, things got worse for Hamilton as chronic brake failure led to his second retirement of the season.
Rosberg eventually retook the lead after Massa dived into the pits, but the German was still battling a sick Mercedes, which gave a golden opportunity to Red Bull's Daniel Ricciardo. The Australian overtook Perez, before eventually passed Rosberg on the straights thanks to the Red Bull's DRS with three laps remaining. That pass allowed Ricciardo to score his maiden win in F1.
"I'm still a bit in shock. This is ridiculous!" Ricciardo exclaimed. Let's hope there more to come for the Australian, who continued to impress while overshadowing Vettel in the process. That victory also meant Rosberg has a 22 points advantage over Hamilton, with Ricciardo at an impressive third. The next race will see the return of the Austria GP at Red Bull Ring, and we will see what Hamilton will do to get closer to Rosberg….well, on track anyway.
RESULTS
1. Daniel Ricciardo Australia Red Bull-Renault 70 laps 1hr 39m 12.830s
2. Nico Rosberg Germany Mercedes-Mercedes +00m 04.2s
3. Sebastian Vettel Germany Red Bull-Renault +00m 05.2s
4. Jenson Button Britain McLaren-Mercedes +00m 11.7s
5. Nico Hulkenberg Germany Force India-Mercedes +00m 12.8s
6. Fernando Alonso Spain Ferrari-Ferrari +00m 14.8s
7. Valtteri Bottas Finland Williams-Mercedes +00m 23.5s
8. Jean-Eric Vergne France Toro Rosso-Renault +00m 28.0s
9. Kevin Magnussen Denmark McLaren-Mercedes +00m 29.2s
10. Kimi Raikkonen Finland Ferrari-Ferrari +00m 53.6s
11. Sergio Perez Mexico Force India-Mercedes +1 lap
12. Felipe Massa Brazil Williams-Mercedes +1 lap
13. Adrian Sutil Germany Sauber-Ferrari +1 lap
Rtd Esteban Gutierrez Mexico Sauber-Ferrari 64 laps completed
Rtd Romain Grosjean France Lotus-Renault 59 laps completed
Rtd Daniil Kvyat Russia Toro Rosso-Renault 47 laps completed
Rtd Lewis Hamilton Britain Mercedes-Mercedes 46 laps completed
Rtd Kamui Kobayashi Japan Caterham-Renault 23 laps completed
Rtd Pastor Maldonado Venezuela Lotus-Renault 21 laps completed
Rtd Marcus Ericsson Sweden Caterham-Renault 7 laps completed
Rtd Max Chilton Britain Marussia-Ferrari 0 laps completed
Rtd Jules Bianchi France Marussia-Ferrari 0 laps completed
Fastest lap:
Felipe Massa Brazil Williams-Mercedes 1m 18.504s lap 58
[Image Source: Red Bull Racing & Mercedes AMG Petronas]