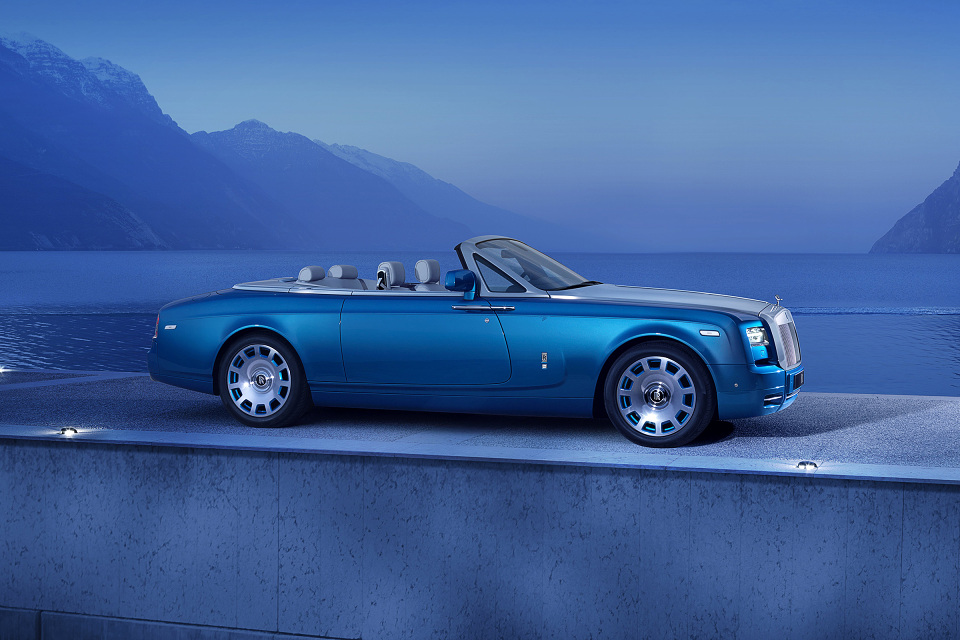 ADVERTISEMENT
Rolls-Royce has recently taken the wraps off the Phantom Drophead Coupe Waterspeed Collection destined for the UK and European market. 
The Waterspeed Collection Phantom Drophead Coupé commemorates Sir Malcolm Campbell's 1937 water-speed record. He set the water-speed record four times, including a 129-mph run in the Rolls-powered Bluebird K3 in 1937, and set multiple land-speed records as well.
Although this Phantom Drophead Coupé probably won't set any speed records, it is an impressive car nonetheless. Unveiled at a private event at the site of the Bluebird Motor Company in London, it's been approved by the Campbell family and features a typically-Rolls attention to detail. For instance, car is finished in a specially developed 'Maggiore Blue' exterior paint, inspired by Bluebird's famous colour scheme.
Under the hood is the company's massive 6.75-litre V12, good for 453hp and 531 lb.-ft. of torque and for the first time in Rolls-Royce history, the exterior finish extends to the engine as well.The finish also adorns the car's specially developed, fully-polished eleven-spoke wheels for the first time.
The unique touches continue inside with a Windchill Grey leather interior with Maggiore Blue accents on the steering wheel and dashboard. Various pieces of hand-engraved trim and subtle throwbacks to Campbell's Bluebird K3 boat can be found throughout the cabin, finished off with Abachi wood trim and armrests.
Additional Bluebird references include a hand-embroidered glovebox panel listing Capmbell's achievements, and a power reserve dial that matches the one on the Bluebird K3.
The Phantom Drophead Coupé Waterspeed Collection will be unveiled to the public at the 2014 Concorso d'Eleganza Villa D'Este later this month.